Now, I personally love Airbnb. I probably use it more than staying in a hotel, if I'm perfectly honest. When my wife and I went to Los Angeles on our honeymoon, we wanted to stay near Venice instead of going for your bog-standard hotel (your Hilton or whatever) so we went on Airbnb and got a place right next to the beach for a fraction of the cost of a hotel room. It's fantastic.
I'm not alone in feeling this way: Airbnb is literally where so many people's booking patterns are going now. Yet there's still a massive misconception in the hospitality world that Airbnb is just for people who've got a spare room in their house or an empty holiday cottage. However, it should be one of the main channels for serious short-term renters with a portfolio of properties.
I've helped over 100k hosts to start their listings and grow their Airbnbs, giving them the tools, tactics, and training to make the most of this vital platform. Not only that, but I've also given those renters what they need in order to drive more direct bookings and to cut down on their over-reliance on the OTAs like Airbnb.
So, as a short-term renter looking to increase bookings and your income (as we all are), it makes sense you'd want to ensure your properties are listed on there. But this should be as part of a multi-channel strategy – incorporating a number of platforms and generating more direct bookings to maximise your chances of success.
This guide will show you how to:
Set yourself up as what Airbnb calls a "host", 
Start attracting guests and getting a steady flow of income
Make sure you've got everything a guest will expect from a host
Make your profile stand out from the crowd, 
And I'll also answer a few commonly asked questions about using the platform, such as how much commission they take from your bookings and more.
Lastly (but not least), I'll explain the importance of taking direct bookings and not relying on any one channel, including Airbnb, for your rental income. The important thing, and I can't stress this enough, is that you effectively leverage Airbnb as part of a multi-channel strategy.
Why be dependent on OTAs like Airbnb and Booking.com? Did you know you can save thousands on commission fees by getting direct bookings? Get our free blueprint on how to double direct bookings for free.
Before setting up as an Airbnb host - frequently asked questions
Is it worth becoming an Airbnb host?
The short answer is: yes. If you're already a short-term renter, it's worth taking the time to set yourself up as an Airbnb host and to ensure you're listing your properties in the way that will generate you the best results – and the most income.
If you're new to the rental game and looking to get started, you'll need to consider whether the cost of amenities, commissions, and local regulations, as well as your time, will make it worthwhile. But, if you're already managing properties or a few rooms, then adding them to Airbnb as another channel should be a no-brainer.
No doubt you've heard over the years fellow renters saying Airbnb is crap and doesn't work for them but, in almost every case I've encountered, that's only because those people are getting their listings wrong and making huge errors.
But rest assured, there are a few little tips and tricks I've learnt over the years of running my own listings and helping thousands of hosts run theirs that'll ensure your listing gets set-up in a way to give you the best chance of standing out on a very competitive platform, which we'll get to as we progress through this guide.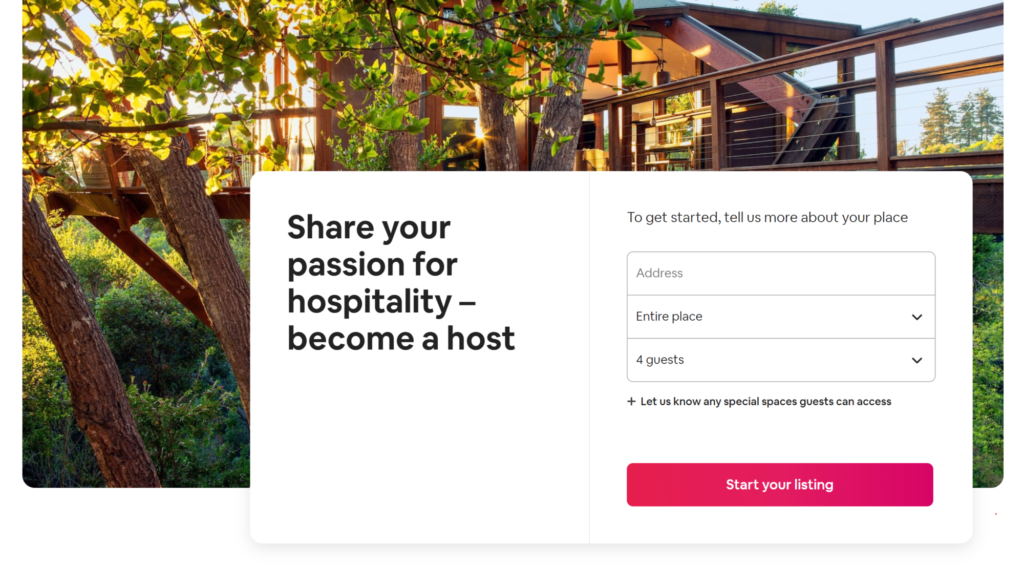 Does a host need to be in their Airbnb?
Clearing up a common misconception here among both potential guests and prospective hosts: a host does not need to be living in the property that they are renting out via Airbnb. This confusion probably stems from when the site started out and the most common use of it was for homeowners renting spare bedrooms in their place of residence as an additional income.
While it's still possible to find a lot of listings on Airbnb that give you access to a single room within the renters house or apartment, today the vast majority of listings are for entire apartments or holiday homes or rooms within rental properties the host manages but does not live in.
Do you need to own your property to host on Airbnb?
Another commonly asked question but there's no simple answer, unfortunately. You will no doubt know people who sublet a room in rented accommodation to generate some extra income via Airbnb. However, the legality of doing so will vary heavily, not only from place-to-place but also from contract-to-contract.
If in doubt, check your rental agreement or get in touch with your landlord or letting agent to confirm what the policy is. But don't be surprised if they say it's not allowed as part of your rental.
If you're eager to get involved with property management but don't have a portfolio of your own, you might consider setting yourself up as a co-host, helping to manage somebody else's property, with access to their listings. They'll effectively hire you to manage a given property with the site facilitating an agreement on how you'll be compensated, for example how you'll split the money from bookings.
That said, this guide is aimed at people who own one or more properties with a view to generating serious income as a short-term renter. So if you're one of those looking to post a spare room in rental accommodation, this might not be the place for you at this point.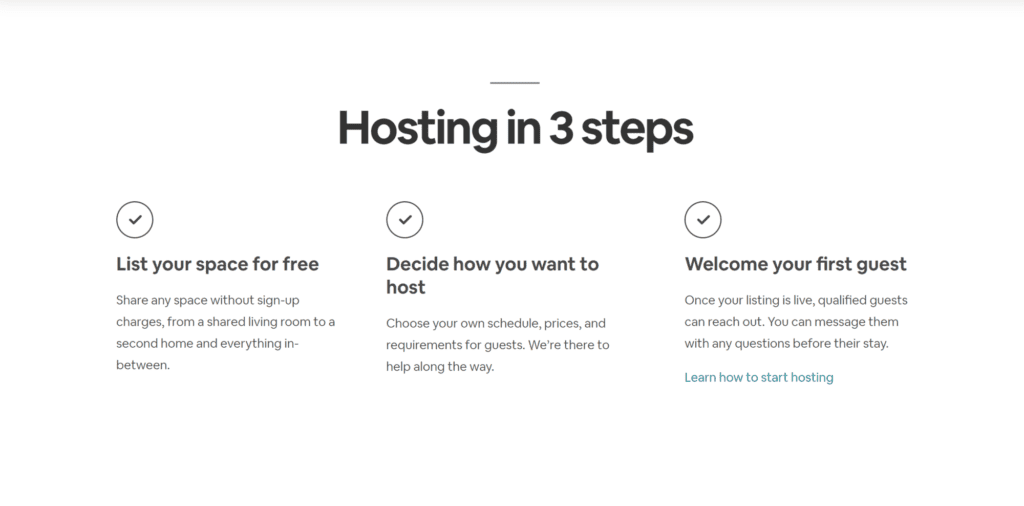 What are the requirements for becoming an Airbnb host?
Aside from the obvious (having a room or a rental property in which to host guests), Airbnb has a few requirements that they expect of all hosts. If you don't show willing in all of these areas it can lead to you being suspended or delisted entirely.
These include:
Responsivity: you're expected to reply to booking inquiries and reservation requests within 24 hours as part of your host guarantee.
Accept requests

: Airbnb's main goal is to provide a great experience to their guests. It leads to poor user experience if hosts are continually rejecting guests requests, and it looks bad on their platform. Understandably, Airbnb wants hosts who make guests feel welcome by accepting requests when the property is available, rather than cherry-picking clients too much.

Don't cancel often: The site takes cancellations very seriously and they won't look kindly on hosts who cancel frequently. Depending on the circumstances surrounding the cancellation you may be stuck with a cancellation fee, have your ability to take blockings booked for a period, or even find your account suspended entirely. Airbnb wants reliable hosts to make guests feel confident in booking their travel plans. I'll go more in-depth on how cancellation works below.
Maintain a high rating: If you've used Airbnb already as a guest, you'll know the important role the rating system plays in selecting a place to stay. Hosts are encouraged to review their guests (discouraging property damage, for example) and guests rate the quality of their experience after each booking. If your score fails to meet the site's high standards you could find your property delisted entirely. For this reason hosts need to do their best to ensure positive reviews.
On that last point, if you really take Airbnb seriously and seek to become what they call an Airbnb Superhost, getting preferential treatment from their search and a raft of other benefits, you won't want to drop below an average of 4.8 out of 5. As harsh as it may sound, to Airbnb, any guest rating under a full five stars represents a bad experience.
It's important to note here that Airbnb's rating system is supposed to be based on how well the listing met guest expectations relative to your listing. So if you're advertising a simple and quite basic bedroom, and that's what they got, it could still be a 5. At least: that's how they want the guests to rate it. With this in mind, it's important to set clear expectations not only in your listing but also in all guest communication prior to and during their stay.
Beyond those basic expectations from hosts, Airbnb also provides a list of amenities hosts are expected to provide at a minimum. The items hosts are expected to guarantee are:
Toilet paper

Body & hand soap

One pillow per guest

One towel per guest

Linens for each guest bed
It should go without saying that going above and beyond the basic requirements will ensure a better overall rating, which will in-turn lead to a higher ranking on the site's search, and increased bookings. So you might want to consider extra toiletries, more than one pillow per guest and probably a few extra towels, at the very least, if you intend to wow your guests!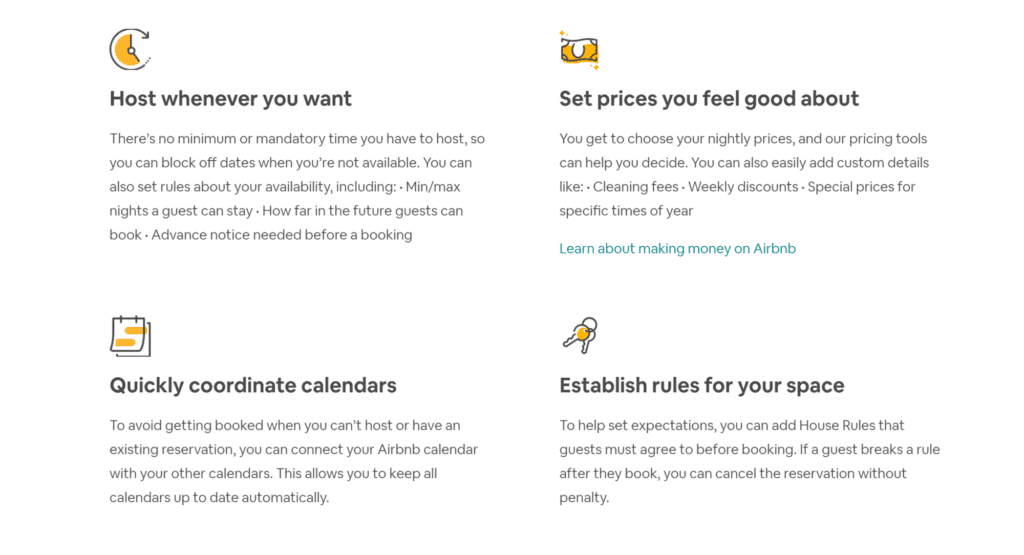 How much money can you make from an Airbnb listing?
How long is a piece of string? Everyone wants to know how much extra money Airbnb will help them earn but that's going to depend on your location, the size of your property, and what extra amenities you offer (and on the strength of your listing, as we'll get into below). You'll see reports stating that on average hosts make X amount per month but, with all the variables in play, those numbers are pretty meaningless.
For a best guess, take a look on the site in advance of writing your listing and see what other hosts with similar listings in terms of size and amenities are offering and how much they're charging in your area.
Airbnb have a feature called Smart Pricing which enables you to set a minimum and maximum price per night for your rental and their algorithm will use data about the popularity of your area at any given time to set your rate based on demand. Though one piece of advice from me would be to be very careful about using this.
In my experience, their Smart Pricing tends to prioritise occupancy (getting more bookings) over getting you the best rates – in other words, they'd rather all the rentals were booked than trying to get you the absolute best per night price for your property. If you want to use a feature like this I'd recommend using a dedicated pricing tool like Host Tools, PriceLabs or Wheelhouse over putting Airbnb on autopilot.
What percentage of your booking does Airbnb take in commission and service fees?
I've written at length before about Airbnb commission and will continue to keep you updated as they roll-out changes to the structure, but the basic way they handle commission is quite simple.
There are two options available, with some restrictions depending on your country and whether or not you use channel management software, and these are 'split-fee' and 'host-only'.
With the split-fee model, you're paying between 3-5% commission, depending on whether or not you opt to use Instant Book (more on that later). The rest of the service fee is paid by the guest and is about 15% of the cost of the stay. This is the most common way of paying Airbnb, though – as of December 2020 – it's no longer an option if you're outside of the United States, Canada, the Bahamas, Mexico, Argentina, Taiwan, or Uruguay and use channel management software with the platform.
If you use channel management software outside of those countries then your only choice is the second model: host-only.
In the host-only model, the entire fee comes from the host's side, meaning the customer only pays what they see when they look at your listing without any hidden costs. However, you'll likely need to raise the nightly price to compensate for the fact that Airbnb will be taking 14-16% from you, which brings Airbnb more in-line with other OTAs like Booking.com.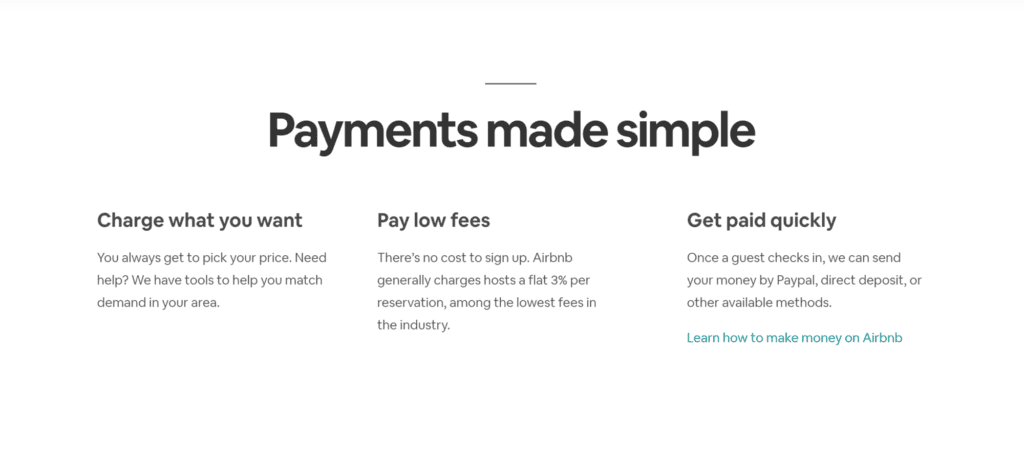 If you're only planning on using Airbnb for your listings, then the split-fee model is probably the most appealing. But bear in mind that embracing multiple channels is the best way ahead if you're looking to increase bookings and make more money, bringing as many guests as possible through direct bookings and using Airbnb as one of many other channels.
This will involve some amount of software integration with Airbnb and (depending on location) could result in you having to use the host-only structure but, in my opinion, it's worth it. As I'll go on to explain (and repeat as often as I can) you really want to be using Airbnb as part of a wider strategy including direct bookings, to reduce risk and maximise your earning potential.
What is the Airbnb cancellation policy?
As covered above, Airbnb strives to discourage host cancellations as much as possible. This means they create incentives for hosts not to cancel – including the threat of a cancellation fee if you cancel a confirmed reservation but also extending to a possible suspension or deactivation from the platform. Basically, if you consistently cancel on guests: they don't want you on their platform.
The cancellation fee for a host that cancels a confirmed reservation that's more than a week (seven days) from check-in is $50, though that goes up to $100 if you cancel within those seven days.
However, this fee can be waived if you've completed at least ten prior bookings or in certain extenuating circumstances. These include you being put off hosting by low guest review scores, or if you come across indications the guest intends to break house rules (for example, if they advertise on social media they intend to throw a party in your 'no party' rental, or if they are bringing a dog and expressly don't allow pets). You can also have this fee waived if you are cancelling the reservation on the grounds that you are unable to meet guest requirements.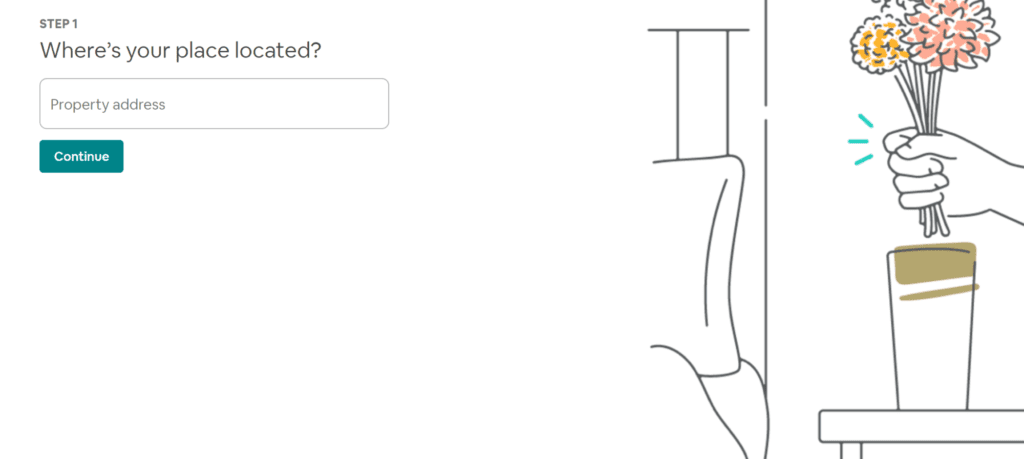 Cancellation on the guest side can be more or less strict depending on how you choose to set up your listing. There are extra options if you go deeper into the platform, but the basic options you can choose between are 'flexible', 'moderate', and 'strict'.
A 'flexible' cancellation grants a full refund to guests all the way up to 24 hours prior to check-in. 'Moderate' grants guests a refund up to five days before they're due, while selecting 'strict' will mean guests can cancel up to one week prior to check-in but will only get a 50% refund of the nightly rate and cleaning fees.
What you choose there is up to you, though you may want to think twice about being too strict if you're starting out as that will put off some bookings. The most important thing to keep in mind is keeping all bookings and cancellations up to date in your property management system (PMS) or calendar if you're using more channels than simply Airbnb – which you absolutely should be.
Ultimately, the best strategy for the long-term will be to drive more and more of your business towards direct bookings, which puts you in complete control of your own cancellation policy, without worries about fees or repercussions from an OTA whose interests don't always align with your own.
Local laws and regulations to consider when becoming an Airbnb host
Another thing you'll want to look into before listing your rooms or rental properties on Airbnb is the relevant local laws and regulations wherever it is you reside. Some local governments are more friendly to the platform than others. These will vary from country-to-country, but other between states within that country, and even between neighbouring cities. 
In some places, use of the site could be illegal altogether, with hosting bringing the risk of fines. In others, there are strict guidelines you will need to follow in order to comply with taxation laws surrounding tourism.
Best practice is for you to consult your local government website or contact the relevant local body to check for laws and regulations before you go ahead with your listing. The most likely result is that you'll be in the clear, as Airbnb hosting is a pretty well-established fact of life in a lot of places at this point, but I'd recommend you make the effort to check this in advance to save yourself any problems later.
A quick guide for how to become an Airbnb host:
So, with that out the way, let's look at how you list your properties or rooms on Airbnb. This step-by-step guide will also include some tips and advice, though I've also covered various Airbnb hacks in the past.
How easy is it to set up as an Airbnb host?
It's easy to set yourself up on Airbnb – it literally takes minutes of your time, which means you'd be foolish not to do it, quite frankly.
But doing things quickly and doing them well are very rarely the same thing and Airbnb is no exception. There are a few things you'll need to think about and ensure you get right if you want to make the best use of the platform.
How to set become an Airbnb host and get your property ready for check-in:
Below are some easy-to-follow steps for how to get up and running on Airbnb as a host. These are accurate to the current process at the time of posting.
Step 1: Signing up to become an Airbnb host
If you're not already set up with an Airbnb host login as a guest then the first thing to do is create an account. This is extremely simple and you won't need a detailed walkthrough – as you might expect, they make it very easy for people to sign-up.
You'll have a few options here. The simplest is to attach your Airbnb account to an existing Google, Apple, or Facebook account. If you don't use those platforms or don't fancy linking them to this, you can simply sign up by providing your email address and some personal information.
Another option is to provide a working mobile phone number for authentication and they'll send you a code via SMS at the beginning of the sign-up process. Airbnb is understandably keen to verify the identity of users as much as possible due to security concerns.
For this reason, whichever sign up method you use, you'll also be asked to verify your identity before you can host or book to stay as a guest. This involves sending them a picture of your government ID from your phone, or submitting to an identity check using your legal name and registered place of address.
Step 2: Create a listing with potential guests in mind
Once you have an account, creating a listing is extremely simple and intuitive – though there are a few steps along the way where you may want some guidance, which I shall provide.
First things first, you want to click the button that says "become a host" next to your profile picture in the top-right on the landing page of the site. If you've come to their site via the host-focussed version of their site, the option you're looking for will be in about the same spot but might be called "Create new listing" instead.
Before you proceed, here's my first piece of advice: start by listing one room at a time, if you're just renting rooms out. Keep in mind that Airbnb was developed for the spare room renters out there and so it thinks in terms of rooms rather than properties or hotels. For example, if you own a big farmhouse with 10 rooms and room for 20+ guests and you create that as one listing, that will enable one person to rent out all ten rooms on an individual basis – it will mean all ten rooms constitute a single booking.
Start off by taking one room – I recommend you start with your best room – and proceed with that for now and see how you get on.
Like guest sign up, they make the process very simple and streamlined. Though, for whatever reason, on the guest-facing version of the site there is one additional page to get through. This asks you to enter your address, what type of property you have to offer, and the number of guests you can host. After that, the sign up form appears to be identical via either way in.
Once you've come this far it's as simple as filling out an attractively designed and intuitive questionnaire. You'll be presented with a series of drop-down menus which ask for details about your property. You'll be asked to specify:
The type of place you're intending to rent (a house, an apartment etc) and then the type of access to the property a guest will have (entire place, private room, shared room).

How many guests you're able to entertain, how many beds you have (and what size they are).

How many bathrooms you have and whether or not they are shared or private.

The precise address of your property.

Which amenities you're able to offer. Things like access to Wi-Fi and an iron fit come in here. It's here that you'll also be asked how accessible your property is.
The more challenging part of the process comes after you've gotten past these procedural questions, which you can very quickly and easily answer without any help from me. From here we get to the stuff which requires a bit of thought.
Step 3: High-quality photos make or break your Airbnb listing
You'll now be at the stage where the site asks you to provide some images to represent your listing. It should go without saying but, if you're listing a room in a multi-room property, you should show pictures of the room the potential guests are actually booking. The quality of the photos you post will have a massive impact on your ability to attract bookings.
The first six photos you add will be the most important. I personally like to start off with one of the view from the property or a shot of the natural beauty of the local area, if applicable – unless the place itself is especially stunning. If you're sitting on an amazing bit of countryside or next to the beach then that's the sort of thing you should be highlighting first off, rather than yet another picture of a double bed in a room.
Not got much of an eye for photography? Handily, Airbnb provides a few photography tips, which are:
Declutter your space.

Use natural daylight and avoid flash.

Shoot from room corners in landscape mode.

Balance visible floor and ceiling space.

Highlight special decor and amenities.

Add photos of every room Airbnb guests can access.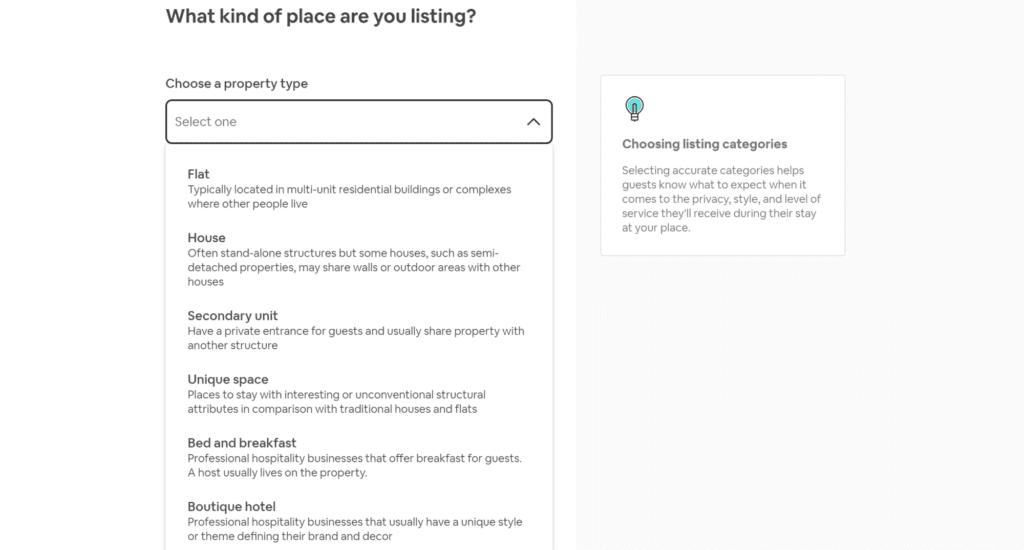 Step 4: Describe your vacation rental and create a title for your new Airbnb listing
I can't emphasise enough the importance of this step. You don't want to be calling the listing something boring and uninspiring, like "Double room in shared house". Remember that you'll be competing for people's attention alongside some very attractive and often imaginatively presented listings – and the main place people fall down when they start on Airbnb is when they don't get this part right.
Consider something more evocative and exciting. Paint a picture with something like "Sunny double bed in breathtaking countryside" or "Stylish modern apartment 5 mins from downtown". Airbnb allows just 50 characters for your title. So try your best to be evocative whilst also being succinct.
The short summary you write of the place is equally important and the main piece of advice I can give here is that you should write a listing in a style that is true to your own personality and the type of guest experience you're providing. If you write a very high-brow, snobby description and your guests show up and you're nothing like that – and your property isn't either – you're going to have a disconnect there.
I like to use a bit of humour and write a description that will give a prospective guest a laugh or at least a smile and that gives them an idea of the sort of host and guest experience to expect – but that's because that's my personality. Whatever your style is, be authentic because not meeting your guest's first impressions of your rental is getting off to the wrong start – and remember that the guest rating of your listing will be vital to your success and even survival on Airbnb.
It's notoriously hard to recover from bad guest scores on Airbnb, so put your best foot forward at the start and strike the right tone for what your Airbnb guests should expect. Not only from the property but from yourself as their host.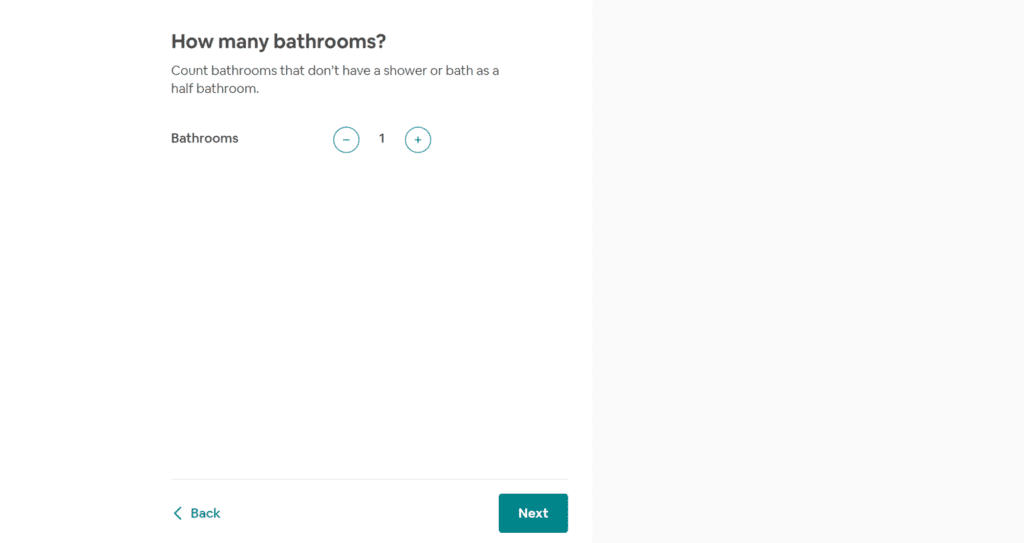 Step 5: Requirements for potential guests at your Airbnb rental
Next up you'll have the chance to add to Airbnb's default list of guest requirements, which already includes messaging you prior to their trip and confirming their arrival time.
You can insist upon an extra level of government ID from the guests you are happy to accept or tick to say that you'll only consider bookings from guests with recommendations from other hosts. The choice is yours but remember that, when starting out, you might not want to set too high a barrier to entry as you'll need to start accepting guests and getting your own rating so appear higher up on the search results and get the most from the platform.
Step 6: House rules for renters and setting clean up expectations
Let Airbnb know whether pets are allowed, your rules on smoking in the property, whether future guests are permitted to throw a party, and if your place is suitable for young children.
In addition to those pre-set questions, the site also encourages hosts to add additional Airbnb house rules – so consider what other requirements you have with a view to the proper maintenance of your property. Do you want to clean up muddy shoes from the carpets? Advise guests to leave their boots by the front door, for example.
Make it clear to your potential guests what state you expect to find the place in once it comes time to check-out and what additional cleaning fees might be in place if these standards aren't met. Remember that guests depend on positive reviews as well if they want to continue using the platform, which is at least a little bit of an insurance policy against wanton property damage and flouting of house rules.
Though it's important not to attempt to micromanage guests, even if it's tempting when they're staying in a property you've put a lot of love and care (and money) into.
This is also the section where you're asked to advise quests of other details about your listing, for instance if it's in a noisy area, if there are surveillance cameras on the premises, or if there's on-site parking available (among other considerations).
Step 7: Agree to keep your Airbnb hosting calendar updated and set availability
After you've set your house rules you'll be asked to click through a few informative screens about how taking bookings on Airbnb works. After that it's a case of clicking to agree to keep your calendar updated and then selecting how often you're looking to book out your place. If you're renting out a spare room in your house, there's a good chance you may only want guests on a part-time basis.
But if you're reading this you're likely managing a few rentals and looking to increase your bookings – in which case you'll want to select the box which says "as often as possible".
This section will ask you to fill-in how much time you need between guest arrivals and to set check-in and check-out times for your guests to follow. It'll also enable you to set how far in advance future guests are allowed to book your place, and the minimum and maximum number of nights they're allowed to book.
You can then set your availability in the calendar and link that calendar to others that you're using to help avoid overbookings between multiple channels for the same listing – whether that's listing on Booking.com Vrbo or your own direct bookings site. It bears repeating: this strategy, driving up direct bookings and making the most of a range of channels, is going to earn you the most money.
Why be dependent on OTAs like Airbnb and Booking.com? Did you know you can save thousands on commission fees by getting direct bookings? Get our free blueprint on how to double direct bookings for free.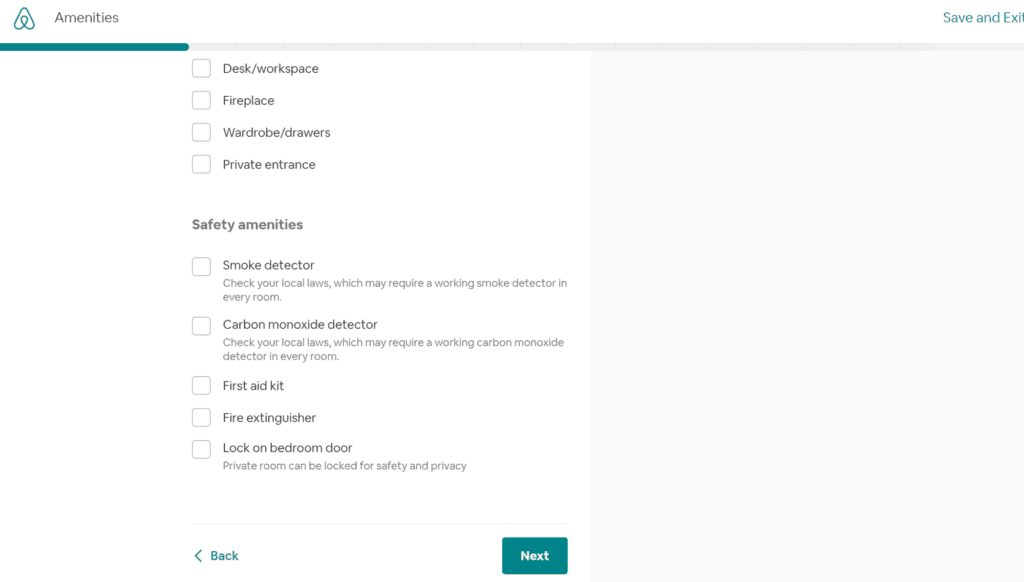 Step 8: Verify and register listing
This next step may vary from place to place in accordance with the local legislation around Airbnb (see above), but you'll need to take some steps to verify your property and agree to comply with local laws before the site will allow you to finally publish your listing.
This may involve giving them further evidence of your ID and taking extra steps to verify your address or prove that you've registered with the relevant authorities. Though, whatever the case, Airbnb makes it quite straightforward to complete this step and tells you exactly what you need to do in order to comply.
With that sorted, you're now a couple of clicks away from accepting your first booking.
You're now in a position to make money using Airbnb though you'll make much more money and attract even more bookings if you embrace other channels – such as other OTAs – as well as driving as much business as possible through direct bookings.
Direct bookings are not only a great insurance policy against Airbnb (and others) changing their terms of service or commission/fee structure, or even going out of business, but they're also the best way to guarantee dependable, long-term income on your own terms – and without many of the restrictions of requirements inherent in listing with Airbnb.
Becoming an Airbnb host is a great start on your journey as a part-time renter but it's just a jumping off point.
Now you're set up as an Airbnb host
Instant Book & the importance of calendar sync
There's a few more bits and pieces I want you to understand about using Airbnb before you start taking bookings. The first is that you need to understand how Instant Book works. These days, this is enabled by default but it's worth knowing what you're getting into before you decide to keep it enabled.
In the past, you might have heard me say not to use this feature because it used to be the case that Airbnb didn't play well with other OTAs, meaning that their calendar didn't sync with your channel management system or PMS that you use to manage booking between multiple channels. This had the potential to cause overbookings and wasn't worth the hassle.
Recently, they've addressed a lot of those issues and allow you to sync Airbnb up with your other calendars. For this reason, I'd now recommend keeping Instant Book enabled – though do keep in mind that Instant Book does exactly what it says on the tin: potential guests will be able to book your property or rooms at the click of a button without the need for any verification from you.
This is convenient, for both the renter and guest, but it's incumbent upon you to ensure all your calendars are properly synced up and up-to-date. Otherwise you might accept a booking from Booking.com, or from one of your own direct channels, while somebody else is able to book the same room via Airbnb without any input from you.
There's nothing worse than a double booking. I've had it happen myself where a guest turned up on the day to find I'd accidentally rented out the same room to two different people on two different platforms. Not only is it embarrassing and harmful to your reputation, but it's also a nightmare to rectify in terms of the admin afterwards.
So keep Instant Book turned on but make sure the calendars are in-sync because you'll want to be using multiple channels and generating as many direct bookings as possible in order to minimise your reliance on OTAs and maximise your own profits.
If this doesn't sound like a setting you want to have enabled and you want to retain complete control over confirming each booking, then I will provide the steps below to disable this feature. Though it's worth noting that if you want to exercise the most control over your rentals the direct bookings route is the one you ought to prioritise.
As Airbnb will warn you, disabling Instant Book will harm your placement on search pages and may mean that some guests opt out of trying to book with you, due to the lack of convenience. But, with that in mind:
How to turn off Instant Book
In order to do this you'll need to take the following steps:
Go to 'listings'

Select 'booking settings'

Then choose 'how guests can book'

Depending on whether you're on the mobile app or the desktop website, the next option you need to select will either be 'turn off Instant Book' or 'all guests must send a reservation request'.

Save your settings
Importance of multi-channel strategy
Like I said at the start, I love Airbnb and, as I've reiterated time and time again throughout this guide, it's extremely important to make proper use of what the platform has to offer, with an effective listing. But it's even more important that you do so as part of a broader strategy, among other channels and embracing direct bookings as much as possible.
Airbnb should be seen as another tool in the box. It's not the be all and end all.
If you're serious about making a business out of short-term rentals and using it to bring you a significant income then you can't tie your business to any one OTA. If their website goes down, if they change their terms and increase their commissions, or if they go out of business that could be catastrophic for you if you're unprepared and overcommitted in any one place.
Direct bookings will increase your profits and anybody who wants to set themselves up for success in the short-term rental business is setting themselves up for failure if they rely only on OTAs and sites like Airbnb.
If you're interested in learning more about how to leverage Airbnb and other channels as part of a strategy that drives the bulk of your rentals towards direct bookings, then you should take a serious look at Boostly. Through Boostly, I'm helping short-term renters to double their direct bookings and make far more money.
We help you get the knowledge, the website, and the marketing materials you need to turn a side hustle into a growing, dependable full-time business.
Why be dependent on OTAs like Airbnb and Booking.com? Did you know you can save thousands on commission fees by getting direct bookings? Get our free blueprint on how to double direct bookings for free.