After plenty of speculation, Airbnb is now rolling out its commission changes for multi-property owners or managers. The standard and existing model is to charge your guests a service fee of up to 20%, with 3% coming out of your rate.
With these new changes it means that guests will not be charged the "service charge", however, you will pay a flat rate 14% commission.
Before we continue, welcome to Boostly!
I imagine you have just discovered our blog, and I wanted to take this chance to let you know that if you're ready to become a DIRECT BOOKING MACHINE then go and grab the blueprint to getting more bookings right here CLICK ME
Take a look at the screengrab below from a message sent to an Airbnb Host.
*********
Need some tips on increasing direct bookings? I have created a Free 5 Step email guide to help. To get your copy go to www.boostly.co.uk/free
************
Jill Menze reported on PhocusWire that Airbnb was trialling this commission method with select hosts. With many super hosts now getting notified of the change, it looks like this will be rolling out gradually across the site.
Skift published a blog in detail about how these changes are being rolled out around Europe and other major countries.
Skift wrote
"Under the new business model, property managers that create accounts starting June 4 and connect to Airbnb via software in the Asia Pacific (except Japan), Europe, the Middle East, and Africa will be charged a 14 percent host-only fee by default. Until now, the default was that Airbnb charged hosts a 3 to 5 percent fixed fee, and guests paid a fee of up to 20 percent of the rate for the listing.
Existing and newly enrolled property managers will have the choice to switch to a 14 percent host-only fee "or a shared host and guess fee," Airbnb has informed hosts in an internal communication."
Rates for early adopters
Being rolled out in Thailand, (so likely to be in your area soon) the 14% rate is only being held for "early adoptors". Those that wait until January 2021 will be charged 15%, as you can see from the graphic below;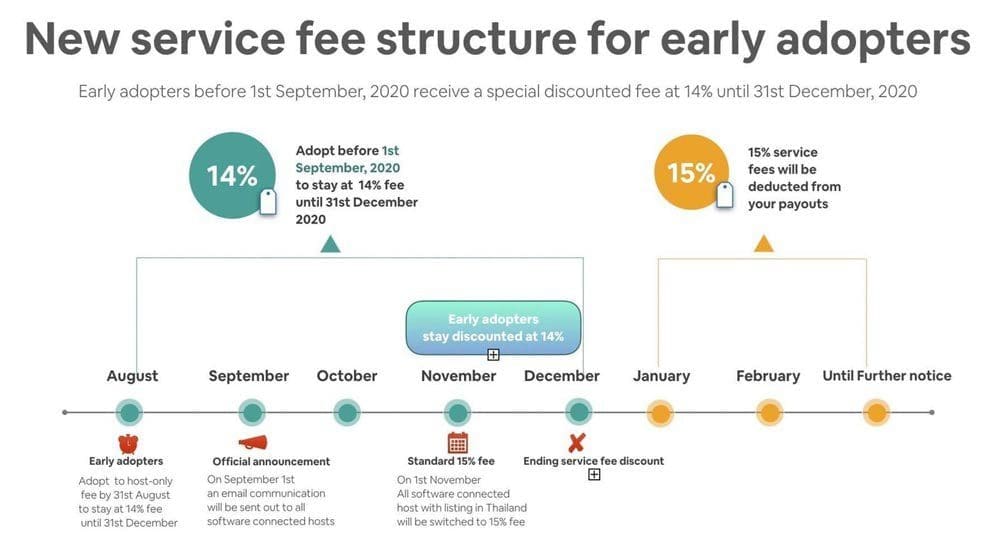 Airbnb commission changes to compete with OTAs
This new model is likely because Airbnb is seeking to compete directly with OTAs. By charging hosts, they are now switching to the same model as other sites such as Booking and Hotels. Booking charge 15% commission on properties in some areas, making Airbnb a mere 1% cheaper in this regard.
With cities across the world – including Edinburgh in Scotland – looking to introduce licensing laws for short-term lets, it is likely Airbnb is now trying to attract more traditional accommodation providers to the website. If you run a hotel, B&B or hostel this change simply means you will use the site the same way you use other OTAs. For short-term lets, however, it is a major change.
How will the Airbnb commission changes affect bookings?
This depends on your pricing model. Guests will now see the exact price for their trip as a lump sum, rather than itemised. You can still charge cleaning fees though. If, for example, your base rate is £50 per night, you can set your rate to £58 to account for the booking fee. It is now clear to guests the exact amount they will be paying.
Though this can decrease bookings, it is likely other hosts in the area will have to adopt a similar model. Nevertheless, there are some concerns that larger businesses that can absorb these costs will be able to out-price smaller hosts. To be a true competitor to the OTAs, Airbnb will need to take on a wider range of properties – creating the possibility of a race to the bottom with pricing. The only way to deal with this is to increase direct bookings.
How to increase direct bookings from Airbnb to avoid commission charges?
Most of the usual advice still applies. Develop a solid marketing plan, offer direct booking guest perks, make sure your website and content is high quality. The problem with Airbnb is it can be harder for guests to figure out who to book directly with. The website is designed to make it harder for guests to book elsewhere. This can reduce direct bookings, and mean the Airbnb commission changes will hit you harder.
The most important thing to do is to make sure your listing has as much information as possible. A good example is these camping pods in Richmond. They have the name of the business (Hillcrest Park), location information and clear photographs.
More seasoned guests might be more tempted to look at the company website up before booking. If you take a look at the linked website, they have advertised their super host status on Airbnb and used similar photos. This confirms to website visitors that they have found the right place. You can also include photos of your property signage on Airbnb. This is a great tactic if you have contact information on the sign. Airbnb removes the contact information from the listing text, so this is works around this.
Final thoughts
With these commission changes, you should now treat Airbnb the same way as you treat OTAs – as a customer acquisition tool.
Make sure to get contact information from guests when they arrive, and let them know they can get discounted rates by booking directly next time. Also, make sure your remarketing efforts include guest perks for people who book directly. You can also start providing an Airbnb Experience from your business, enticing guests to book with you next time you are in town.
**UPDATE ONE YEAR ON**
July 2020
Airbnb are contacting hosts who manage 5+ listings on their platform. In my opinion, this will be aimed more at guesthouses, hotels or property managers who are on Airbnb.
Also, there are a number of factors being put in place by Airbnb which means that 14% is a minimum.
For example, if you don't accept the instant booking, you are charged more than 16% commission
If you aren't a super host, then you are charged more commission.
It's an interesting development and with COVID-19 putting a stop to a lot of Airbnb's future plans, this could mean that this trial is scrapped as well as many other ambitious plans from Airbnb.
For more Airbnb related advice and tips, check out Danny from Optimize my Bnb. I've got to know Danny over the past few years and he's a fantastic resource for all things Airbnb. The best place to start is his website which you can find by clicking here.
Need some tips on increasing direct bookings? I have created a Free 5 Step email guide to help. To get your copy go to www.boostly.co.uk/free