When you're an Airbnb host, you soon find that Airbnb requires you to jump through some hoops, and one of these is leaving host reviews for your guests after they check out.
Airbnb is pretty persistent about getting you to fill these in – and as a host, it's great practice. But if you're running a full-time short-term rental business, this just means extra admin.
That's why in this post, we're giving you a few templates, depending on your needs and style, and explaining why each one is a winner. Don't worry – your reviews will only show up on the guest's profile pages, and not on your own, meaning that no-one will be able to tell that you're copying and pasting each time.
Simply bookmark this page and come back to copy and paste our best Airbnb host review examples whenever you need to submit a quick and easy public review in between guest turnarounds at your vacation rental. No more time-consuming admin, no writer's block, and no faffing around thinking about what to write.
You're welcome.
Ok, but first: What are Airbnb Host reviews?
An Airbnb Host review is your summary of a guest's stay after they leave. 
It appears on the guest's profile page and is visible to other hosts, who may check the guest's reviews before accepting a booking in the future. As a host, you have the chance to post a review of a guest and their stay after they check out.
Reviews include star ratings out of 5 for issues such as cleanliness and communication, and also give you a chance to write your own thoughts. They can be short or long, depending on you.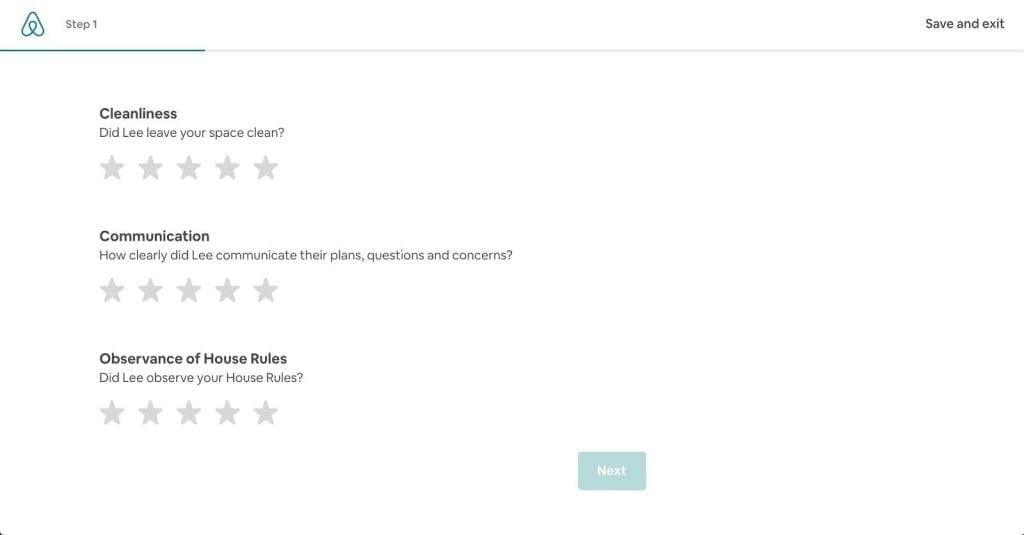 Reviews work best if they are informal, casual, and positive whenever possible.
You have 14 days after the guest checks out to post a review. During those 14 days, you must post your own review of the guest before you can see their review of you; and vice versa for the guest.

If you don't post a review within 14 days, you will lose your chance. Same for the guest for their Airbnb guest review. If the guest has left a review but you haven't, you'll need to wait the full 14 days before you can see it. Vice versa for the guest.
Reviews by guests of your rental appear on your page, but Host reviews for guests don't; they only appear on the guest's own profile page.
Leaving reviews for your guests is seen as a positive by Airbnb, and leaving regular reviews as a rule for your host stays can boost your Airbnb listing, and nudge you closer to (or help you stay at) Superhost status.

When writing a review, you might answer any or all of these questions:
Did you enjoy hosting the guests? Were there any issues?

How communicative were they, and how polite or friendly?

How did check-in and check-out go?

Did you enjoy meeting them?

Did they follow the house rules?

Did they leave the place clean and tidy, or were you a little disappointed?

Are there any interesting details you could include (e.g. their style, travels, plans)?

How did they deal with any problems or unexpected issues?

Did they give you any constructive feedback you appreciated and were able to take on board for future guests?

Would you be happy to host them again, and/or recommend them to other hosts?
We would also recommend that you are honest but fair, and point out any potential issues that could be a problem for future Airbnb hosts. 
The point of reviews is not only to help your Airbnb listing or the guest but also to communicate with other Airbnb hosts about whether they should accept this guest's possible future bookings. So be thorough, honest, and fair. If there were legitimate problems, and you wouldn't recommend the guest: say so. 
If you made errors and want to apologise publicly, or thank the guest for their patience, you may do so. Leaving regular honest reviews helps build up your profile as a trustworthy and friendly host for future guests.
Remember also that guests see your reviews of them and they are public. Because of that, if you have a grievance or issue to raise, it would be recommended that you communicate with the guest privately first to resolve any possible problems, before sharing publicly.
You have 48 hours to edit a review unless the guest has already written theirs, or the 14-day limit is up. You cannot edit a review once it's been published.
Normally, reviews can't be deleted. In exceptional circumstances, you can contact Airbnb to have a review removed, but they won't delete it unless it's discriminatory or violates Airbnb's terms.
Of course, it goes without saying that you shouldn't make any illegal, discriminatory, vulgar, obscene, personally-identifiable, private, or threatening comments. But you don't need us to tell you that!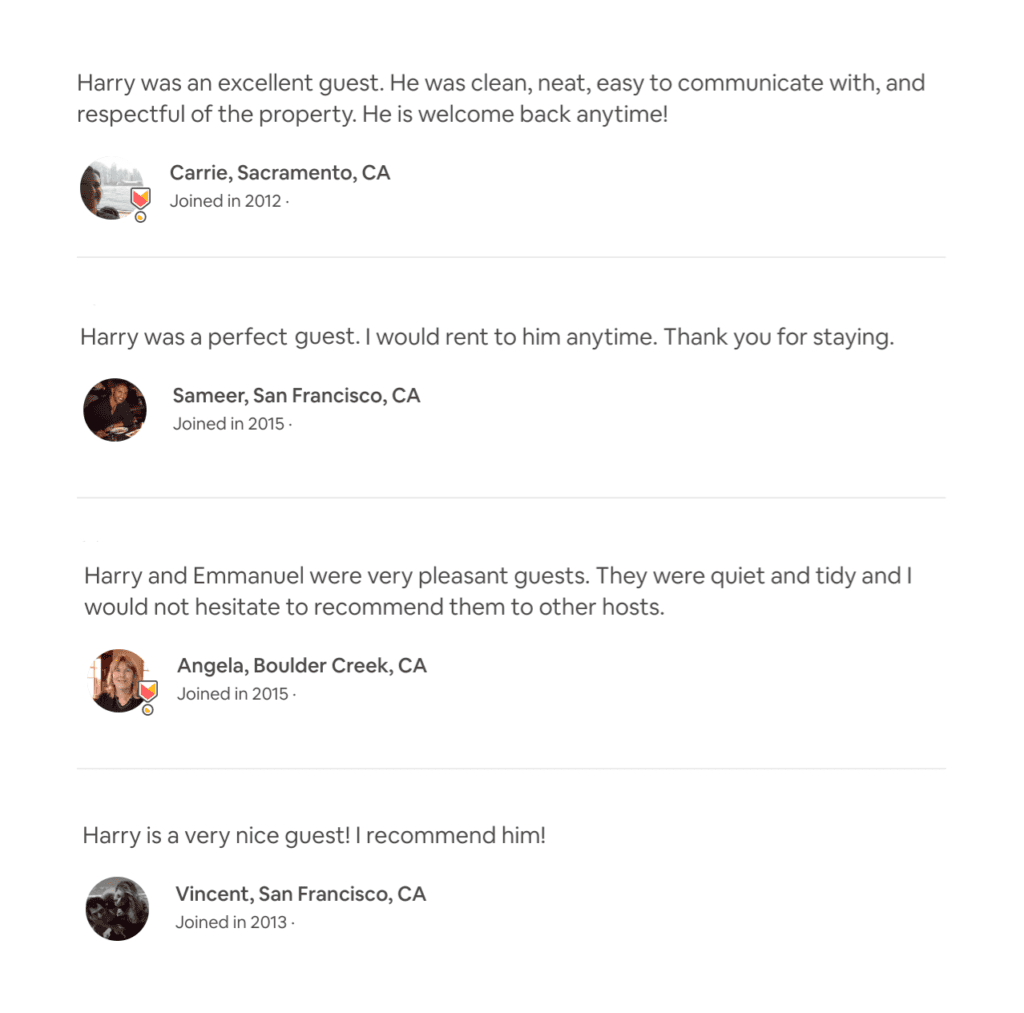 Do Airbnb hosts have to review guests?
You don't have to. Airbnb will remind you frequently about leaving a review after your guest checks out, but if you do nothing, your ability to leave a review expires.
However, Airbnb encourages it, and leaving consistent reviews can massively improve your ratings and visibility, and increase your chances of achieving "Superhost status" on the platform.
Superhost status means you get access to a range of advantages, such as coming up higher in search results and getting faster access to Airbnb host support. You also get a "Superhost" badge next to your profile picture, which shows guests that you (and your team, if you have one) are experienced, well-reviewed, excellent hosts or Airbnb co-hosts.
Leaving a review also encourages your guest to leave a review for you too (hopefully a good one!). This is because they receive a notification when your review is posted, and can't see it until they leave a review, meaning that they have more incentive to return the favour. 
Guest reviews show up as star ratings out of five on your page, and also appear underneath your listing. The more good reviews you have and the higher your rating, the more likely you are to get more bookings, as guests will have much more trust in your ability to give them a great stay.
It's in your interest to leave guest reviews, so they do the same back! Plus, it helps you to build friendly relationships, good communication with your guests and could encourage repeat bookings.
Although we recommend not asking your guests to leave "good reviews". The relationship and review are always better if it's honest and given freely. No-one likes feeling pressured!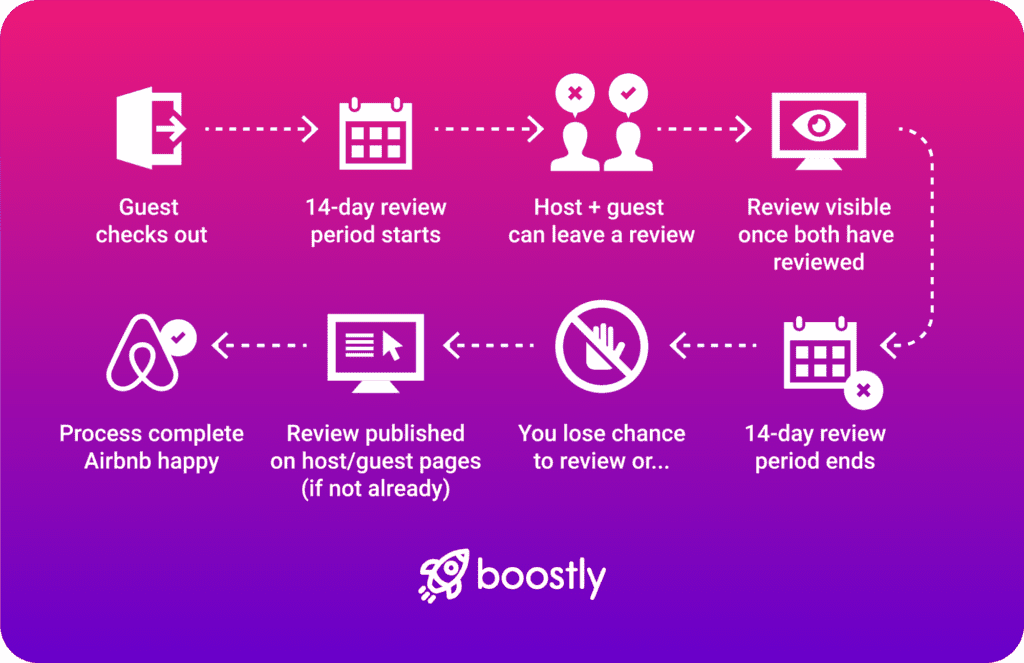 Can you automate Airbnb host reviews?
Short answer: Yes.
You can use external tools – such as Smartbnb, iGMS, Host Tools, or Lodgify – to connect to your Airbnb account. Through them, you can set up your dashboard, create new "review rules", and load up a range of templates – such as the ones we've given you below.
You can then set the review to be published within a certain time frame after your guest checks out. You might want to leave some time, e.g. 2-3 days between check-outs and automatic postings, in case there are any issues you want to resolve first.
Of course, if you're using automated templates, you'll need to make sure your reviews are relatively generic and general. However, some tools allow you to use simple code that inserts details such as the guest's name automatically so that your review looks as personalised as possible.
If you want to leave a more personalized review or your templates aren't quite right for a certain guest, you can always intervene and turn the automated posting off before it sends. The tools aren't free, but they generally cost less than £5 per month for basic plans, and most offer free trials before you buy.
Are there any downsides to Airbnb host reviews?
As a short-term rental owner, it's definitely good practice to respond to guest comments, feedback, and reviews regularly and professionally.
It helps you as you appear open, professional, and friendly to prospective guests; and it builds excellent relationships with existing guests too.
Even if you aren't listed on Airbnb at all, we here at Boostly always recommend that you have publicly-visible positive reviews and testimonials online – especially on your own website – to help show your business in a good light and increase guest trust and anticipation as much as possible before they book.
It's what we call "social proof", and it's absolute gold when it comes to building trust with guests.
But the reciprocal review system on Airbnb reveals just how dependent you are, as a business, on Airbnb's own platform, which definitely has its pitfalls that can leave you in the mud.
Airbnb retains complete control of your star ratings and reviews – and can leave automatic postings on your page due to an unexpected Airbnb cancellation by a guest (or an unavoidable one by you), through no fault of your own.
This means you can look "unreliable" on the system, even if your guests were actually happy!

The Airbnb review system also means that you can't see your guest reviews until you've left your own review of them. In most cases, when all is well, this works out OK. 
But what if the guest's review is unexpectedly or surprisingly negative? You won't know until you've left a perhaps-positive review on their page, which is hardly fair! 
Plus – if a guest leaves a negative review, it's stuck on your page, and you can't do anything about it. A guest can leave a bad guest review without having a real reason, without having to speak to you first or sort any grievances or problems out with you beforehand.
This leaves you vulnerable. As a result, Airbnb's review system can damage your reputation and listing, without there being much you can do about it.
That's why it's so key for serious short-term rental owners to retain as much control over their own business as possible, and set up your own website, direct booking system, proper insurance policy, and an online review system that you can monitor, control, and reply to easily, without Airbnb's rules getting in the way.
The more personal and direct your communication with your guests – without OTAs getting in the way – the stronger your relationships with them, and the more likely they are to recommend your place, and even book again another time.
Our recommended copy-and-paste Airbnb review examples
Great guests. I didn't meet them in person but there were no issues at all and they left the place clean. Would recommend.
Pros:

Easy, to the point, positive, widely-applicable, and simple.

Cons:

A little short and light on details. Doesn't give much insight for other hosts.
Absolutely no problems hosting [guest name]. He/she/they were communicative throughout and looked after the place with care. He/she/they followed all the house rules and left our place very clean and tidy, which is always appreciated! He/she/they would be welcome back any time. Thanks again [guest name], safe travels.
Pros:

Simple, great for tidy and communicative guests.

Cons:

Maybe too general if there were specific issues or events.
[Guest name] came to visit with his/her/their [partner/friend] and we had no problems at all. They left the place tidy, were friendly when communicating, quiet and respectful. Highly recommended to future hosts. Thanks for your stay!
Pros:

Good for couples + groups.

Cons:

Doesn't work if you weren't on-site to check if they were quiet or tidy!
I was very happy to welcome [guest name] to my property. There were some issues with [insert issues here], but they were polite and communicative, and we were able to sort it out. They stuck to all the house rules, and even replaced [small item] that they had broken without me having to ask! Really appreciated it. They would be welcome back anytime.
Pros:

A good way to be honest about issues but thank the guest.

Cons:

It's a personal choice to mention problems and breakages, and totally optional!
No problems but a little untidy
There were no issues with [guest name]. They stuck to all the house rules and were friendly. We didn't meet so I didn't get a chance to welcome them in person, but they let me know when they checked in and out. He/she/they left the place a little messy, and I would have appreciated it if they had tidied up a little more before leaving, but nothing major. Thanks.

Pros:

Simple and clear for hosts not on-site.

Cons:

Again, a personal choice to mention untidiness or similar. You could choose to raise this privately with the guest instead of posting publicly.
A few issues but otherwise great
I was very happy to host [guest name] at my place. Unfortunately, we had some issues with [insert issues here], but [he/she/they] were very understanding, and we managed to resolve the problems without too much hassle. I really enjoyed meeting [him/her/them] and hearing their travel stories and book recommendations! Thank you [guest name]! Would recommend to all hosts!

Pros:

Great if you enjoyed meeting the guest, but there were some issues that came up.

Cons:

Careful not to say "you enjoyed meeting" the guest if you weren't there! And again, mentioning issues is a personal choice – although if the guest was friendly despite problems, that could be useful for future hosts to know.
It was a pleasure to host [guest name]. He/she/they stayed for [how long] because they were in town for [reason here]. I was happy to help, and pleased to report he/she/they followed all the house rules, and were communicative and polite. Thanks so much.
Pros:

Great for long-term guests who are staying for an interesting or notable reason.

Cons:

Light on details. You could add more about how clean and tidy the guest was, for example.
I did not have a good experience with these guests. They broke my house rules, and left the place dirty and untidy, and got angry when I asked them for extra cleaning fees. I usually love hosting but unfortunately in this case I was very disappointed. I would not recommend this bad guest to other hosts.
Pros:

Honest, to-the-point, factual, and a good warning to other hosts. Unpleasant but sometimes necessary as a host.

Cons:

May prompt the guest to leave even more negative feedback. You may wish to keep the details between you and the guest, depending on your style.
Airbnb Host reviews: The alternative
So there you have it: Eight great copy-and-paste templates you can use for a variety of different situations, to help you jump through Airbnb's Host review hoops, and ensure your business looks as good as possible on the platform! 
But we're guessing you didn't get into the short-term rental business because you wanted to copy-and-paste your communication with guests or "jump through hoops" to make a living?
Most people who work in hospitality do so because they enjoy travelling themselves, or at least feel passionate about giving guests a great experience at their property. No-one wants to feel like "just a number" when they're staying at a property, and you probably don't want to make your guests feel like that too. 
We've all know how important personal and tailored touches – such as a personalised greeting card or gift – can make guests feel special. It's those little things that make your short-term rental stand out above the rest, and ensure happy guests that always come back.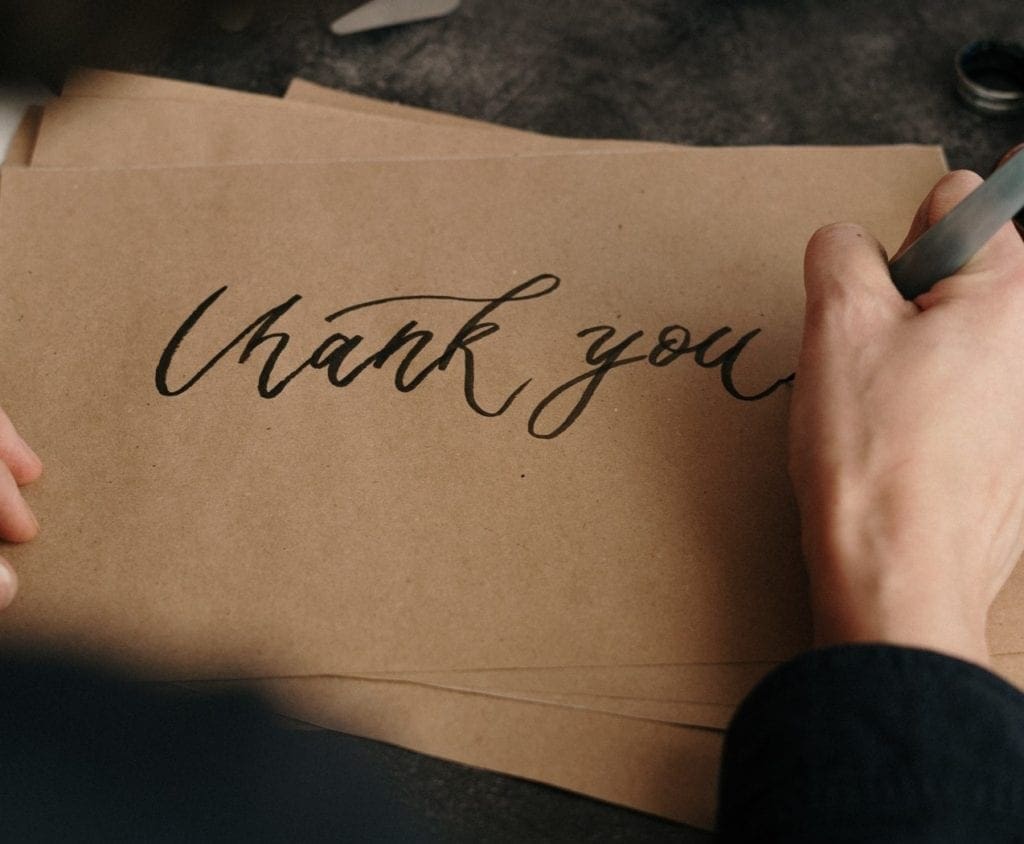 That's why at Boostly we encourage all serious, short-term rental business owners to stop relying on faceless OTAs such as Airbnb.
Instead, we help you to set up your own website, direct booking system, and review platform, so that you're no longer beholden to Airbnb's clunky and demanding rules, and have full control yourself.
Don't let Airbnb's demands make you forget why you started your business in the first place.
As a host, you're dependent on happy guests, good marketing, positive reviews, and strong word-of-mouth to keep your business running, so we say – instead of getting bogged down in Airbnb admin, take back control and build better relationships with your guests personally.
Yes, OK, you'll still have to deal with some admin – we're not magicians, after all – but you can do it on your terms, when you want – rather than when Airbnb forces you to, or when it posts automatically without your approval, or without giving you chance to put a guest issue right first.
Cut-and-paste Airbnb Host reviews are a good shortcut for when needs must, sure!
But the best solution is to do away with Airbnb completely. Instead, why not set up your own direct website – maybe even using our Boostly service to help you do it with no fuss, and even if you're not tech or marketing-savvy – and remember why you got started in hospitality in the first place?
What's more, happier guests mean more bookings, so you'll make money too, leaving you with more resources and time (and less stress) so you can take care of your guests even more.
Happy hosts, happy guests – and not a single random rating or automated posting between you! We'll give that five stars any day.