I love property management and everything that comes with the short-term rental business – which is why I set up Boostly and have helped thousands of short-term renters with the management of their properties to bring them more money. But it's not for everybody.
Managing multiple listings and keeping track of everything can be a hassle and a cause of stress, which is why some people with a portfolio of short-term rental properties look to hire a third party to act as a property manager to lighten the load and ensure they can scale their business.
To address this need, Airbnb allows for vacation rental owners to add people to their listings as a "co-host". This can enable both the property owner and the co-host to boost their income by sharing responsibility for various tasks associated with running an Airbnb.
This how-to guide is going to answer all of the most commonly asked questions about how Airbnb co-hosting works – whether you're looking to become a co-host or weighing up the pros and cons of hiring one. 
How do I get started?
Is it worth doing? 
How do co-hosts get compensated? 
All will be revealed.
Before we progress, whether you're a property manager or a rental owner, you're going to make more money building your own website and taking as many direct bookings as possible.
Airbnb is a fantastic added-revenue stream and a good way to get going in the short-term rental industry, but it's risky to rely too much on any one OTA (Airbnb, Vrbo, Booking.com). Put simply, you're never going to reach your full potential as a renter unless you embrace direct bookings where you take an increased share of the revenue.
I'll return to that later, but for now, let's get on with the guide.
The basics: What is an Airbnb co-host?
I get questions all the time about the ability to become or to hire a so-called "co-host" on Airbnb – effectively the platform's name for a property manager who hosts can hire, for a commission, to help manage their properties. Basically, a co-host is just somebody – whether a professional third-party property manager, a helpful neighbour, or a trusted family member – who you give a certain level of management privileges on your Airbnb listings.
The level of oversight that a co-host has in the running of an Airbnb rental can vary from odd jobs (perhaps helping guests check-in whenever you're out of town) to running every aspect of your listing, from ensuring it's clean and restocked with amenities to controlling pricing and actively helping to drive bookings.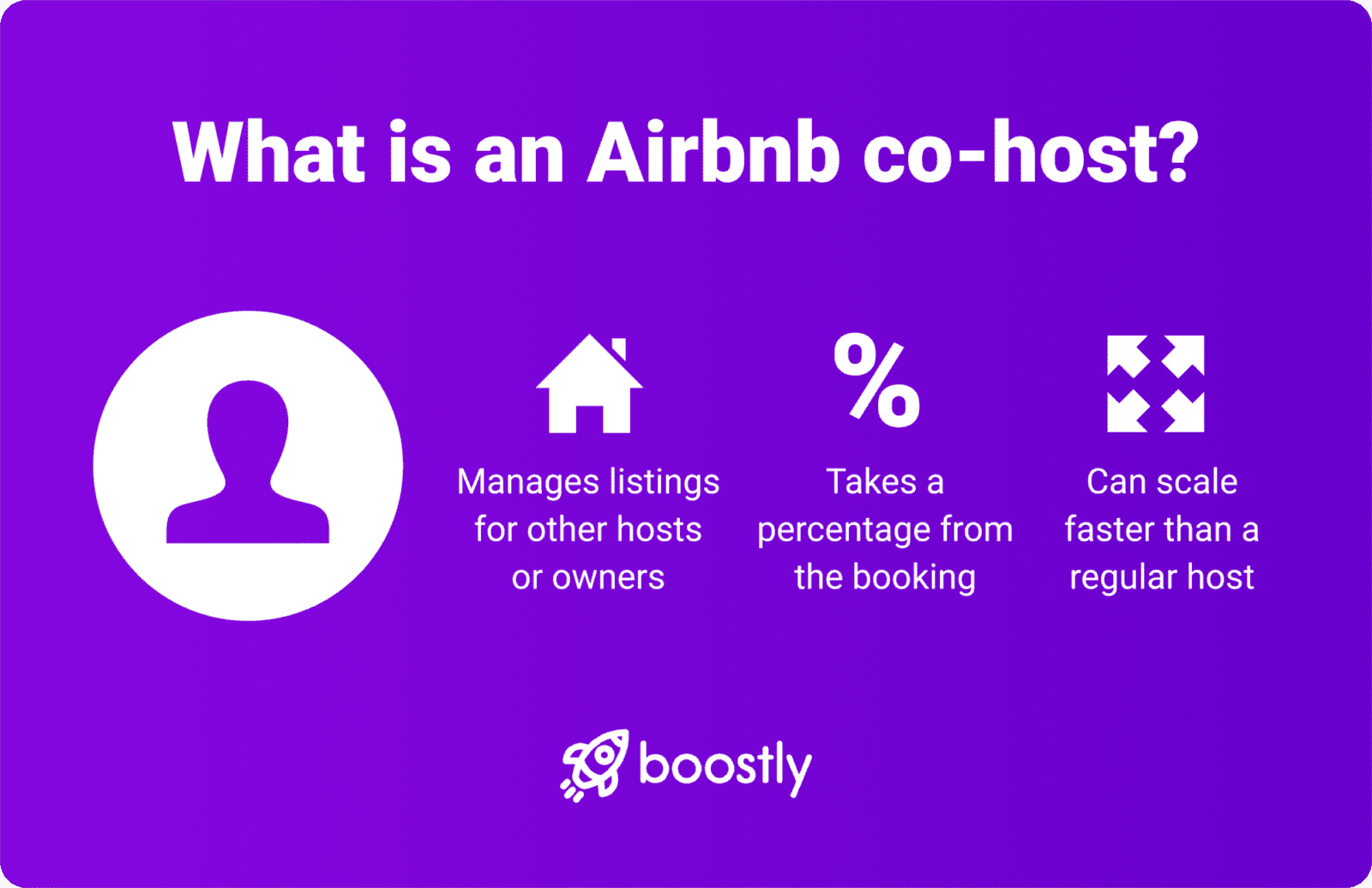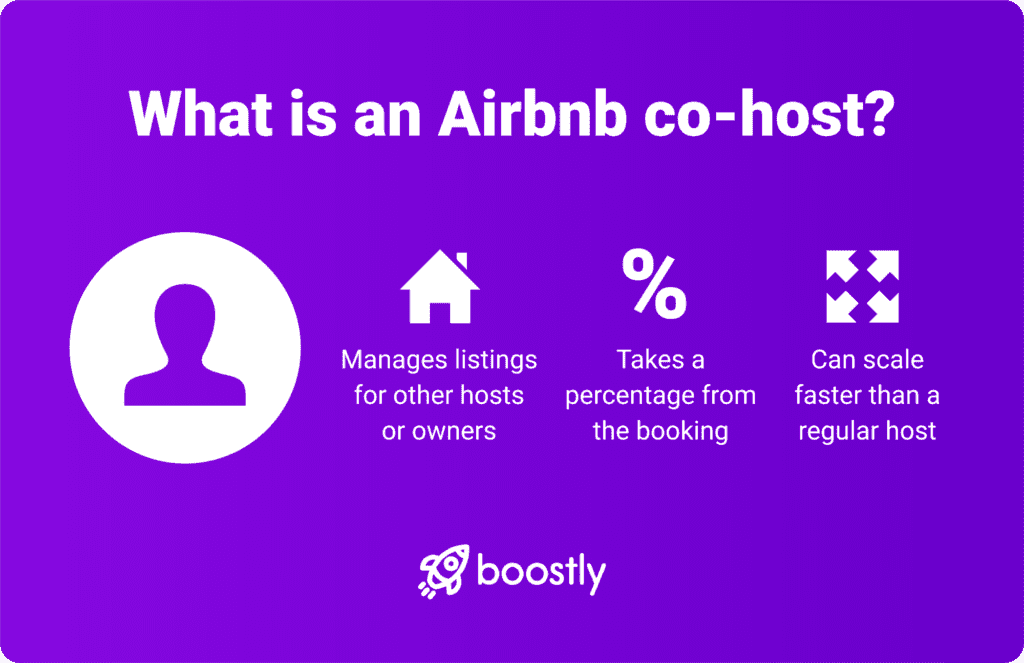 It's a little ironic that Airbnb introduced the ability to co-host back in 2016, as they'd previously been dead set against third-party property managers operating on their platform, going so far as to ban hosts who were managing other people's rental properties.
The site's come a long way since it started, predominantly as a way for people to make a bit of extra cash out of their spare bedrooms, and it's now much more common as a place where dedicated short-term rental owners set up a side business listing their properties, often in combination with listing on other OTAs and taking direct bookings.
As the platform has evolved, they've taken on more and more features aimed at helping these types of property owners who see Airbnb as a platform for their business. Allowing hosts to hire co-hosts/property managers through the platform is just another way they've embraced the way the platform has evolved.
What does an Airbnb co-host do?
Put simply, co-hosts can help the property listing owner with a number of services through the program. This can involve handling reservations, being responsible for messaging guests, checking guests in, and ensuring that proper cleaning is organised.
Another important function could be ensuring your calendar is updated so that your Airbnb bookings don't clash with any direct bookings you may be taking. Of course, this is something you could automate through your PMS or channel manager – bringing together your own direct booking calendar with those of the different channels you use through various OTAs. But even then, a co-host could help you manage these systems.
To give you a rough idea of how this might be helpful to you as a holiday rental owner – or what you're getting yourself in for if you become a co-host – here are some of the things they might do:
Address any property damage and ensure the property is always in top condition to receive new guests.

Keep any amenities you provide in stock, from essentials like toilet paper to nice extras like coffee.

They may be the focal point of guest communication or simply an emergency contact for guests should you be unavailable or live far away from your property (for instance, if a guest locks themselves out or if there's been a break-in).

They might check on guests during their stay to ensure they're getting on ok. This sort of thing can be vital to ensuring a decent rating from guests after their stay but it also takes a bit of time a host might not have available. This could be extremely important if you're a Superhost looking to maintain that status.

Co-hosts can review guests after their stay at a listing.

Welcome guests during check-in and check-out, if need be.

Keep an eye on the nightly rate to make sure you're in line with demand and always attracting bookings without selling yourself short – as the Airbnb "smart pricing" algorithm is prone to doing if you leave it in charge. This could also be something a host chooses to automate with various pricing tools, but either way, it's something any host needs to ensure is managed properly.

If you have multiple listings as a host, perhaps a co-host will be necessary when you can't be in two places at once, for instance, if you have two separate parties of guests arriving at the same time to properties on opposite ends of town.

They might be responsible for handling the fallout when an Airbnb guest cancels and ensuring you act in-line with Airbnb cancellation policy.

A co-host might even manage your direct bookings website.
You can probably think of a few other things a co-host could help with but these are some of the most common ways an Airbnb co-host can be helpful to a busy rental property owner.
A co-host can even be made the primary host of a listing, making them the public face of the property to any prospective guests.
An Airbnb co-host can't access the listing owner's taxpayer information or payout details. They also can't review the main host's Airbnb history as a guest on the platform. But otherwise, a co-host can be listed as the primary host on the reservation and can be tasked with helping the property owner with basically any aspect of managing the listing.
How does Airbnb co-hosting work?
I'll walk you through the detailed steps you need to take in order to become a co-host on Airbnb – or to add a co-host to your existing listings – but first here's a brief idea of how it works.
Strictly speaking, once a co-host is added to a listing, both the host and co-host will be able to adjust the description, pictures, and pricing of that listing. They'll also be able to communicate with guests in order to assist with things like check-in, or simply to answer questions during their stay such as letting them know how to turn on the heating or where the sugar can be found.
As mentioned, this could be a friend, family member, or helpful neighbour doing a host a favour. It could also be a local host who is available to act as a co-host or a full-time third-party property manager who you hire and add to your listings as an Airbnb business partner.
In any case, while the Airbnb website ensures a host and co-host agree to terms and conditions, they don't enforce any type of strict, revenue sharing policy on the site. It's important that a host and co-host agree upon the terms of their relationship before a co-hosted is added to a listing and begins to help a host in the management of a property. I'll cover that in more detail as we go on.
How much does an Airbnb co-host make?
This varies as the amount a co-host can charge depends on the responsibilities they are expected to carry out by the host. This could mean the co-host takes anything from 10-25% of the bookings dependent on whether they're simply lending a helping hand or literally doing everything to run the listing.
Alternatively, a co-host can agree on a flat-fee or even charge extra for cleaning services. The amount a co-host makes is going to depend on what they're doing for a host and the agreement they make with that host.
It's worth bearing in mind that the amount a host and co-host makes could be significantly higher through direct booking, where the full amount of the booking can be shared between both parties rather than a portion of it going to the OTA (Airbnb in this case).
How does co-host payment work on Airbnb?
Airbnb once had a feature on the platform that enabled the host and co-host to agree on a revenue split, with payouts automatically made to both parties at the completion of each booking. However, they've removed that and now all revenue goes directly to the host (minus the commissions and fees paid to Airbnb).
While they don't automate any sort of regular profit sharing or co-host payment scheme, Airbnb do have a part of their site they call the Resolution Center which they encourage both parties to use for one-time payments for services. This part of the site is usually for hosts and guests to send or request money from one another in order to cover additional fees or issue refunds to do with a stay. But it can also be used to make payments between hosts and co-hosts.
It's extremely important for a host and co-host to agree on the terms of their partnership upfront and to use a lawyer, if necessary, to draw a contract stating clearly the split of revenue and expectations of both parties.
Once that's sorted and it comes time for a host to pay a co-host, it's then up to both parties how the money changes hands, whether that's a bank transfer or use of a site like PayPal.
Is it worth becoming a co-host on Airbnb?
This depends on the time you'd be putting into being a co-host, how many properties you'll be managing, what sort of revenue share agreement has been agreed with the host, and how much money the properties in question bring in.
According to one study, Airbnb hosts average $924 per month through renting their properties. If you're a co-host taking a 10% share of that you'll net yourself under $100. That might be acceptable if you're answering a few emails for guests or it might be a colossal waste of your time and energy if you're scrubbing floors or racing across Los Angeles every other week in rush hour traffic to oversee check-ins.
Only you'll know what it's worth to you and it's up to you to ensure whatever agreement you reach with a host fairly accounts for the time you'll be spending as part of the agreement.
Of course, you might also take a larger percentage than that, with some co-hosts taking 25% (or more) of bookings based on the value they're bringing to the management of the properties and the requirements of the main host.
Becoming a co-host is also a very scalable business model if you're able to manage a portfolio of properties – whether that's for a single owner with several rental properties or working for a number of owners. Without any investment in property themselves, a well-organised and motivated property manager can run a small property empire, and take a decent percentage of the bookings, without the expense or risk of buying or renting any property themselves.
Similarly, a host looking to hire a co-host needs to make the exact same considerations about how much money they expect to bring. If you have quite slim profit margins, even a 10% cut to the co-host might stop you from earning from your property.
As with a lot of other challenges when it comes to short-term rentals, one of the most reliable remedies to boosting revenue and ensuring increased profit for host and co-host, is to pursue a strategy of direct bookings where all of the revenue lands in your pockets rather than those of Airbnb.
How do you become an Airbnb co-host?
If you're looking to become a co-host on Airbnb, there isn't a process on your end that you can do in order to become one on the site as co-hosts are invited to join in the management of a property listing by the main host/rental property owner.
I'll explain below how to add a co-host if you're the listing owner (it's extremely simple) but first, it's worth mentioning that setting yourself up as a third-party short-term rental property manager outside of any single OTA (like Airbnb) will be more beneficial to you then being beholden to a single platform.
Most people who take on third-party property management, whether within an Airbnb context or outside of that, are themselves owners/hosts who can demonstrate their value by virtue of the work they've done to grow their own rental businesses. If you're looking to get into co-hosting without this experience, then your best bet is probably to start off by helping people you already know – like friends, neighbours, or family members, before branching out and trying to work with other local hosts.
There's also a few marketplaces out there run by third-party companies which specialise in connecting co-hosts for sites like Airbnb. For an example of one of these, you could look at Cohost Market.
Airbnb doesn't have a formal way for hosts to meet and get to know each other but you will likely be able to find Airbnb groups (on sites like Facebook and Reddit) filled with local hosts in your area, particularly if you live in a major city or near a popular destination. From there it'll be down to your ability to sell yourself, build relationships, and network.
In short, it's a small business you'll be running as a co-host of multiple properties and, with that, comes a demand for some amount of marketing. That comes with its own challenges but it's also something we can teach you on this blog, as we at Boostly help short-term property rental managers to better market their listings and increase direct bookings.
Existing hosts: can someone else manage my Airbnb?
Why should I use an additional host on Airbnb?
If you are renting out a spare room in your house and only see Airbnb as a little bit of supplementary income then the short answer to the question "should I use an Airbnb co-host?" is probably "no."
Unless you're adding your helpful next-door neighbour to assist with a few check-ins while you're at work or getting a family member to keep an eye on things during you're on holiday, co-hosts typically require some sort of payment and that tends to start at around 10% of your total booking. This isn't feasible if you're a small-time Airbnb host and I'd say, under these circumstances, you probably shouldn't look for a dedicated co-host for your listing.
However, if you have a number of properties, are serious about short-term rental, and see it as a major part of your income, running your properties as a small business – then there could be some very real benefits to your use of a third-party property manager or Airbnb co-host.
Having a co-host take control of whatever aspects of running your properties you don't have time for – whether that's guest communication, setting pricing, or ensuring cleaning is organised – can be the missing piece of the puzzle that enables you to focus time and attention elsewhere. This can help you to grow your property business – meaning more money for you and your co-host.
This becomes even more significant as you leverage other channels and explore ways of increasing direct bookings and, with that, keeping a larger share of bookings, liberated from the fees and commissions paid to OTAs. A co-host/third-party property manager could even help you to manage your direct bookings website and share in the extra income you'll be generating through avoiding OTA commission fees – which is a win-win scenario.
This is something I've done for loads of short-term rental owners and part of our mission at Boostly. We help people to set up their own websites, market their properties without the OTAs, and maximise the amount of money they're able to make by increasing direct bookings.
How do I find a co-host on Airbnb?
Much like my answer above to the question of how you go about becoming a co-host, there isn't a dedicated system on Airbnb as a site for helping hosts to find co-hosts. Instead, you'll need to do some research, check Airbnb community forums for advice, and look at other sources like local Facebook groups for Airbnb hosts.
As mentioned, there are also marketplaces set up for finding co-hosts/property managers, so have a Google around for those too. I've already given the example of Cohost Market but there are a lot of other services out there to meet this need.
Ask around in your area on those channels, or look for professional property managers in your area. Of course, you can also make an agreement with people you know to become co-hosts on your listings – either as an occasional favour or to put a bit of money in their pocket.
How to add a co-host on Airbnb:
If you're excited by the prospect of adding a co-host to your listings and have somebody in mind, then the process of giving them access is extremely easy.
To add a co-host:
Sign in to your Airbnb account and go to the 'Listings' page.

Select the listing you want to add a co-host to.

Select Co-hosts and there you can easily add up to three to any given listing. To do this simply enter your prospective co-host's email address in the box provided and click to send the invitation. When doing this you'll be prompted to accept the terms and conditions. I know we've been conditioned by years of software installations to click these without reading them but these ones are fairly straightforward to read and I'd recommend both parties take the time to understand the relationship that they're entering, especially if money is going to be changing hands.

Once the person you've invited has accepted your email invitation – and themselves accepted the terms of conditions, they'll then be in a position to begin assisting you with the management of your listings right away.
It's extremely straightforward but this is the easiest part. Actually clearing defining responsibilities and working out how the co-host will be compensated is up to the host and co-host to come to an agreement on.
Hosts and co-hosts: earn more money via direct bookings
So, setting up a co-host on your Airbnb listings is very simple as a process – literally done in a few clicks and sealed with the acceptance of an email invite. But the proper handling of this relationship, in terms of setting expectations around duties and compensation, needs to be thought about very carefully and agreed upon in advance – possibly with a legally binding contract.
For the co-host, this arrangement can bring additional income and experience in managing properties. For the host/rental property owner, this can mean freeing up time to focus on other aspects of your rentals business or could simply allow you to be able to handle a larger portfolio of rental properties.
The important thing to remember is that, whether you're the property owner or a third-party property manager, you're going to make more money if you take more direct bookings and cut down on your reliance on OTAs who demand a share of your income.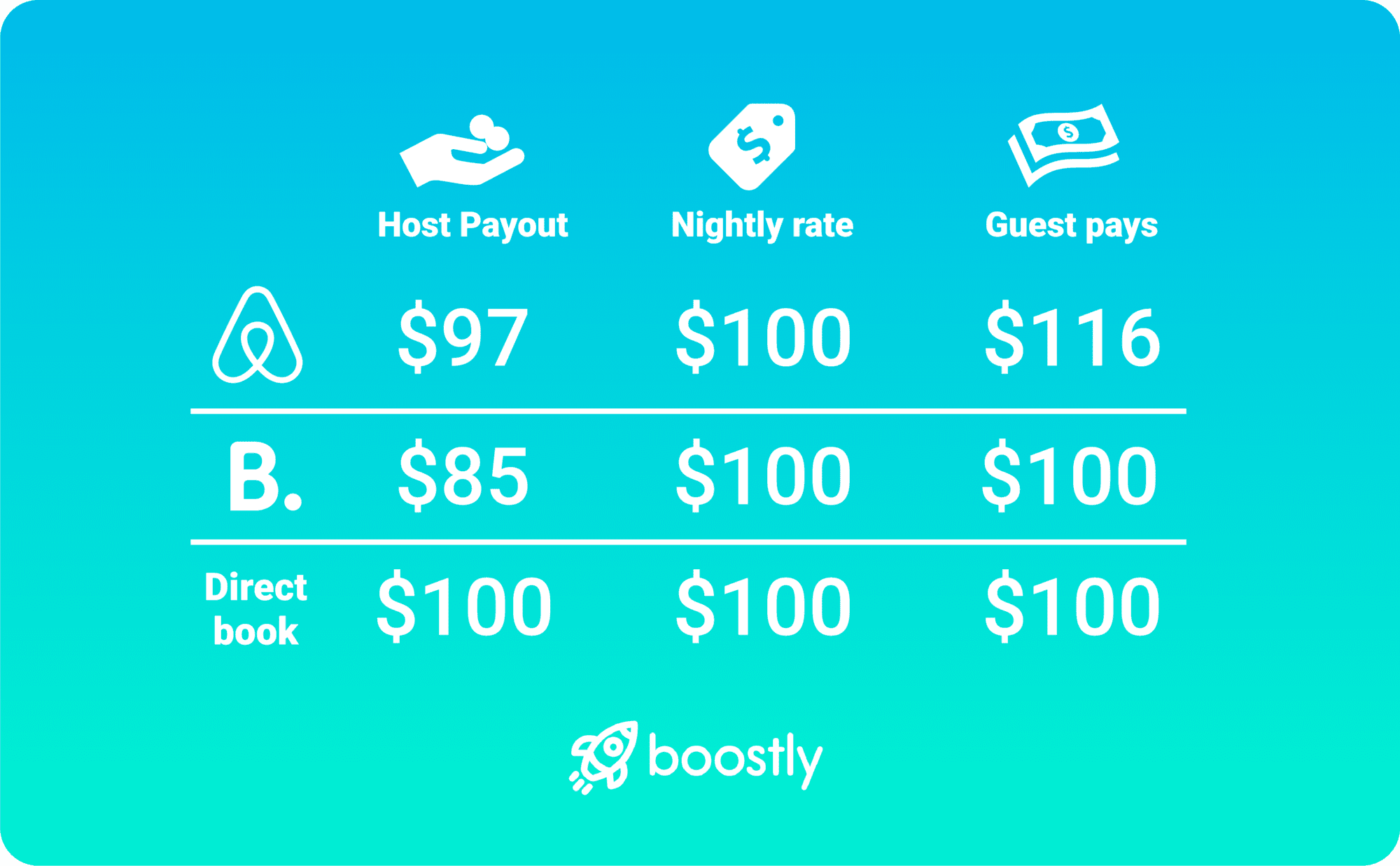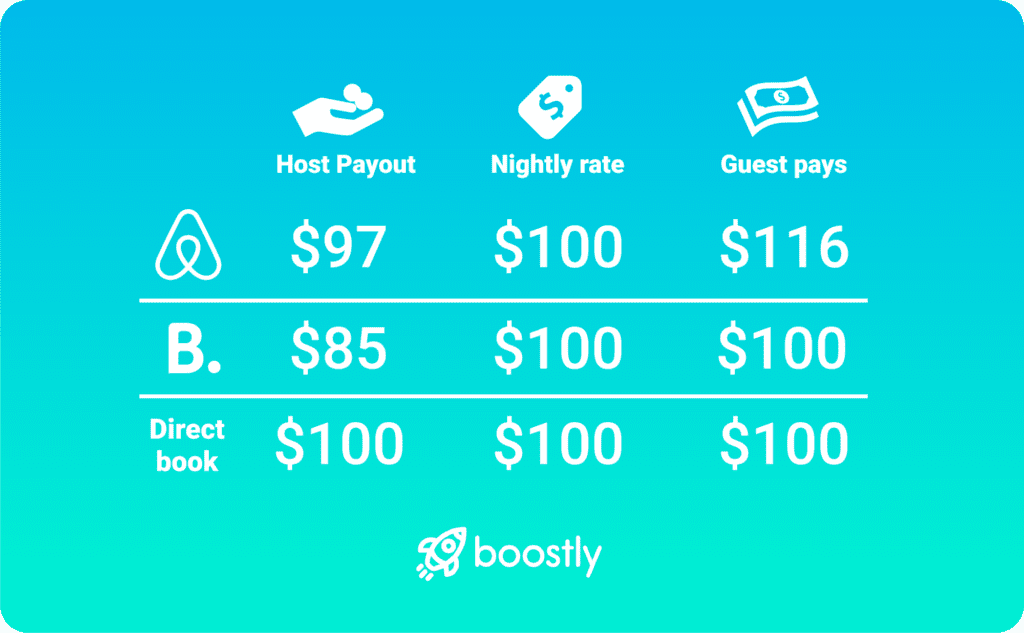 Taking direct bookings through your own website also reduces the risks inherent for all involved when you're married to a single website or company. For instance, if you're tied to Airbnb cancellation policy, you risk fees and even delisting under certain circumstances possibly outside of your control. You're also at the whims of changes in everything from their policies and fee structure, to their search algorithm, which may favour your listings one day and then not the next, seemingly out of nowhere.
And even though Airbnb is now so huge that it's tempting to believe they're "too big to fail", it's always worth bearing in mind that the same forces of tech disruption that saw them rise to become such a force could also see them just as suddenly collapse. As far-fetched as this may seem from where we sit right now, it's still worth thinking about how much you want your business to depend on one single point of failure.
At Boostly, we've been getting loads of Airbnb hosts onto the path of taking more direct bookings, providing them with their own websites, and assisting them with the marketing of their properties – and we'd love to do the same for you!