Welcome to Boostly Podcast Season 9 Episode 4. This is a recap of my interview with Mark Hodgkiss and we talked about how he increased his direct bookings.
Here's the audio for this episode:
Here's the video for this episode:
Timestamp
04:00 Mark's problems
05:40 What Mark did
06:30 What Mark learned from Boostly Academy
Whilst you're here
Follow Boostly on the following channels to get more tips, tactics and knowledge on how you can increase your direct bookings
Visual – YouTube
Audio – Boostly Podcast
Transcript from the Episode
So some of the problems Mark was experiencing is the repeat bookings are not book direct. They had a really poor website, which was a free templated version from their channel manager. Those were the issues that they were experiencing. frustrations we were experiencing whilst trying to rectify these issues.
They don't really know where to go. To get a new website they're getting quoted sort of 2000-4000 pounds, which they felt was a bit too much.
What Mark did
Mark had the DIY website from Boostly, because they were going into lockdown and had quite a lot of spare time on his hands. So not only did they get great website as a result of it, Mark also learned how to change the website and make those tweaks himself, which is a really good skill to have.
The videos that help you not only with the website, but also in the academy in the vault have been brilliant. And you can very much adopt a building blocks approach. So take things step by step and go at your own pace. There's also the Facebook groups to help you support any questions that you may have.
What Mark learned from Boostly Academy
Mark felt like they are definitely taking steps in the right direction. The market has dropped off, they're still getting some bookings coming through, being a lot more proactive on the OTAs as well as their website, but then concentrating on converting those bookings first made on the OTAs for direct bookings, next time, and also got a lot more followers and more social engagement with local businesses, as well. So being able to offer that to guests that book direct with vouchers at local restaurants.
They got a lot more followers, Mark is really proud of the website and the whole branding that goes with hardest days, they've got a lot more direct bookings and even large corporate bookings, which they've not been able to accommodate and they've been able to pass on for a small commission.
Know more about Mark on his websitehttps://harrogatestays.co.uk/.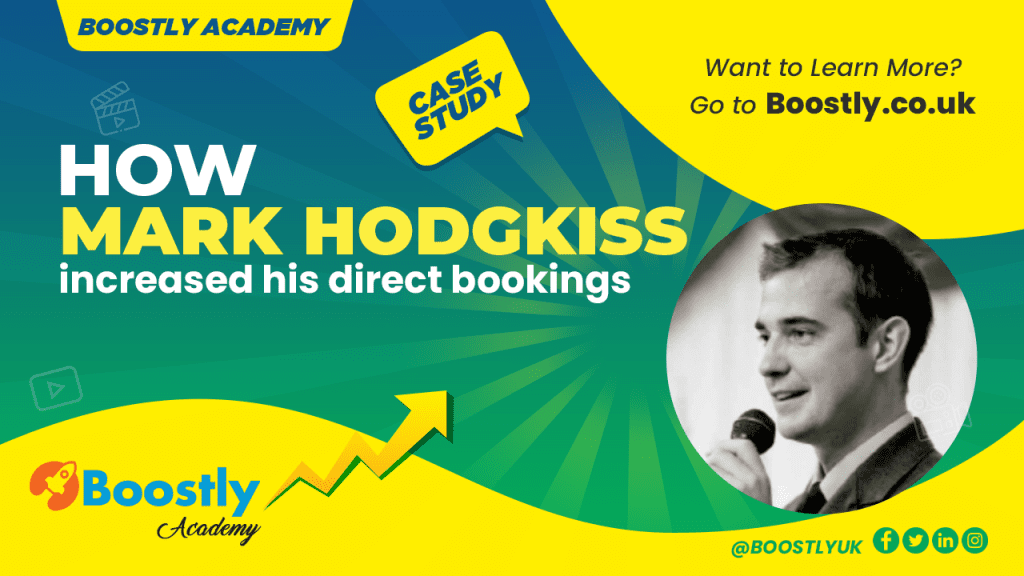 Before you leave
Please go and rate, review and subscribe on iTunes, Spotify Google Play or Anchor or visit Boostly Hospitality Podcast for the full list of episodes!