Welcome to Boostly Podcast Episode 452. In this podcast we speak with Jodie Stirling – One of the founders of
Stirling Stays
and we discuss the exciting, upcoming project Hospitable Hosts.
Here's the audio for this episode:
Here's the video for this episode:
Timestamps (audio)
00:00 – Introduction
00:39 – Who is Jodie Stirling?
07:36 – What is Hospitable Hosts?
13:13 – About Jodies Book
20:31 – What's coming up in the future for Jodie?
22:39 – Where can we purchase the Hospitable Hosts book?
23:30 – Jodies advice for anyone getting started in the industry
28:03 – A little more about Jodie
Whilst you're here
Follow Boostly on the following channels to get more tips, tactics and knowledge on how you can increase your direct bookings
Visual – YouTube 
Audio – Boostly Podcast
Transcript from the Episode
Introduction
Liam
Okay. So welcome today to another podcast with the amazing Jody Sterling, who is Got Sterling Stays, which based here in the UK. Jody, I'm so excited to have on because we're actually part of a project together called Hospitable Hosts and not going to take anything away from Jody. I'm going to let her explain it, but it's so exciting. So please listen in. And, yeah, let's take it away. So, Jodie, thank you for joining me today.
Jodie
Hi, Liam. Thank you so much for having me on your podcast. It's a real honour. And yes, we're working together on a project, so I'm really excited to talk about this. Thanks for having me on.
Who Is Jodie Stirling?
Liam
I'm looking forward to this. So before we get started on Hospitable Hosts, I would love to know just a little bit more about you. And so the people who are listening can just understand how you got into hospitality and tell us a bit about where your business is based and a little bit about yourself. Who is Jody Sterling?
Jodie
Sure. So, yes, I am in the Cotsworld. I have a collection of quintessential, gorgeous little 250 year old cottages. Actually, one is 450 years old and in a beautiful town called Tetbury. Tetbury is famous for its Royal connections. We have Prince Charles who lives there. Princess Anne lives in the neighbouring village. And yes, we see Camilla walking down the street doing her shopping. It's quite normal. And all the guests love it. They love going Royal spotting. And it's a really beautiful part of the English countryside. So that's where my passages are. How I got into the hospitality industry. Well, you've got to circle back 20 years. When I started my career in hospitality, I was a receptionist in a five star hotel in Sydney, Australia, which is that's where I'm from. And I soon built my way up to front of house manager. And I worked with some really large hotel chains going around, Firstly Australia and then over here in Europe, opening new properties and training their staff. So I do have a strong hospitality background and hospitality is just me. I love helping people. I love sorting out problems, actually, I think there's no better way to.
Jodie
Well, I get self fulfilment out of getting this guest who's having a rotten, awful stay and being able to turn it around. And they really, really enjoy it the time they leave. So not that that happened in one of my properties, but back in the hotel days, that's what used to happen. Guests renting and raving at staff and I would step in and sort it out. It was great. So, yes, I've been in hospitality for a long time. I had a break while I was having a family. I've got three children and I focused on them. My family is everything to me. So I wanted to just pull away and really focus on them. And now they're all older and they've gone off to University I only have one at home. So I stepped back into this industry and the way I did that was really just by accident. As I said, we settled back in the UK in this village of Tetbury. And the house that we had that we were living in had a separate cottage next to it now. We thought, well, we can put our bikes in there, we can wait for people to come and visit us and that's where they can stay.
Jodie
Or I thought, Well, let's try this Airbnb thing. And so we had done extensive travel with my family for the past two years before we came to the UK and we decided to set it up. We thought we knew what people wanted when they came to stay at a property. Just with using our own experience and the way we went, we listed it and within 2 hours we were getting bookings. It was quite incredible. It was such a ride. Loved every minute of meeting all these new people from all around the UK. I found myself telling my story. You're from Sydney. Why are you now in the cotton? And literally our house was in a field surrounded by sheep. And yes, it was very different, but it's also very beautiful as well, just a completely different experience. And that's me, that's how I got into it. So from that one property and getting my children and my husband in, they were our housekeepers. We set up a travel fund by funding this Airbnb or short term rental, I should call it, shouldn't know. So everyone chipped in and we all managed this property together as a family.
Jodie
And it then funded trips, skiing in France and going hiking up in Switzerland, and it became a real family thing. And then from there we decided to get another property in town, which went nuts as well. It just worked. We didn't do anything different. It's just a really cute little cottage that overseas guests, a lot of Australians actually come to visit and they come to the area for Highgrove. They go and visit Prince Charles home and it just worked. And from there I got another property and another property and another property. And then other people who had properties saw me around, running around with my washing basket full of all my white linen. By this time, we did have a team. I built a team, but I'm always dipping in and out cottages and people then started approaching me. Would you manage my property? Would you manage my property? Yes, why not? So I love it. That's me, that's my story. That's where I am today.
Liam
And I wouldn't think about doing anything else that sort of snowballs into it grows, doesn't it? Really fast. And there's a lot to digest there. First of all, the thing that I get from yourself is that because you've travelled to different places, it was natural where you looked at instead of having a bike shed, whatever, naturally. Well, people can travel here to a beautiful part of the UK. There's a reason for people to travel there, not just the countryside map, but like you say, the Royal connection. There's a lot of people come to UK for that. And that's interesting what you're saying about people coming from Australia. Obviously you've got good links there. So anybody who wants to come across then, that just makes sense, doesn't it? So it sounds like an amazing journey so far. And just what you were saying about the dealing with guests and from the hotel days, definitely your warmth and how easy you are to speak to definitely comes through. So it's definitely a natural host in that side of things. So that's really cool. So obviously you've moved to the UK, you've started your business. Take me a bit more forward then.
What is Hospitable Hosts?
Liam
So where did this idea of well, first of all, what is Hospitable Host for anybody who hasn't heard what Hospitable Host is, what is it? What does it mean?
Jodie
Okay, so Hospitable Host has been an amazing project that I have been working on with 40 other hosts from around the world and yourself included. And we're all professionals. And what we're doing is sharing our story of how we got into the industry and some funny stories about guests and some tips and ideas that we can share to motivate and inspire other people to be the best that they can be in this industry or even to encourage people to come into this industry because it is a really great industry and it suits so many people. And look, people say it's easy, it's not easy, it's fun, it's doable. If you like people, you'll love doing this. So I know it attracts a lot of people from the hospitality industry, the retail industry, the medical sector, school teachers. And I think we all have shared the same passion for helping people, or as the Americans call it, serving people. We want to be able to give people a good experience when they come and stay in the properties. So we'll go about one year actually, from today. I participated in a multi author book with 24 fabulous women in the US.
Jodie
And I came across this group and they asked me to be a part of their book. And it is a very different style of book, a very different topic. It's all about how you'd like to leave your legacy in this world because that's another side of me. I'm all into energy frequencies and positive mindset. I teach children how to do that as well. So I'm a kinesiologist. So I look at brains and I teach children and their parents how best that they learn and they can use that within their schooling or in their sport. And it's a really great thing to do. So I participated in this book, had a really amazing experience, and I just felt I was really supported by all of these wonderful ladies. And I just sat back and thought, well, how can I use this experience that I had been in this book within an industry that I know there's nothing like it. And also I want to connect and collaborate with other hosts like me, because I felt at the time I got to a level in my business where I wanted to expand and grow and learn new things.
Jodie
But I had no idea how to connect with people that were doing the same thing. And I stumbled upon Clubhouse, which you and I met in Clubhouse as well. And it was just a game changer for me, honestly. There was all these people in this room that did what I do. And even more, there was coaches giving away information. There was people setting up websites. I was so gobsmacked that there was this world that I didn't even know existed because I was just a lonely host doing what I did. So I started reaching out to people, and I wanted to connect with people, and I thought, what a better way to do it? And to bring everybody together and share our stories and have a common goal to inspire other people to do what we do. And that was the birth of hospitable homes.
Liam
So much comes from that Clubhouse as well. I know, especially in the early days with Clubhouse, just the shared with business. Sometimes you join, you get into business, and you find actually you think you're the only one in this particular situation. But going on places like Clubhouse or joining Facebook groups, which has got a lot of the similar minded people, like you say there's some amazing information shared and actually just hearing other people's stories. I can remember you speaking in Clubhouse and just you get to meet people from literally every corner of the globe, and it's like you're in the living room having a drink with them. It's very informal. And I remember thinking before joining Clubhouse, what was it all about? How is that different from say something else? And it's like being on a TV or radio show, and you can just jump in and join the conversation. It is really different. So I really enjoyed that. And once you had got this idea, this spark of the idea, obviously, it's only been a relatively short period of time, which I've been really amazed about, talk us through how it became an actual thing, how it went from just that spark of an idea.
About Jodies Book
Liam
What is now going to be a book coming out very soon?
Jodie
Yeah, sure. Well, Firstly, I'm a Gemini, and I have lots of ideas. My husband is just like, oh, my God, not another one. Jody. I come up with all of these ideas, and it's implementing them, which is the next stage with this book so that I had to experience. So what I did first, I reached out to a publisher who I knew was very successful in bringing these books into the world. And her name is Adriana. She's in the US. She has her own publishing house. So I reached out to her. I told her that I pitched the idea, and she said, oh, my God, this is amazing. This is going to really take off. And then I attended an in person event after lockdown in London, and I just introduced myself to a few people that I've been listening to on Clubhouse or I'd seen on YouTube. And I just pitched the idea, and everyone was very positive. So the way I went and I networked my socks off, as well as running my business and growing and expanding that. And it just went from there. Really. I got some really great people involved in the book, so they were very quick to jump in.
Jodie
So we have Mark Simpson. We have some big names in the industry. We've got Mark Simpson across the other side of the world. We've got Julie George, we've got Stacey St. John. We've got so many. It's difficult for me, and I don't want to leave anyone out there. Yeah. When I started this project, I had no intention that it was going to be all the big names in the industry. I opened it up for everybody. But I suppose they're used to talking about themselves because the whole writing process, as you know, when you go through it, can be kind of daunting, you see, and you have to think, what am I going to write about? I've got 3000 words to set in my chapter. And what am I going to write about? What's interesting about me. And you do go on a self exploratory journey. Did you find that?
Liam
Definitely. I actually found writing quite meditating as well. It energised me and relaxed me at the same time. It was really bizarre. You mentioned just a couple of things within that which was so important. First of all, I think the thing that really came across, certainly when you pitched the idea to me, was the energy that you had about it. It spreads the energy as soon as you're excited about something. Just how much of a good idea is the fact that you can get people from all across the world. Every single person has got stories to tell, and every single person has got something that we can learn from. I'm a firm believer that every host has had a situation that I probably haven't had and I could probably learn from. And that's really what you see in this book with a lot of different people. You mentioned there were some who were saying getting started in the industry, some story about saving a guest life. There's so much in there to digest. But looking back on what you did over this last year, starting with that energy and the excitement, you took action to be able to go out there.
Liam
And actually you contacted the publisher some people wouldn't have even picked up that phone or send that message. Do you know what I mean? So that's a big thing. The networking is massive and I've seen you networking. Suddenly Jodi was everywhere. Clubhouse, Facebook. Do you know what I mean? In all the communities and surrounding yourself by getting great people on board and getting people to buy into the awesome idea. In less than a year you've turned this from something which wasn't ever going to be into a physical thing, which will probably the great thing about print is it will outlive us all. Do you know what I mean? So that's really exciting.
Jodie
Yeah. It's actually been a five month project, so it has been pretty full on from start to now, launching on the 16 May. And if I can do it, anyone can do it. You put your mind to something, you can just do it. I wasn't comfortable in being in front of the camera at all and actually this is how I got into this whole world. I joined a Facebook group and it was called Rock the Mic and I knew I had to get in front of the camera and start talking to people and I went through, I think it might have been a four week programme with this group of ladies and I didn't want to get on the camera.
Liam
I just couldn't.
Jodie
No, I couldn't stand out.
Liam
You're a natural, Jodie. I don't know what you mean.
Jodie
No, I am actually quite a shy person and I don't like to put myself out there. So this has been for me the most massive learning experience. I didn't even do Zoom cause Liam, before.
Liam
Were you the person with them off? Just the name Jodie on it.
Jodie
It was. I just had to step up and do it. And I believe that everybody in this book or everyone will be in the future books because, yes, there is going to be another one. It takes a lot to step up. It takes a really great mindset. You've got to get yourself into this mindset of stepping up and taking action. And that's with anything you do in your business, anything you do in your short term rental business that you have going on, you're listening to this podcast. So you're all in the industry, but it's stepping up and making those changes. Whether it's for you personally, it's you, for your guests, for your business. I believe just believing yourself, you can do it. Yes. The energy I'm into energy and frequencies. So we call it the ripple effect. I do have a lot of energy. In Australia, we call it the ever ready Bunny, the ever ready batteries. I just keep going.
Liam
But that definitely comes across. And you just mentioned the future there. I can see this in a relatively short period of time in, wow, five months, you've gone from that idea to something physical and something which people will be able to pick up and buy and hold. What is the future? You mentioned there might be future books and that kind of things.
What's coming up in the future for Jodie?
Jodie
Yes. Well, we had so much interest for people coming into this book, and especially when people realise you can use this book not only to promote yourself as an author, but to promote your business. So my idea is that everybody has a copy of this book in their properties, so the guests will see who they're staying with and learn a little bit about you. So you as a host becomes more of not just that person on the side, but they get to know you. And I think they like that experience when they know where they're staying. So I've opened it up. After this one launches, there will be another book and it will be again host from around the world, all coming together. And I've seen people in this book really grow and expand and networking with each other within the book. It's a really great group. So we build a community as well. The Hospitable host community has started and it won't stop. So we will have another book coming out. So if anybody listening to this is interested in being a part of this amazing journey of becoming a published author, becoming a number one best selling author, which we're all looking forward to, please get in contact with me.
Liam
That is amazing. I can make it happen 100%. You can make it happen. What I loved about that is putting one in each of your properties for your guests. What a great idea. And now all you need is you need hosts with hundreds of properties because they'll be buying hundreds of the books.
Jodie
Yeah, that's right.
Liam
But yeah, that sounds like a really good idea. So where is the place that people can find the book, or if they're looking to either purchase the book, where would they go and do that? Is it going to be available in the known places, like Amazon stuff?
Where can we purchase the Hospitable Hosts book?
Jodie
Yeah, they'll be on Amazon and you can also purchase it through Hospitablehost.com. We'll have a link there and you can buy one or as many copies as you like. It will be a printed coffee table style book and also come out as an electronic book because some people just find that easier these days.
Liam
Definitely. Very nice. So I feel we've covered kind of Hospitable hosts and that's an amazing project. I'd love to dive more into sort of aside from the book, just more about advice from yourself or more about you. So we mentioned that the book could be good for people looking to get started in hospitality. What would be your piece of advice for anybody who's looking to get started in the industry put you on the spot?
Jodies advice for anyone getting started in the industry
Jodie
Yeah. Well, of course you need a great property or a property, but I believe also you can have a mediocre property and still give a really great experience when I was travelling with my family. We stayed in all styles of accommodation and some of the ones that are most memorable are the ones not that had the fancy bed linen or the beautiful artwork or the latest styling, but they were operated by real genuine people. So whether they came to the door to introduce themselves or they just picked up the phone and had a conversation and found out why, in fact I was coming to this area, did I have any special needs that I needed attending to? I think communication is a really great thing to start with and that is where do you start with that? Even in your listing? If you can communicate to a level that you set your guest expectations, I think that's number one. Then communication throughout the course of their stay or even prior to their stay and then keeping in contact with them afterwards, asking them what could you have done better as a host? Was there anything they would have liked to have experienced while they were staying with you?
Jodie
So I think having a really good look at your communication style is really important and listening. Communication is a two way thing. The speaking the word and it's also listening. So taking note of what people are saying to you.
Liam
I love that that's true what they say, that people will forget what you say or what you did, but they'll remember how you made them feel and what you just mentioned about some of the places that you'd stayed, how those people made you feel about staying there. They were genuine people, how you felt about them. And that's what's memorable, isn't it? That's a really cool place. And is there anything talking more technical? Is there anything that you use in your business or something? A system, an app, a tool that you really swear by and that's really helped launch your business or help to grow your business?
Jodie
Oh gosh, there's so many, isn't there? There's so many in the work, in the industry. The biggest one for me, as my business grew really, I got my own website. Obviously that was really important with my own booking tool so I don't have to rely on the OTAs that was really important for me. The other thing within my business was a cleaning scheduling tool which has revolutionised my Sunday evening. I can now take some time to sit back and watch a movie with the family rather than taking 2 hours to sit there. I literally used to sit there and plan out my week of cleaning with my cleaners. So this tool is connected to my booking platform. So as soon as a booking is made, it gets assigned to a cleaner. She has the ability to accept clients line the job. If she declines it, it goes on to somebody else and it just means it's hands off for me. They love it. Like there are scheduling tools out there that can be a little bit clunky and a little bit confusing. But this particular one, they get an app, it's set every morning. They get notifications of where they're supposed to be.
Jodie
On each cottage, there's a list of tasks that they have to do, so they use it as a checklist. They can take pictures of the oven. So I don't have a guest coming in and saying, well, the oven wasn't clean because I've got my proof. It honestly has changed my business.
Liam
That's amazing. That's amazing. I actually forgot until you said I had a flashback of the times where I used to put in the little blocks of when the cleans have got to be and stuff like that. You forget, don't you, as you grow what you had to do to get there. But what was the name of this app you didn't mention? What the name of it?
Jodie
No, it's called VR Scheduler.
A little more about Jodie
Liam
Vr Scheduler. Awesome. That is one I'm not familiar with, but I use Breezeway in my business. And as soon as you've got something which will cover that side of things, I mean, the operations side takes so much time, doesn't it, to run daily with the cleaners. Communication just takes all of that out of it so they can see what they've got to do. They know when it's got to be done, they can communicate back to you. As we said, communication is so important. And yes, that is a proper game changer. What I'd like to do now, because we've been going a little while, I'd love to just do a couple of really quick fire questions so answer can be as short or as long as you like, but I just love these are just fun little questions which I like to stick in just to find out a bit more about you. So what was your first job, Jody?
Jodie
I worked in McDonald's. Would you like fries with that?
Liam
Mcdonald's. They're the best upsells in the world. Awesome. And also one of the biggest real estate holders in the world as well. So what was your favourite holiday destination or what is your favourite holiday destination now? We can all travel again.
Jodie
Oh my gosh, I get asked that all the time because travelling for two years with the family, we went everywhere from Iceland to that was amazing. Oh my gosh, we'll leave it at Iceland because if you have to hang your hat. Yeah, there's so many. But Iceland was pretty amazing.
Liam
Yeah, awesome. What was the last gadget that you purchased or the last thing you purchased?
Jodie
The last thing. I purchased some milk this morning.
Liam
Fair enough.
Jodie
I went to the shop and got some milk before raised their heads. Not a gadget, but milk still.
Liam
It makes the tea. It keeps the day going for me. What celeb would you most like to meet?
Jodie
Ez, Kylie Minogue.
Liam
Oh, nice. Why Kylie?
Jodie
She's just amazing. I love Kylie Minogue. Love her music. Since she came out. Really? I've been to a lot of her concerts. My children were born to Kylie Minogue playing in the background.
Liam
Fair enough. You'd have to tell her that if you met Julie, George will be loving that because she loves home. In a way, she starts. Those neighbours, wasn't it? Those neighbours, one of the two.
Jodie
Yes, it was neighbours. And I would like to meet the Queen. Actually, I think she's on a more intelligent side than kind of.
Liam
You never know, being in the Cotswolds where your places are.
Jodie
No, I know. I've met Kate and I met Will and my daughter has actually been there on the slide with George. So that was quite fun. But no, the Queen to me. I think she's just seeing so much, so much change. She's met so many amazing people. So I would like to have a conversation with the Queen.
Liam
Makes her a cup using the milk you've just got. Okay. And lastly, what was your top book recommendation for the listeners? Can be fiction, can be nonfiction, whatever you like can be your own.
Jodie
I guess if you want it to be Hospitable hosts and we'll give Mark a plug the book directly book is amazing. That's been a great book for me, actually. I've been going through the pages and I actually gave my copy away to a young guy, 18. We got talking to him at actually my daughter's birthday party. And he just bought his first Airbnb property that he was going to get jump into Airbnb World. And so I thought, right, I'm going to pass my book on to you. So he sent me a message. He's already read it. He's on his journey. This one is also very good.
Liam
Gary Vee, nice.
Jodie
Yes.
Liam
I've really enjoyed reading this book on the podcast with Paul Anderson, the Instagram social media hotel. Yet he mentioned Gary Vee. So that's a big one at the moment.
Jodie
Oh, did he?
Liam
Yeah, absolutely. The thing that you've done with the young guy who's just got his first Airbnb is amazing. That manuscript that is in there, which will just help him to just get some more guests. There are so many people out there training how to get the properties, but not how to get the guests. And of course, getting the guests is how actually we earn money. And actually getting the guests is all about being a host, isn't it?
Jodie
Yeah, that's right. There is that real element to this business that a lot of people talk about scaling and getting the properties. But really, how good are your properties without the hospitality of the host? And I do believe that we need to focus on that as well.
Liam
It is all about building these relationships, isn't it? So, Jody, it's been an absolute pleasure. If people are listening and they want to get in touch, what's the best way to do so?
Jodie
Well, I'm on Facebook. Jody Sterling. I'm on Instagram. Jody Sterling or you can just reach out to hospitablehost.com and if you'd like to stay in one of my properties in the Cotsworlds just get in contact and hashtag direct.
Liam
Way to end on Jody it's been an absolute pleasure. Thank you so much for joining us today and look forward to seeing how Hospitable host does and not just the next book but the next series of books coming out. Awesome. Thanks.
Jodie
Thank you very much. Thanks Liam you too. Bye.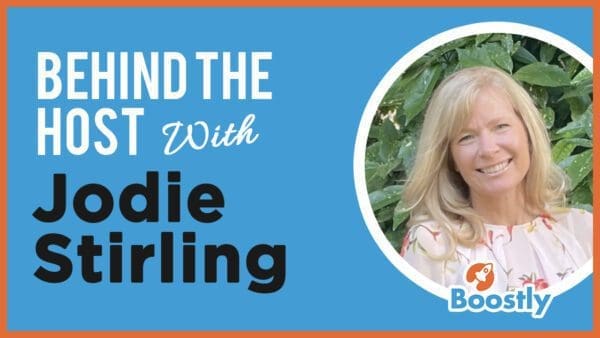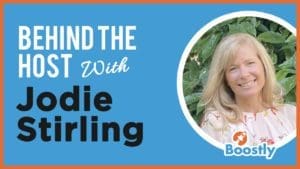 Podcast sponsor

Before you leave
Please go and rate, review and subscribe on iTunes, Spotify Google Play or Anchor or visit Boostly Hospitality Podcast for the full list of episodes!
If you have enjoyed this post and want to feed my caffeine addiction you can "Buy me a coffee" 
️