Welcome to Boostly Podcast Episode 448. In this podcast I talk about the Airbnb u-turn on updated policy from last week. Thanks to the community, changes have been made.
Here's the audio for this episode:
Here's the video for this episode:
Timestamps (audio)
00:00 – Start
00:37 – Last weeks Airbnb update 
02:27 – Converting a looker into a booker
04:23 – The u-turn on the updated Airbnb policy
06:03 – Make your voices heard in the community
07:21 – Short, medium and long term.
09:16 – What are you doing to protect yourself?
Whilst you're here
Follow Boostly on the following channels to get more tips, tactics and knowledge on how you can increase your direct bookings
Visual – YouTube 
Audio – Boostly Podcast
Transcript from the Episode – Airbnb u-turn on updated policy
Introduction
Good morning. Good afternoon. Good evening, and welcome to a very special recording of the Boostly podcast brought to you by Iprac. I've got some news on Airbnb. They've gone and updated their policy after a big backlash from the community. That's right. Airbnb u-turn on updated policy.
I'm also going to share with you what you need to do next to make sure that you're not affected in the short, the medium and the long term. Please make sure you that like this video. Please make sure you share this video in Airbnb community that you are part of. Welcome to the number one podcast. When it comes to marketing for the world of short term rentals, Airbnb and getting those lovely direct bookings, let's get this show on the road.
Okay. Welcome back. So last week you will have tuned into the Booster podcast because what I had, sharing two blog posts. I want to bring to your attention the video itself. If I bring it up here right now, check out that screenshot.
Is it time to quit Airbnb? You can go back right now to the YouTube channel and you can find that out. I just want to say before we begin, a massive thank you to our sponsor of all content, which is Iprac, which is building the trust in the world of short term rentals. It's the largest global accreditation service out there, over 10,000 members. And if you want to build the trust with your guests to build direct bookings, go and check out Iprac.
They're doing some amazing work. Now, last week, what I did is I shared that video and I shared two blog posts where we talked about the controversial new guest rebooking policy. So the question I throw open straight to yourselves. Everybody that's tuning in, please do say Hi. Let me know if you're tuning in hashtag live or hashtag on the replay.
We've got people that are based all over the world. Somebody right now in Chicago. Also as well, let me know what you've been doing to protect yourself in the short, the medium and the long term. So if you're struggling to remember, please do go back and check out that video where I talked about the new policy.
Basically, Airbnb was saying that instead of 24 hours from a guest arriving to report a problem, they've now got up to 72 hours. And there may be a case just like with Booking.com where if Airbnb deemed worthy, you the host. If that guest can no longer stay with you, then you, the host, will be responsible for a rebooking fee if they have to go check in somewhere else. Now, obviously, this had a lot of discussion. It was a big discussion in the forums.
>> Check out last weeks episode about the policy updates.
Converting a looker into a booker
And what I want to do is I want to share with you very quickly a link to the Airbnb help centre. One of the biggest problems when it comes to converting a looker into a Booker for a direct booking is the trust factor. Whether you like it or not, your guest is looking to make sure that you are who you say you are. So how can you do that? Well, the number one accreditation and recommendation certification service in the industry is Iprac and I'm so happy to say that Iprac is sponsoring this podcast and is the lead sponsor for all Boostly content.
The reason why we partnered up is because I have been working alongside Iprac for many years. I recommend them to every Boostly customer, client and team Boostly member. The reason being is that unlike other accreditation services, they are not just country specific, it is global and it is worldwide. They've got over 10,000 members and they've got over 250,000 properties. Which means that you can display your Iprac certificate on your website and on your socials and know that you are going to be providing that trust that your future potential guest is looking for.
I reached out to Iprac and I asked them if they've got a special offer for Boostly members. And so if you go to boostly.co.uk/trust, you will go to a special Boostly landing page where you can book in a call and a demo and if you sign up, you get a very special exclusive discount that only Boostly members can get.
So thank you Iprac for being our sponsor. Thank you for listening to this very short message. I hope that you go and check out Iprac today. I hope that you go and join them just like hundreds of other Boostly members have done because it will help massively with you increasing your direct bookings. Right, let's get back to the show.
The u-turn on the updated Airbnb policy
So I'm going to share my screen now, as you can see up here on the screen. So if you're tuning in on the audio version, please go and find us on Facebook and YouTube, LinkedIn, all the right places. Let me know where you're tuning in from as well. But as you can see, we've updated the policies. Now the reason being is that they first put this out in the community.
So you can go to community.withAirbnb.com and you can join and you can see this is a public forum. So I'm not showing you anything that's private. This is public. Everybody can see it. And on Friday, so Friday the 8th at 06:00 a.m.
They updated the policy so it states… Hi everyone. We valued the feedback about the rebooking and refund policy that we've heard from hosts in workshops here in the community centre and across host clubs. From your feedback, we understand that many hosts aren't familiar with the policy and our update raised more questions than answers. We also know that you need more details about how this policy works. So as you can imagine, this brought in so many.
But one of the things that they have stated is that the rebooking policy is not going to stand. Now they've changed the wording. Now I wanted to wait a few days because I wanted to see what the sort of the response back from the community was by the team. But what I've noticed and I'll bring this up on the screen now. So they just updated us today online community manager in London.
So thanks for caring and giving such constructive and well thought of feedback. I'd like to clarify a bit. I hope this helps. Airbnb is not charging a rebooking fee under this policy. We have removed the language from the policy that reflected that.
Make your voices heard in the community
You can read the exact word on the policy here and everybody can go and check this out. Now all you need to do is if I share my screen again, if you head to the Airbnb rebooking and refund policy, as you can see that it is all updated, it's coming into effect as of the 29th. Now what I suggest everybody do, you go and check it out and get yourself best prepared. They obviously are listening. So if you are really annoyed with this new policy that Airbnb is bringing in and if you don't know what I'm talking about, please do go check it out because it's going to come in effect as of the 29th.
But the cool thing is that this shows that Airbnb are truly listening and if you kick up enough fuss you'll be able to make an impact just like the community have done here and there. Now this is obviously good for us to host because it shows that Airbnb are listening. I feel like since March 2020 and where they admitted they made mistakes they are looking to do so if you want to make a stand and make a difference, it's something that Airbnb are coming in and moving the goalposts. Be part of the community and make your voices heard just like so many people have done. So if you don't know how to find it, go to Airbnb, go to the Help articles and go to the community and you can see it all there.
Short, Medium and long term
So the solution was just like when you rent a car or you hire a car before you're allowed to drive it out of the lot, you have to go through and sign off and tick with the person that you're renting the car from to make sure it's all above board and what not. So in the short term, if you feel like that would help that's a solution. Medium to long term is to make sure that you are starting to build your own business. I've talked about this a lot, which is what this whole podcast is about. It's about getting your own bookings. It's about building your own business and building your own brand.
So if you're 70% plus reliant on Airbnb for your bookings, what can you be doing in the medium and long term to start generating your own bookings? And if you really haven't got a clue where to start, it's on Amazon, it's less than $20. It will help you. It's called the Book Direct Playbook. I've got it up on the video now.
Please do go and check it out. It will definitely help you get away from the overreliance on Airbnb, but also what you can be doing as well. If you really want to be making an impact within Airbnb, go check out the community. I'll share it on my screen one more time just in case you need a link community.WithAirbnb.com. Go in, sign up with your details and start voicing your opinion.
Because it shows that they are listening and in the space of less than a week, they've already changed the policy and the wording. Now it's still a little bit woolly. Obviously, it's still heavily reliant on Airbnb and you are playing in somebody else's sandpit. So you're playing by their rules. But if you can start coming together and kicking up enough of a fuss, who knows?
What are you doing to protect 
So this is why I pass the question over to you. And the question as we talked about and as I said is what are you doing to protect yourself? So are you right now currently building your own direct booking business? Are you currently right now putting into process? And are you right now looking at April 29th and are you doing anything I would love to know.
Pass it over to yourself. So whether you're watching live or watching the replay, let me know where you're tuning in from around the world. Let me know your business, let me know what you're doing and let's see how we can come together as a community. All I ask, number one, share this video. All this content I put out on the YouTube, the Facebook or LinkedIn is all free because I want to help 1 million hosts.
That's my goal. To help 1 million hosts. Cut down on our overalliance on the OTAs and it begins and starts today. So thank you very much for tuning in. Wherever you are tuning in from, whether it's live or on the replay, please make sure we keep spreading and sharing this information around.
And if you want to get caught up on any of the podcasts, go to boostly.co.uk/podcast. We have a written version, we do other transcripts, we've got audio and we've got the video. So however you like to consume content, we've got something for you.
Thank you very much and I'll let you go and thank you tuning into the podcast. Thank you very much to Iprac the sponsor and I'll be back very soon.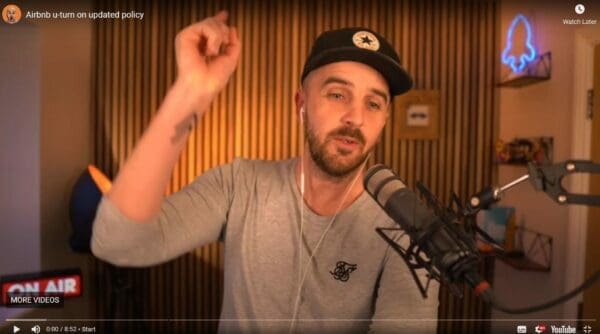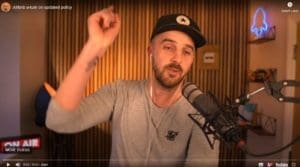 Podcast sponsor

Before you leave
Please go and rate, review and subscribe on iTunes, Spotify Google Play or Anchor or visit Boostly Hospitality Podcast for the full list of episodes!
If you have enjoyed this post and want to feed my caffeine addiction you can "Buy me a coffee" 
️