If I've said it once, I've said it a million times: having your own website is non-negotiable when it comes to building a successful and sustainable vacation rental business.
You can't just rely on OTAs such as Airbnb or Booking.com, and you don't want to keep giving control, and your hard-earned money, over to them. 
You can have the best, most beautiful website out there…but if no one sees it, it can feel like a huge waste of time. No views, no bookings, no business.
Instead, a key way to make sure people see your website and book consistently is to maximise your SEO (search engine optimisation). And a major way to do this is by learning how to do keyword research – and use those keywords seamlessly across your content.
But this can be overwhelming if you're just starting out, and before you know it you're up to your ears in keywords and search terms and website confusion, with no idea what to do next.
That's why in this post, we'll explain:
✔ What SEO for vacation rentals and keywords are in simple terms, and why you need them.
✔ How to start your keyword research for free, as easily and effectively as possible.
✔ How to find the best ones for your vacation rental business.
✔ How you can tell if they're working and boost performance.
✔ How to maximise your keyword research to ensure your vacation home rental stands out and attracts consistent bookings without relying on OTAs – which is the main thing, right?
SEO stands for "Search Engine Optimisation", and it means anything you do on and off your website that helps it increase your website's visibility on search engine results pages. 
If a web page appears on the first page of Google, it likely has great SEO for that topic or those search words (or "keywords" or "terms"). Most people don't look past the first page of Google, so if you can get your vacation rental website to "rank" (show up) well, you're likely to get more clicks and bookings.
When people are searching online, they are often looking to buy, so it's really important to capture that traffic. 
(For even more info on SEO, read our dedicated Vacation Rental SEO Guide.)
What are keywords and why do I need them for my vacation rental?
Keywords are the search terms that your ideal customer will type into Google to find your property. Think about terms your potential guests might use, and make sure your content includes them.
Your vacation rental keywords (and keywords in general) will fall into one of two categories:
More general searches, including one or two words. Users here may be just starting their search and using more general terms before narrowing down. 
Because these terms are more general, they are harder to rank highly for (because there will be millions more results for that general term). These might include more general terms such as "vacation rental", "rental property", or "rental Cornwall".
Longer search queries, consisting of three to five (or even more) words. 
Users that try specific, long-tail keyword phrases may be closer to making a purchase as they know exactly what they're looking for. 
The more specific your long-tail keywords, the easier it will be for your website to rank and the better ROI (return-on-investment) you're likely to see.
These might include much more specific searches such as "best traditional shepherd's huts for rental in Cornwall" or "best dog-friendly short-term rental huts in north Cornwall".
How can I find the right keywords for my vacation rental?
Starting keyword research can be easy: Look to your own website and see what terms, words or common phrases come up over and over again.
Then consider what you would search if you were looking for the service you provide and start there. You can also ask friends and colleagues what they would search for too.
At its most basic, keyword research is about figuring out how your ideal guest will search for your content.
You can start by typing a word or phrase into Google (or Bing), and for even more ideas, looking to see what comes up in the "People also ask" section, or "related search" at the bottom.
Predictive search on Google – where the search engine tries to "guess" and autocomplete your phrase or word – can also help you figure out what people are searching for most for that word or question (see the screenshot below).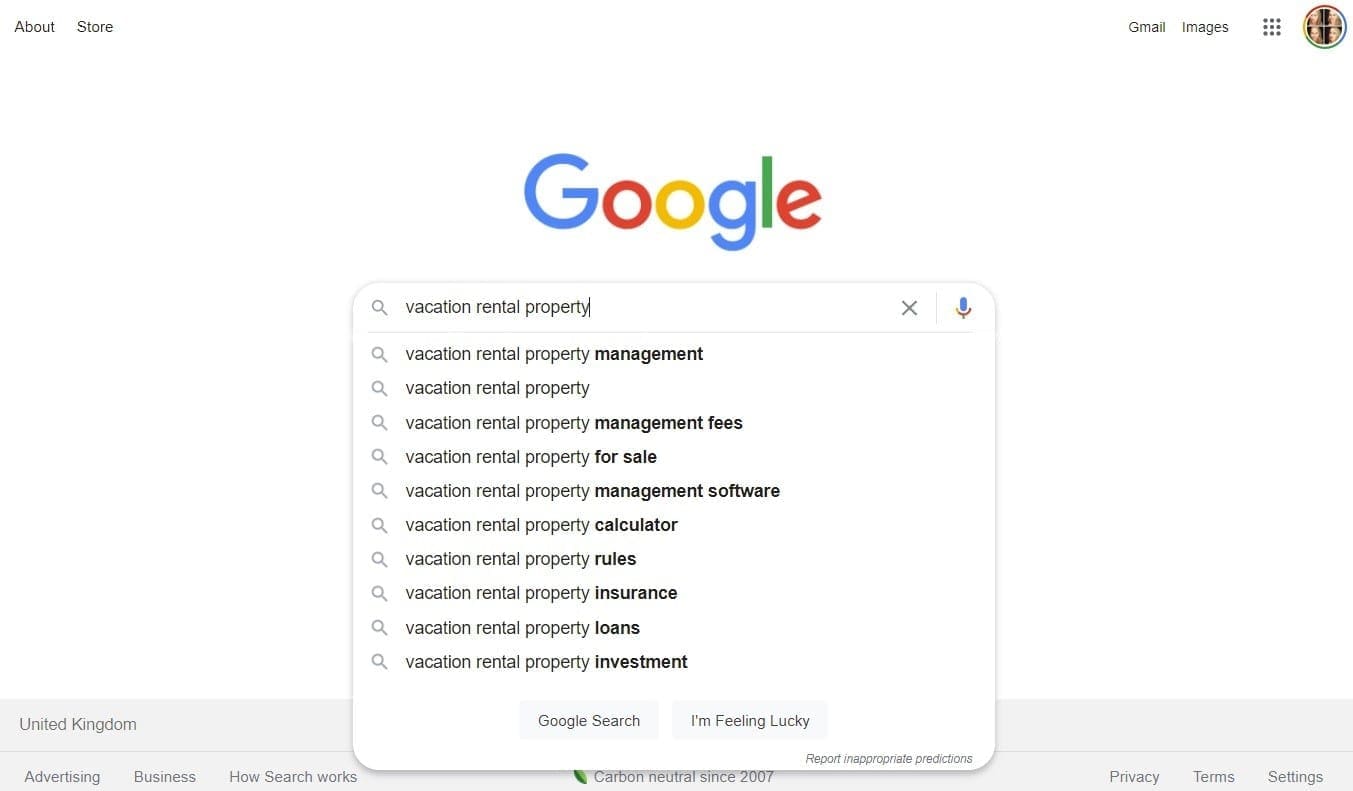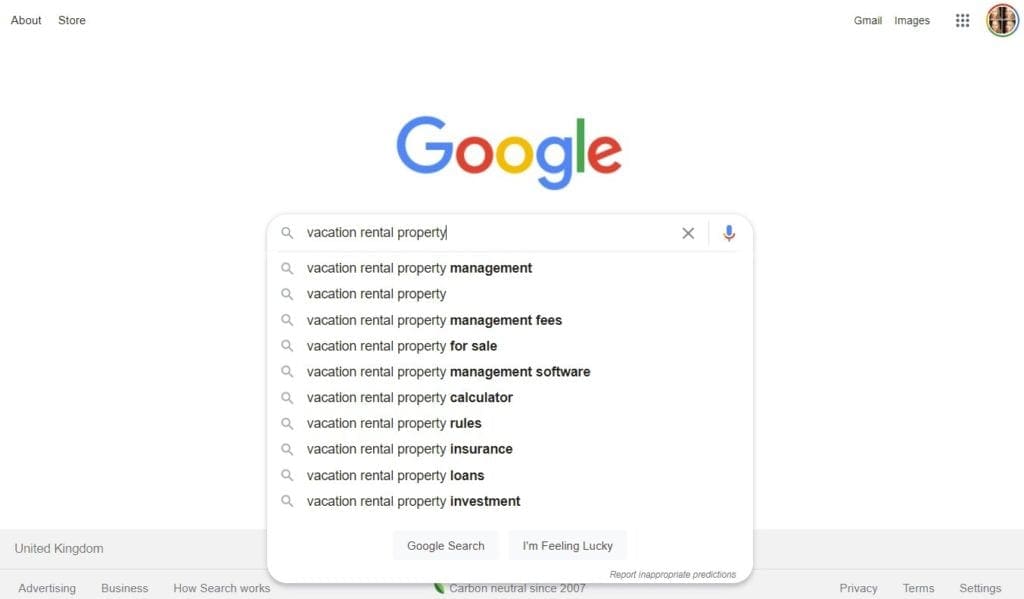 You might also consider: 
How many searches the keywords are getting per month.

Also known as volume or MSV (monthly search volume). You want to find a balance, so you're not competing with huge terms, but your search term is still being used enough to make it worth your time.

Using a mix of short-tail and long-tail keywords.

It's easier to rank in more specific phrases, for example: "how to book a vacation rental" vs. "vacations".

How relevant the keywords are to your topic.

How well do they answer the searcher's question?

Questions within each keyword or topic.

For example, within "vacation rental" you might have the phrases "how can I book a relaxing vacation rental?" or "what are the best vacation rental websites?".

The keyword "intent"

. The

specific problem

searchers want you to solve, and the types of content they are looking for to answer it, e.g. "How-to" content, lists, guides.

Authority.

How authoritative and knowledgeable is your content related to the keywords? Google prioritises content that is useful and helpful in your niche.
What is the best way to do keyword research for vacation rentals?
Using the above techniques is a great place to start. 
But there are also some great tools specially designed to help make the entire process much quicker and easier. We've listed some below.
What are the best free keyword research tools?
While there's a huge range of tools that can help you do this, some can be expensive. Luckily, there are some great ones out there that offer a good level of basic support for free. 
Some of the most popular include: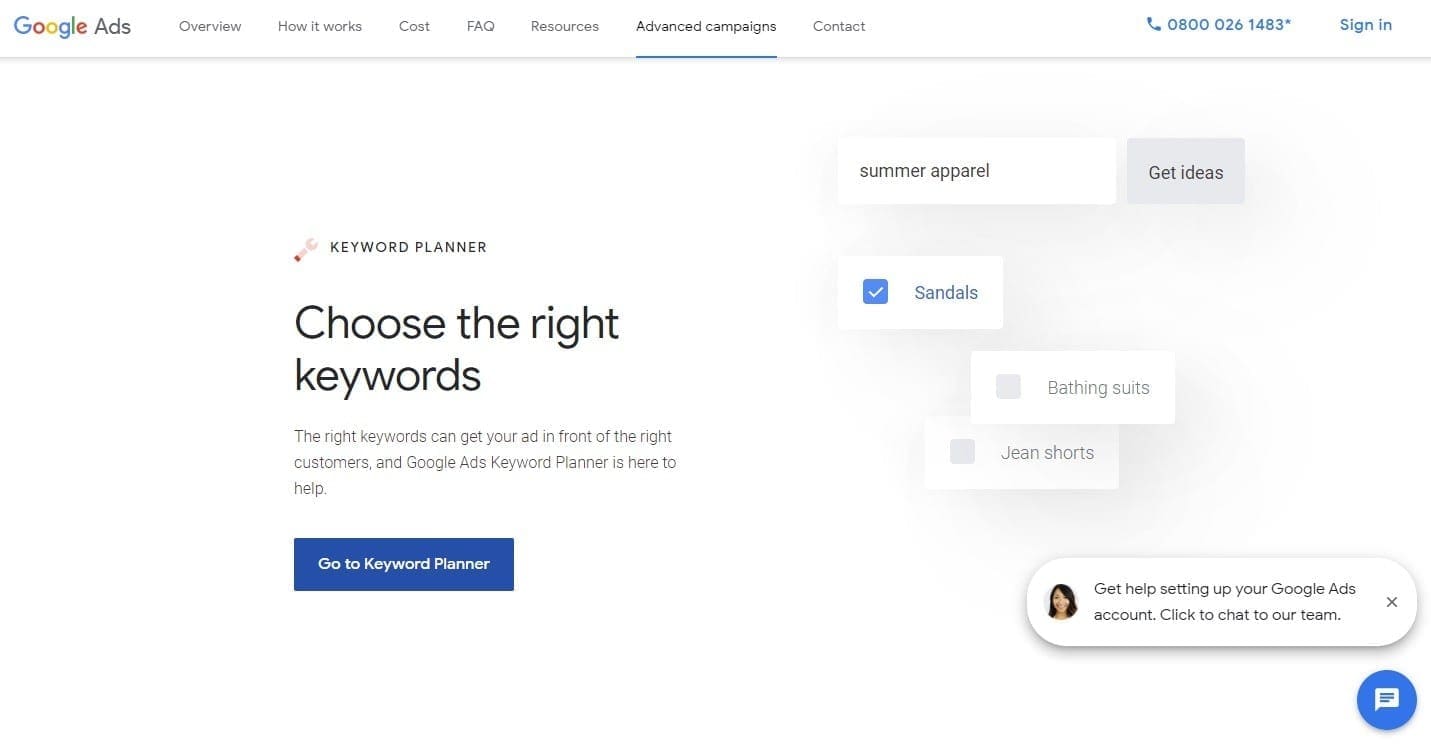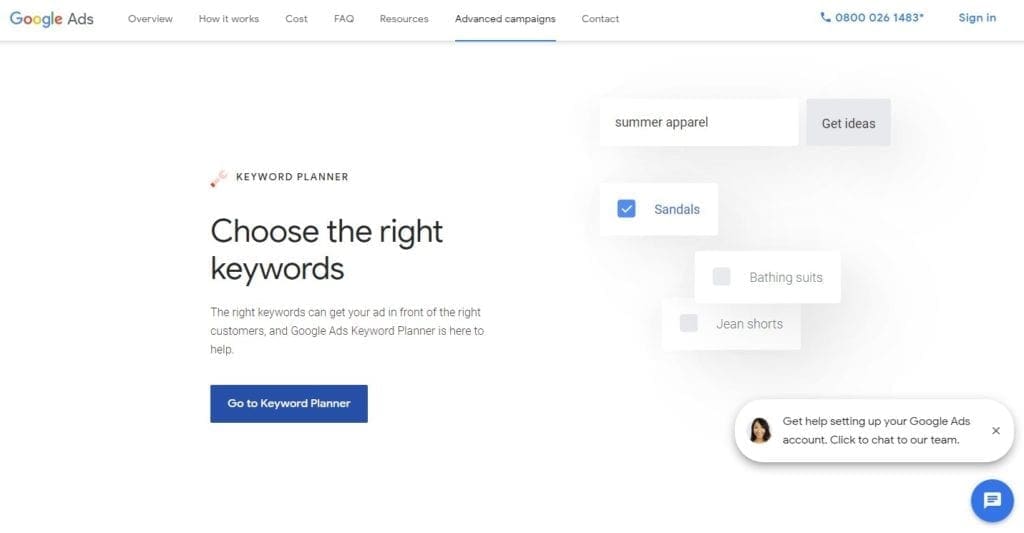 Google Keyword Planner

– Part of Google's suite of products designed to help you run effective marketing and advertising campaigns, it helps you specifically with keyword research to find your business' most relevant terms. Free to use but requires you to submit business information, and if you run ads you will of course need to pay for those.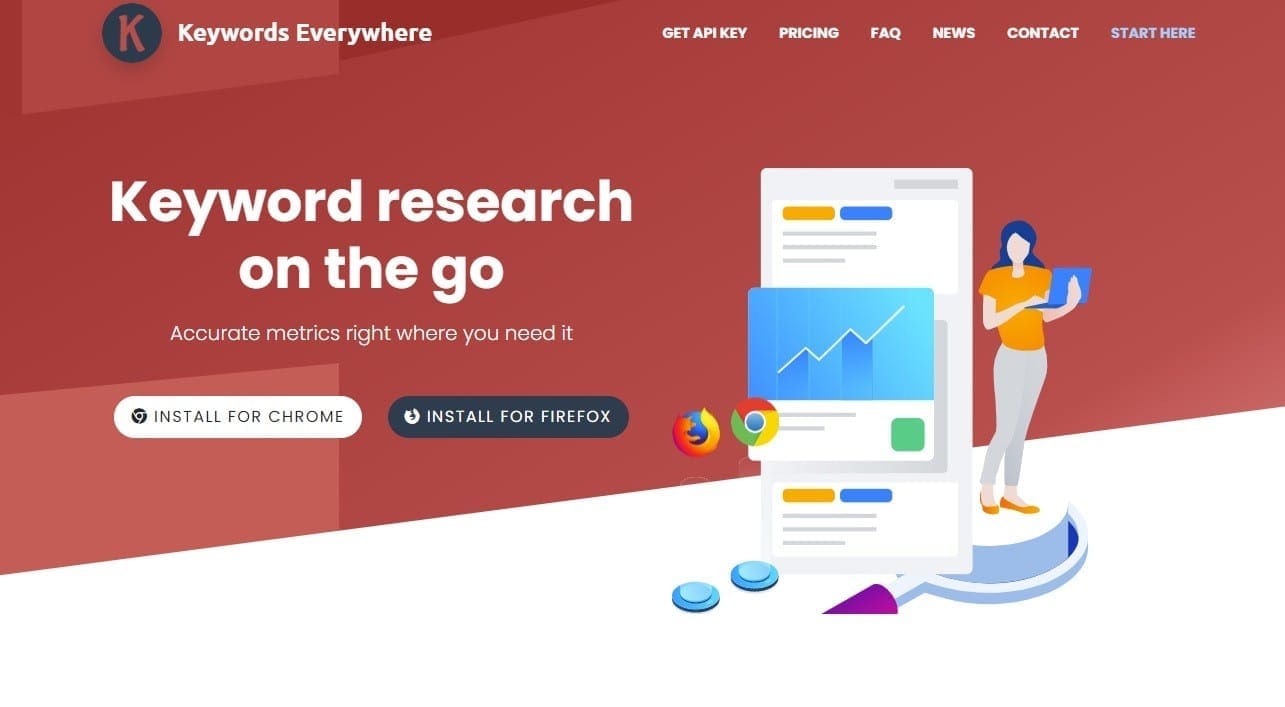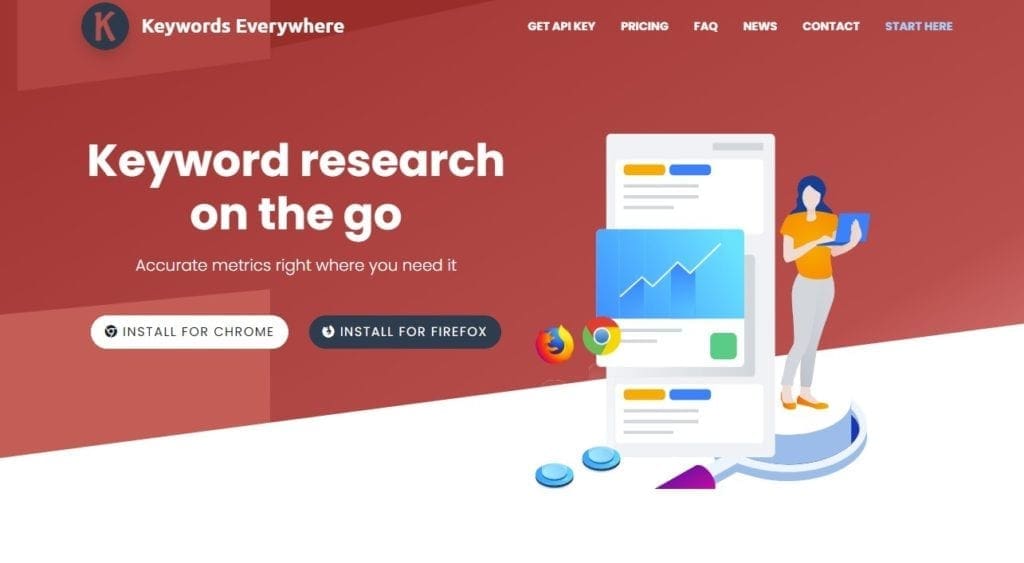 Keywords Everywhere

– A totally free tool designed for keyword research, which also has Chrome and Firefox browser extensions (also free). A wide range of features for a free tool, including monthly search volume, cost per click (CPC) and competition data.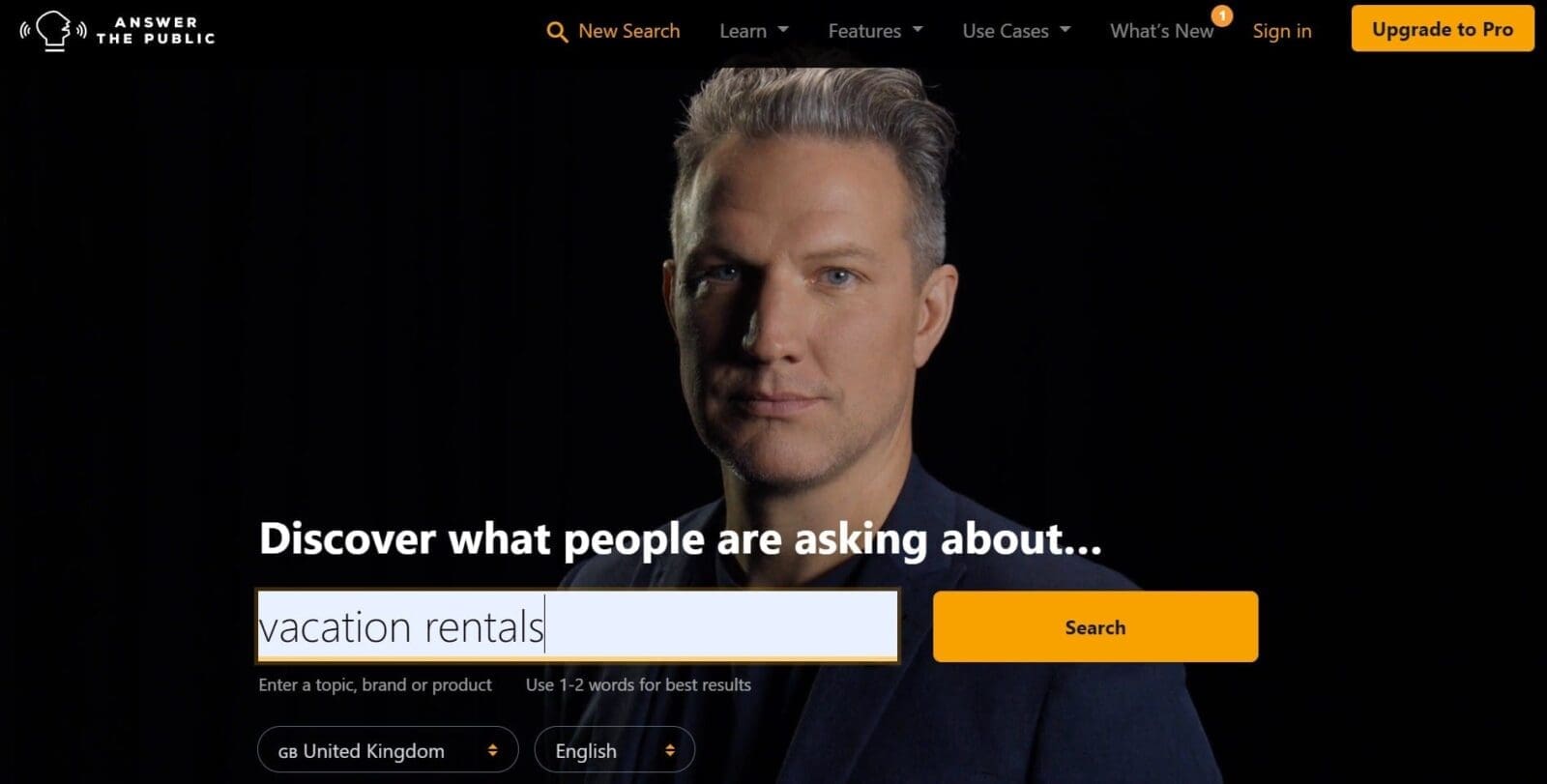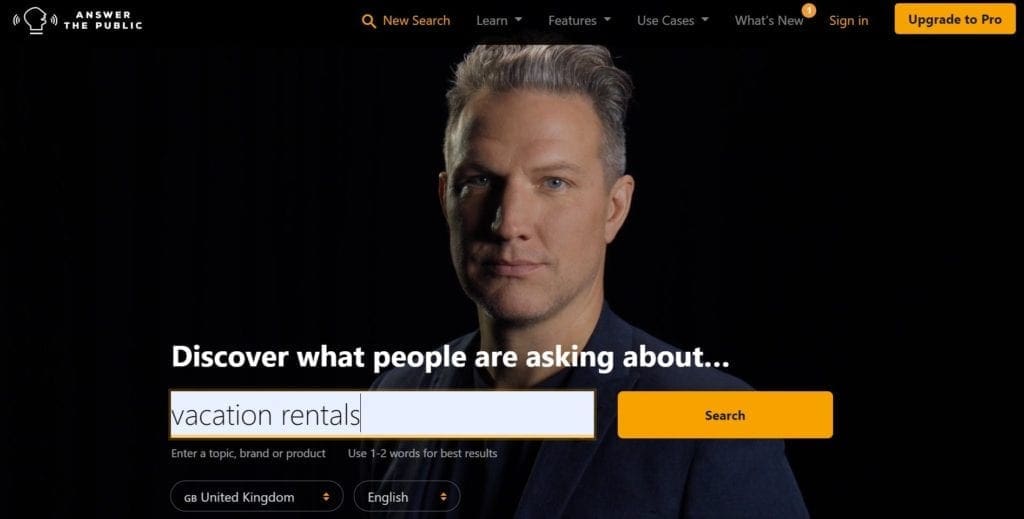 Answer The Public

– This describes itself as a "search listening tool for digital marketing and SEO", which collects, tracks, and alerts you to major questions being asked. Great for coming up with content ideas that answer key questions. Free for limited searches. Pro version offers unlimited searches, users, and more, from $79/month paid annually.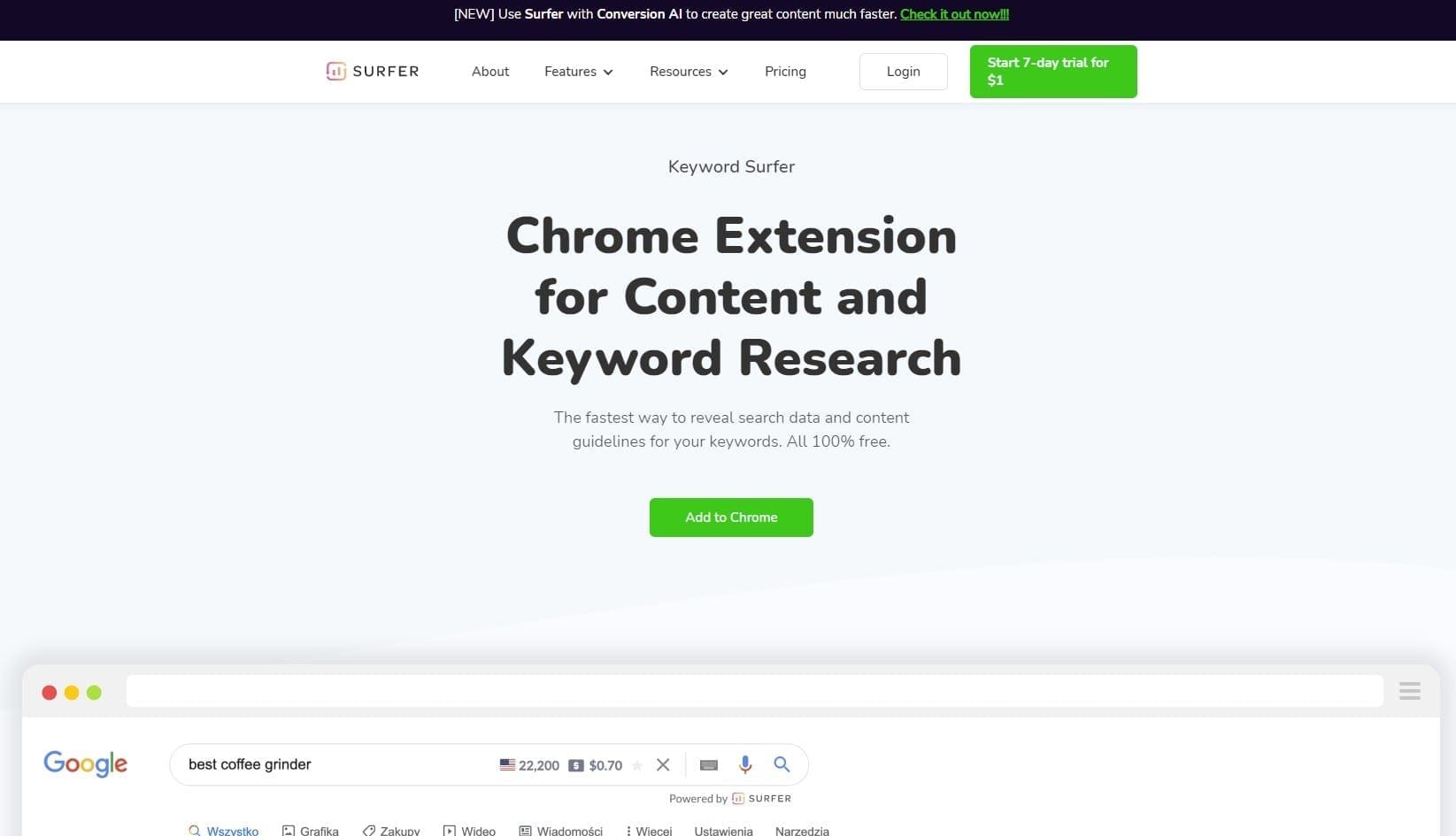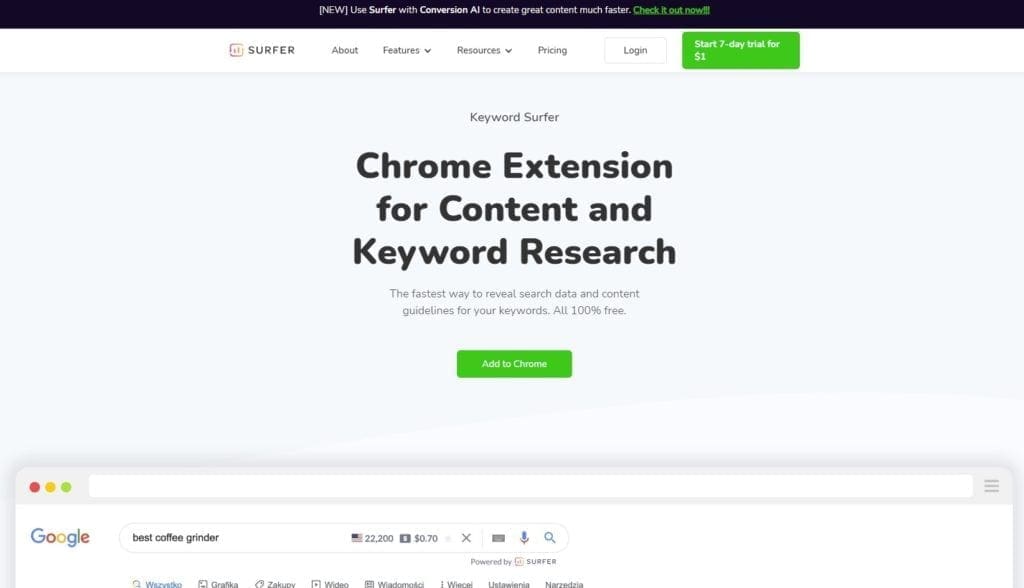 Keyword Surfer

– A 100% free Chrome extension for content and keyword research, from the team at SEO Surfer. Allows you to see search data and content guidelines for your best keywords, across 70 countries including the UK and US.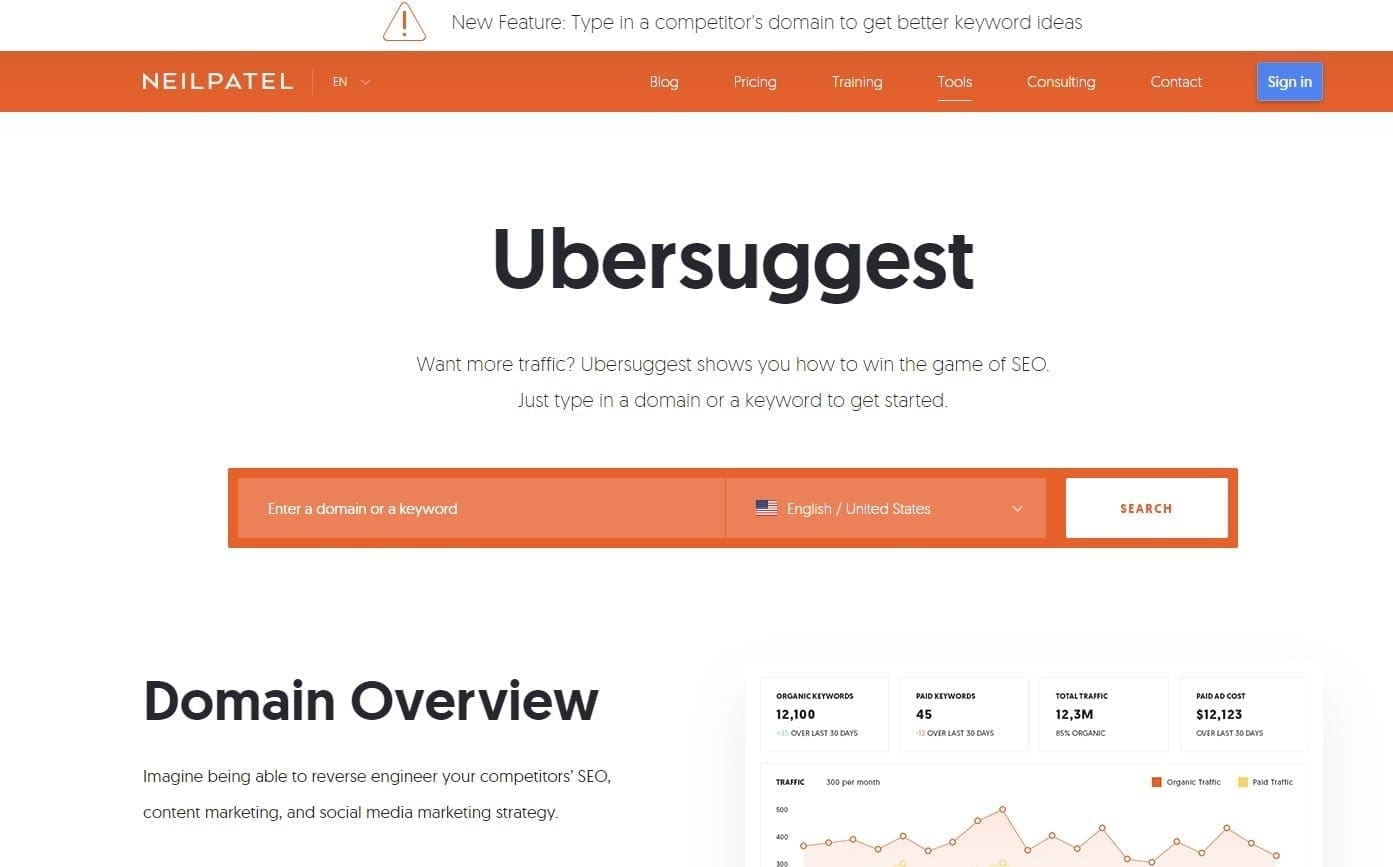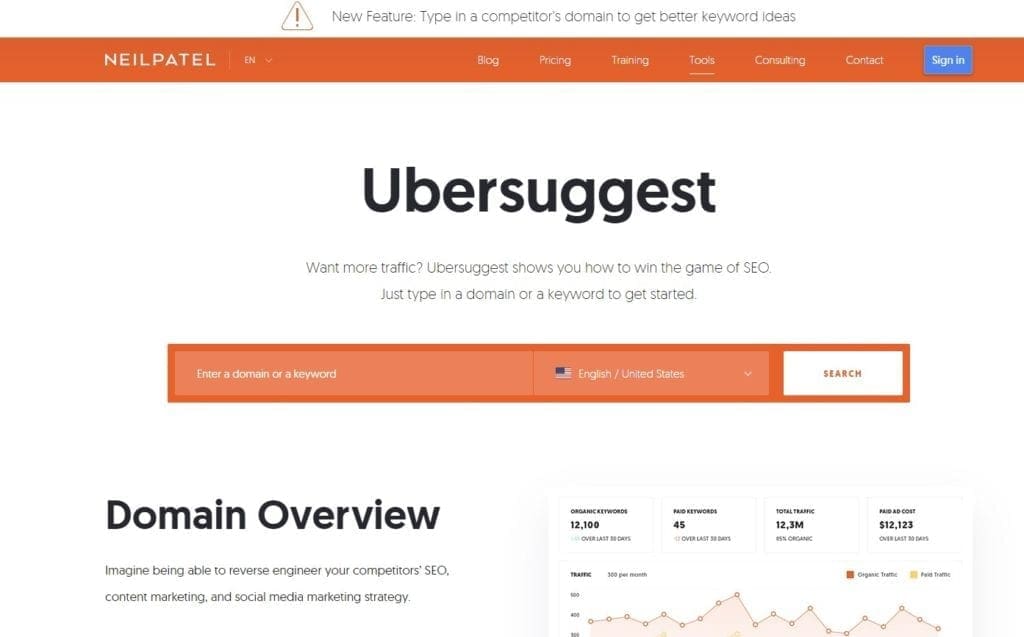 Ubersuggest

– A free keyword research and analysis tool from SEO expert Neil Patel. You can search three times for free, and register for free, to get more suggestions and daily rank tracking. There's also a free Chrome extension that'll provide useful info for beginners. The paid version includes far more tools and starts at £29/month for small businesses or 1-3 websites.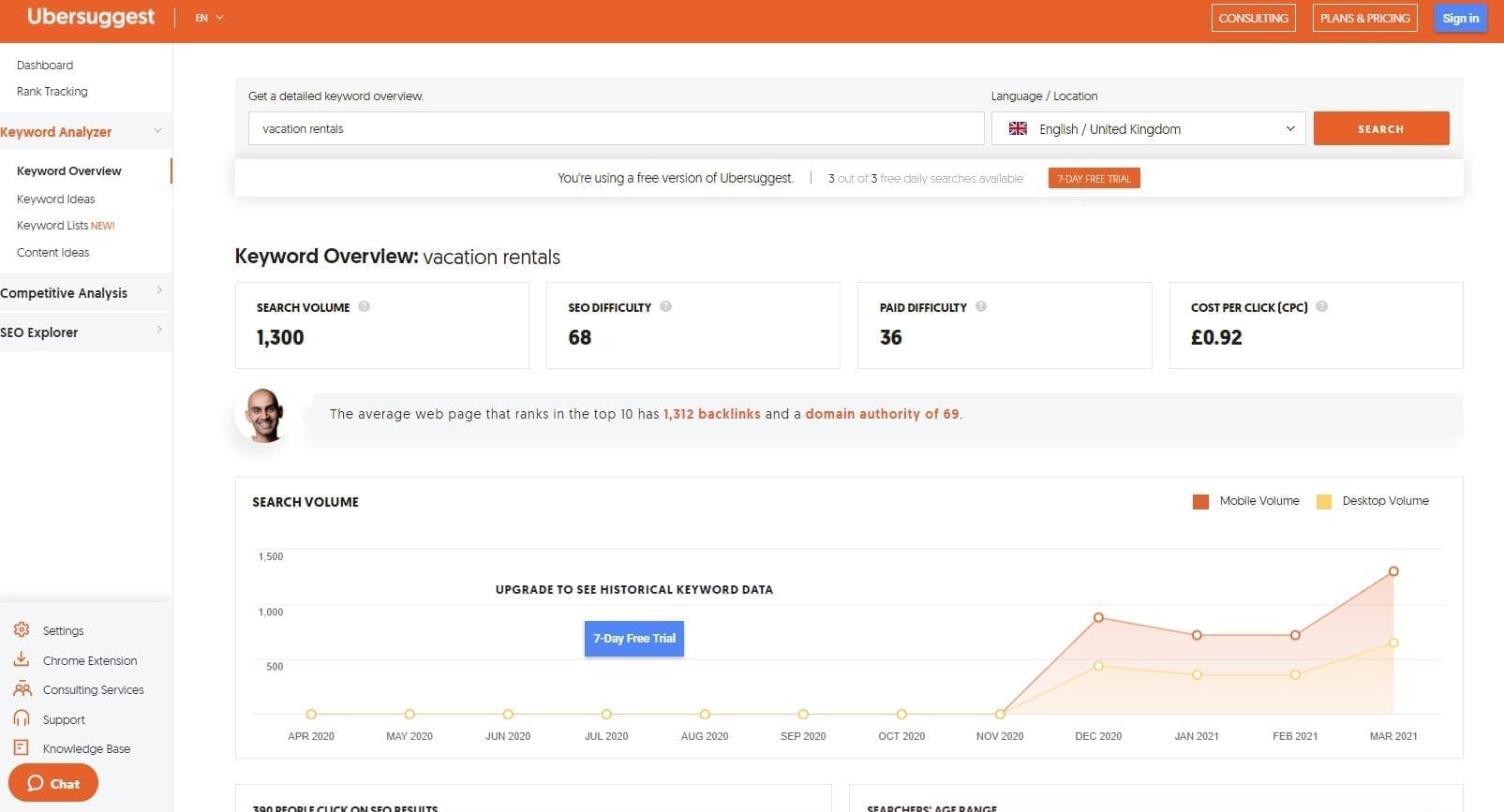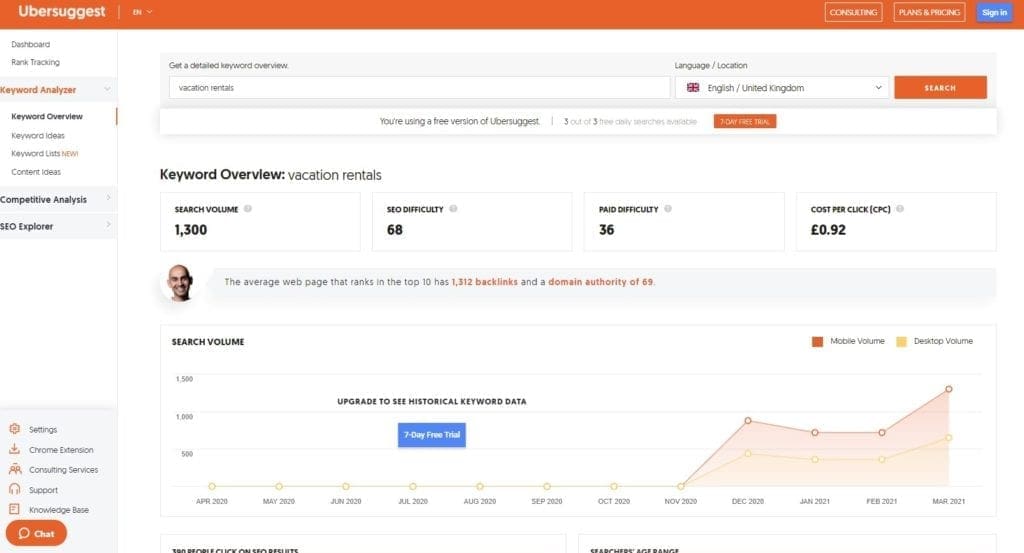 Once you've compiled a great list of keywords, it's a good idea to keep them somewhere you can refer back to when wondering what content you should create next, to always ensure your content is optimised.
One of the simplest ways to do this is to start a spreadsheet, and enter all your short-tail and long-tail keywords into it, perhaps next to ideas for content or topics that you want to cover.
This may also help you see if there are any overlaps, repeats, more relevant or less relevant terms, and sort them accordingly. 
You don't need hundreds – a good list with some clear, strong terms is enough to start with.
You can also prioritise your keywords by importance and difficulty to rank for. For example, short-tail keywords are more difficult to rank for because of how competitive they are, but they are still important to use, so you might use them across all of your key website pages.
In contrast, long-tail keywords are not as difficult to rank for and are more specific to a particular topic, so rather than trying to use them across all your main website pages, you might instead use them in a few relevant blog posts or an FAQ page, for example.
Where and how should I use keywords?
Now you know which keywords you're aiming to use, it's time to actually use them.
Some major places to hit include:
Page titles –

Describe the main subject of your page and let users know exactly what the page is about.

Meta descriptions –

The short lines that appear under a search engine result page title.

URLs –

Make your URLs as "human" and short as possible, without long numbers or random characters. Google can scan URLs too.

Subheadings –

Headings that break up your text and explain what the sections are. Google can scan these.

Content copy –

Your actual content words. Use keywords naturally in your sentences, without "stuffing" them in or making them repetitive.

Link "anchor text" in the copy –

The clickable text with a link in your copy, usually to a key page on your site. Use your keywords in this text and make the phrase descriptive.

Image title tags and alt text –

Images on your website are indexed too. Give the file a relevant name with a keyword included, and also describe the image.

In social media posts pointing to your content –

Although social media doesn't directly factor into your ranking,

research shows

a major link between social shares and search engine visibility. Use top keywords in any social media posts or updates. They make it searchable and more visible online overall.
How can I track keyword performance and rankings?
As a business owner, it's important to track the performance of your keywords and SEO efforts, so you can see what's working and what isn't.
As the business saying goes, "If You Can Measure It, You Can Manage It", and that's especially true for keywords. 
Tracking your metrics isn't limited to keywords; it's also about the rest of your SEO efforts. But when it comes to keywords specifically, you might want to measure: 
Keyword rankings –

The general outcome of your SEO work. Better rankings for a particular keyword mean better rankings overall, especially for long-tail keywords.

Organic traffic –

If this is improving but your rankings for keywords aren't, then it could be that your keyword selection needs work. Try a less competitive option.

Engagement –

such as bounce rate (how long people stay before leaving again), time on site, and pages visited. Tracking these shows how relevant and interesting your content is for visitors. Lots of visitors but poor engagement will make it difficult to reach your ranking goals.
And while you can track many of these manually, or using basic analytics already within your website platform or similar, you may also want to use some robust tools to dig even deeper. 
Try these: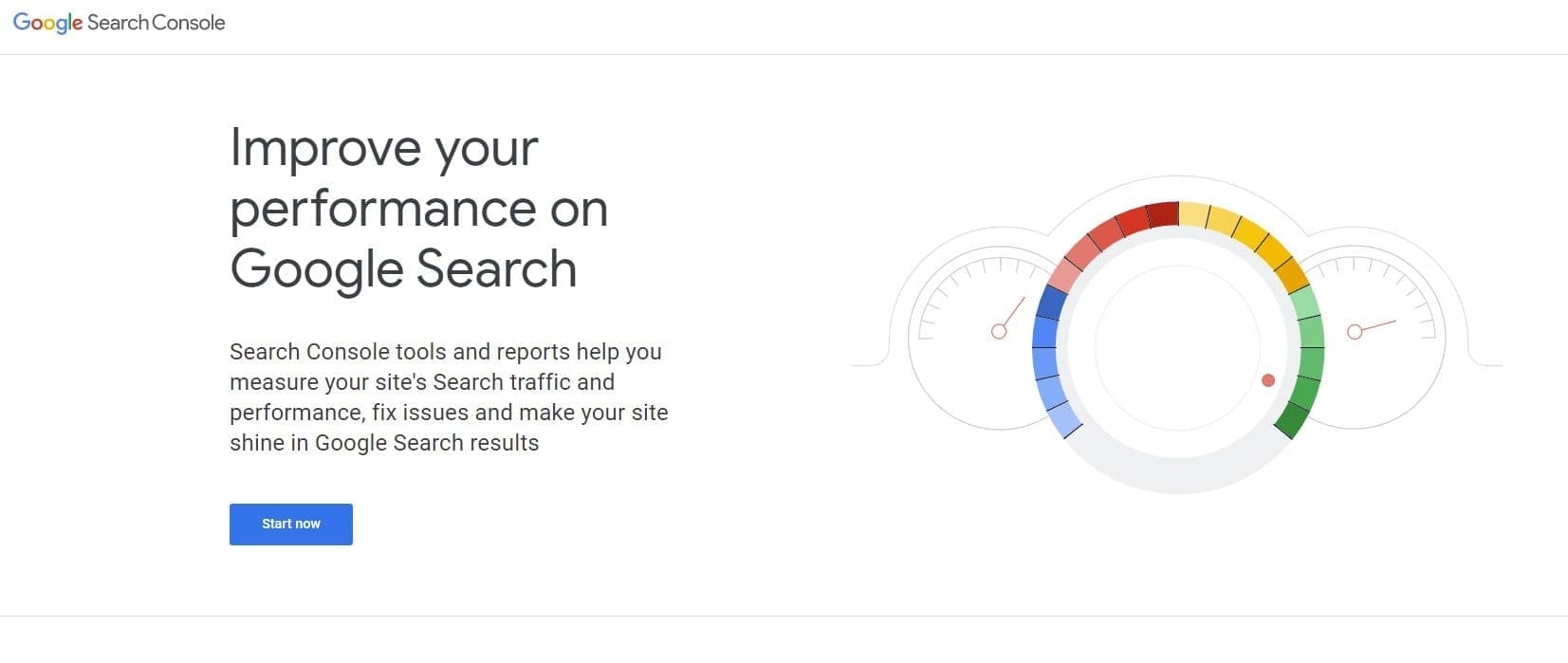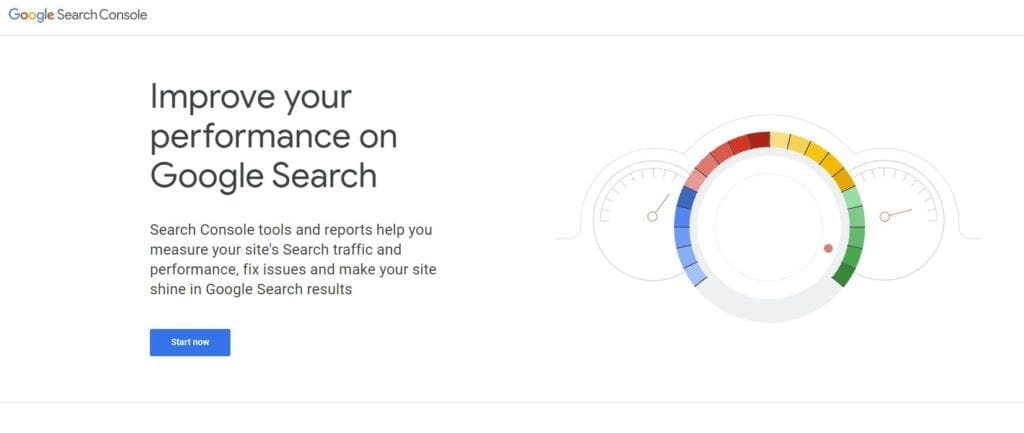 Google Search Console

– A free tool that helps you understand how your site is performing on Google.
Google Analytics –

A web analytics service that tracks and reports website traffic. You can use it to see if and how your organic traffic has increased.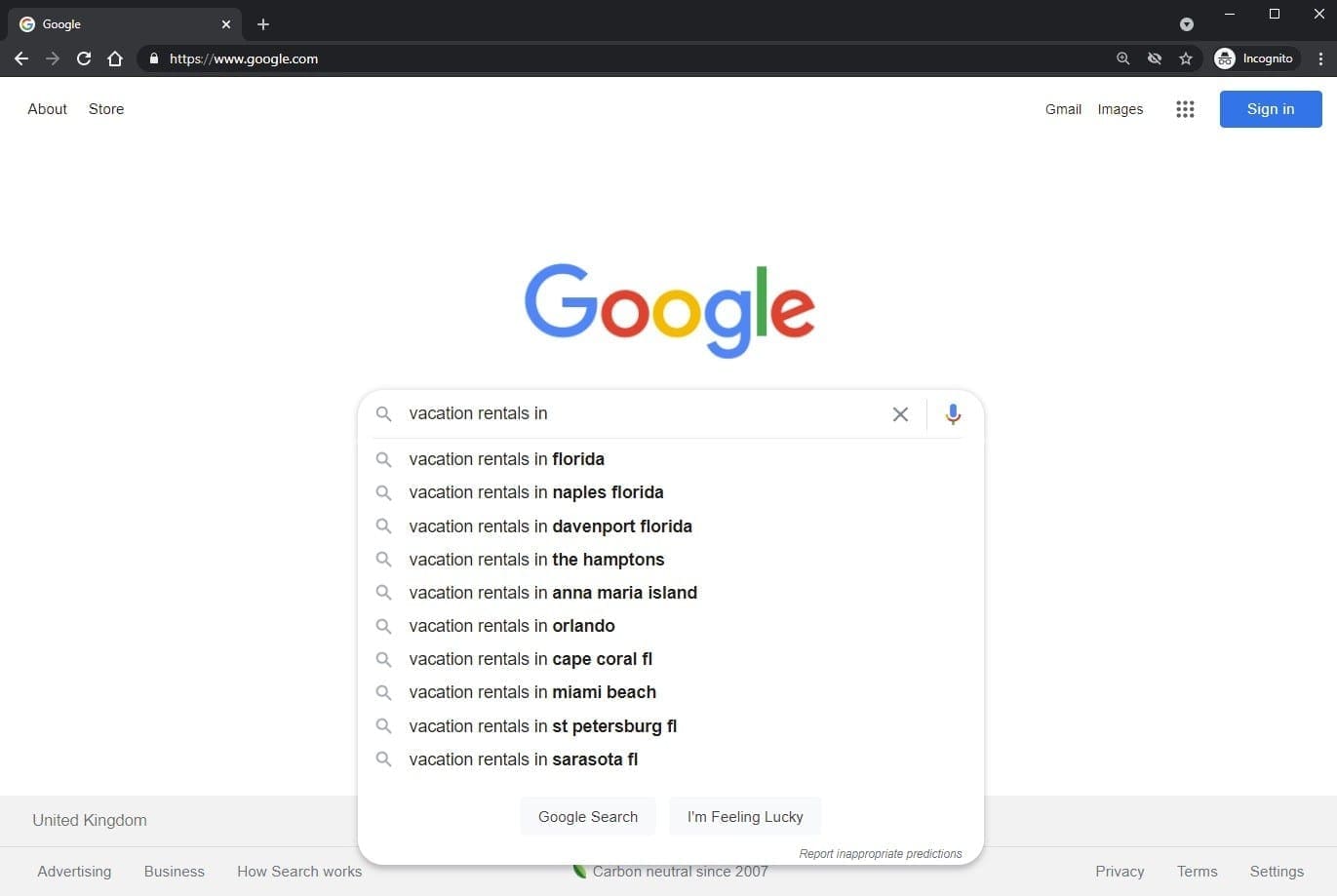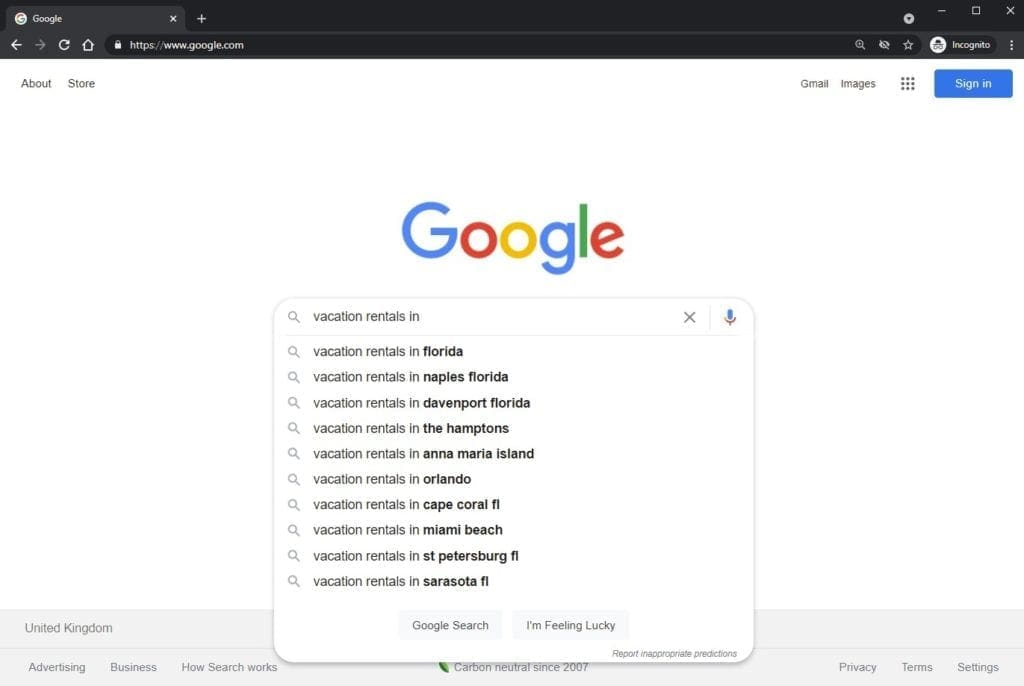 Use Google in "Incognito mode" to check yourself

– Type in the keywords in a new, incognito browser, and see where your site ranks. Make a note of who ranks above you, and try to analyse why. Is it via a good blog post? A landing page?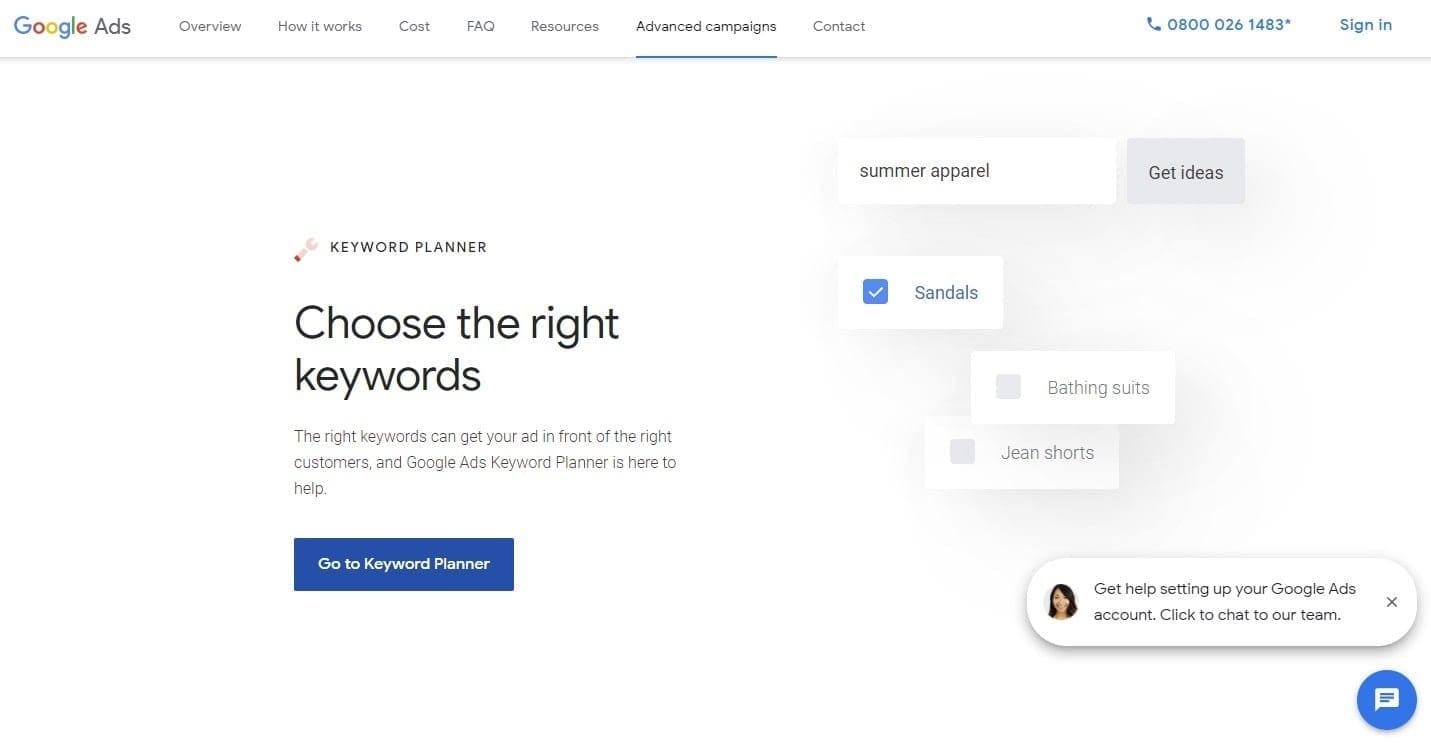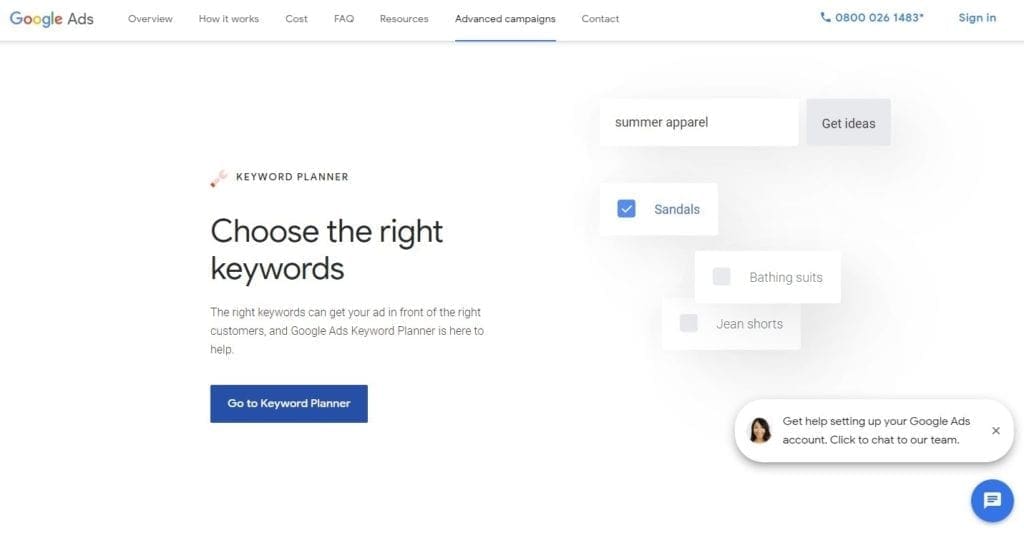 How often should I do keyword research for my vacation rental?
Keywords are always changing, and so is your ranking for them. This means that you can't just research keywords once and never revisit them again.
SEO tips expert Moz says that Google makes over 500 tweaks to its algorithm every year, so you want to make sure you adapt. Make sure you revisit your keyword research – especially your long-tail keywords – at least once every 3-6 months for best results, especially before a big campaign or launch. 
Once you've got your new keyword list, you can update your titles and meta descriptions accordingly.
How can I use keywords to make my vacation rental stand out and get bookings?
Great content, keywords and high rankings alone aren't enough to secure bookings for your vacation rental. 
To actually have a business, you need to make it as easy as possible for visitors to your page to actually book in the first place. This means making sure that your site has an easy way for people to take a look around, check availability, book, and take payment.
You should also ensure your photos are high-quality, and your copy is clear and friendly, so people have confidence in you and your space and will trust you enough to book.
And also – and this is often overlooked – ensure your site is responsive on mobile devices. Websites that don't work properly on smartphones or tablets risk losing customers in seconds right when they're in "search and book" mode.
Once your keywords and great content have done their job of getting people on your page in the first place, you want to convert these visits to actual paid-for vacation rental bookings, so you can harness your SEO strategy and vacation rental marketing plans for maximum results.
Take back control from OTAs such as Airbnb and VRBO, and actually build a successful business that's all yours.