Welcome to the world of Pinterest, where images are "Pins", users are "Pinners", and the best content is utterly "Pinnable".
With more than 450 million monthly users and a rapidly-growing fan base among older women and younger Generation Z alike, Pinterest's reach is soaring, meaning it could be the next big thing for your business.
Pinterest is an image-sharing website, where ideas and links are shared using images, gifs and videos – and Pinners (or users) can "Pin" the images to their own "Boards", like a digital noticeboard.
It is known as a "social network", but it also works as a search engine, using keywords to allow users to find pins, and recommend new ones.
Pinterest estimated that 50% of UK parents are on Pinterest, along with 40% of UK Millennial women, so it could be a perfect option for vacation rental owners looking to appeal to a range of guests, whether families finding their next getaway or young couples reserving a romantic retreat.
Stop relying on OTAs, bring ideal guests and bookings to your vacation rental property business, and build a sustainable company that's all yours.
This post will help you:
✔ Learn whether Pinterest is right for you and your vacation rental business.
✔ Figure out the various ways that Pinterest works and how to use them.
✔ The best kind of content to post – and when – to build community and engagement.
✔ How to turn "clicks, views and followers" into actual bookings, starting now.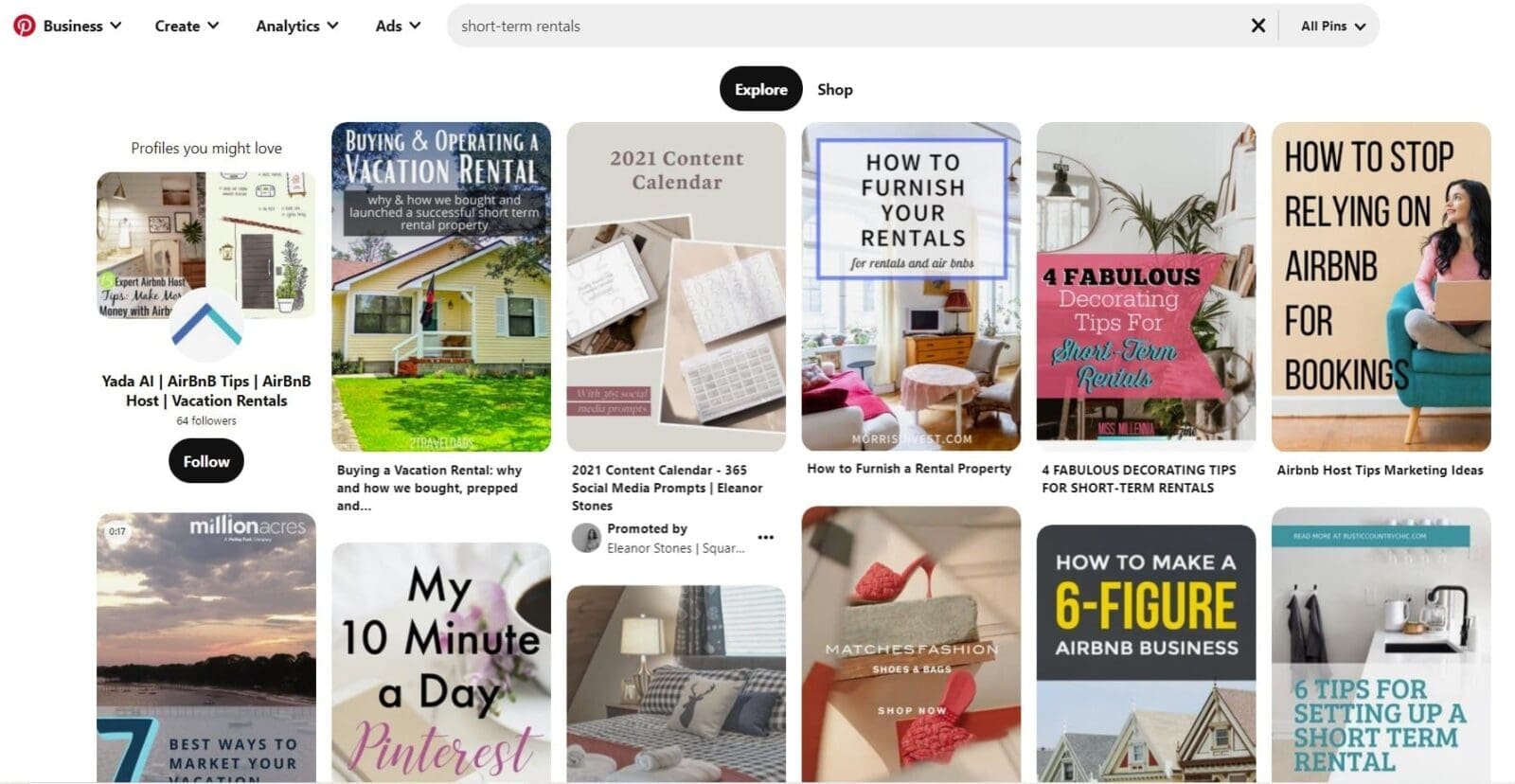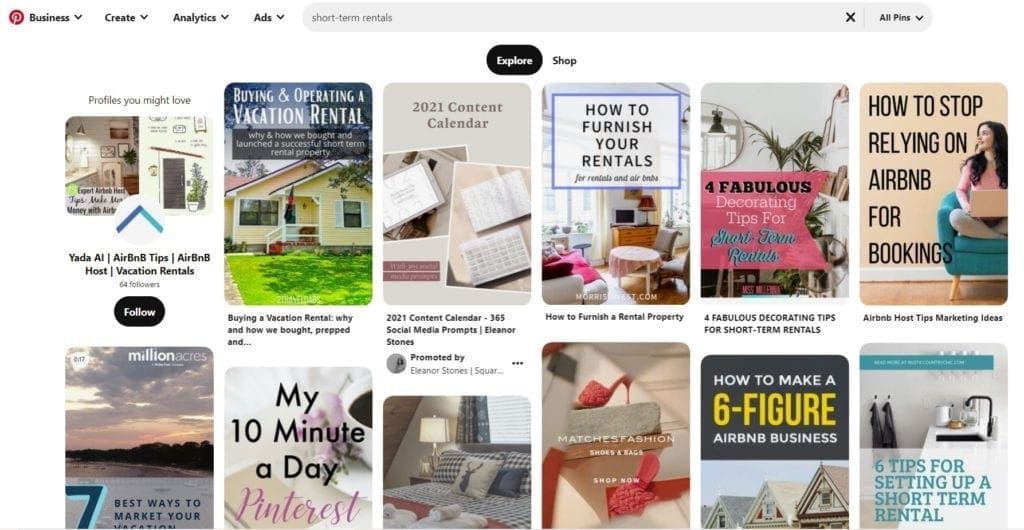 Why be dependent on OTAs like Airbnb and Booking.com? Did you know you can save thousands on commission fees by getting direct bookings? Get our free blueprint on how to double direct bookings for free.
Table of Contents
(For a wider overview, check out our Vacation Rental Marketing Guide, and our Social Media for Vacation Rentals Guide)
What is Pinterest? The tools
There are a number of elements on Pinterest.
The main ones to know about are:
Accounts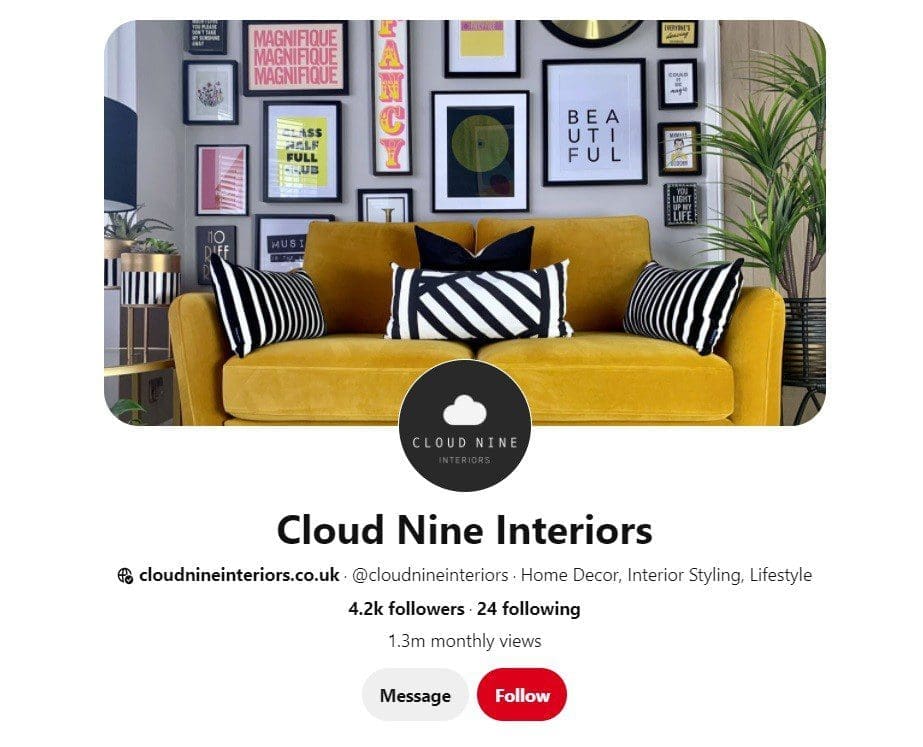 Users' home base on the site. Shows your Boards, username, description, number of followers and views. People can choose to follow you or browse your Pins. You can also message users here, and switch between Pins they have Created and Saved.
Bio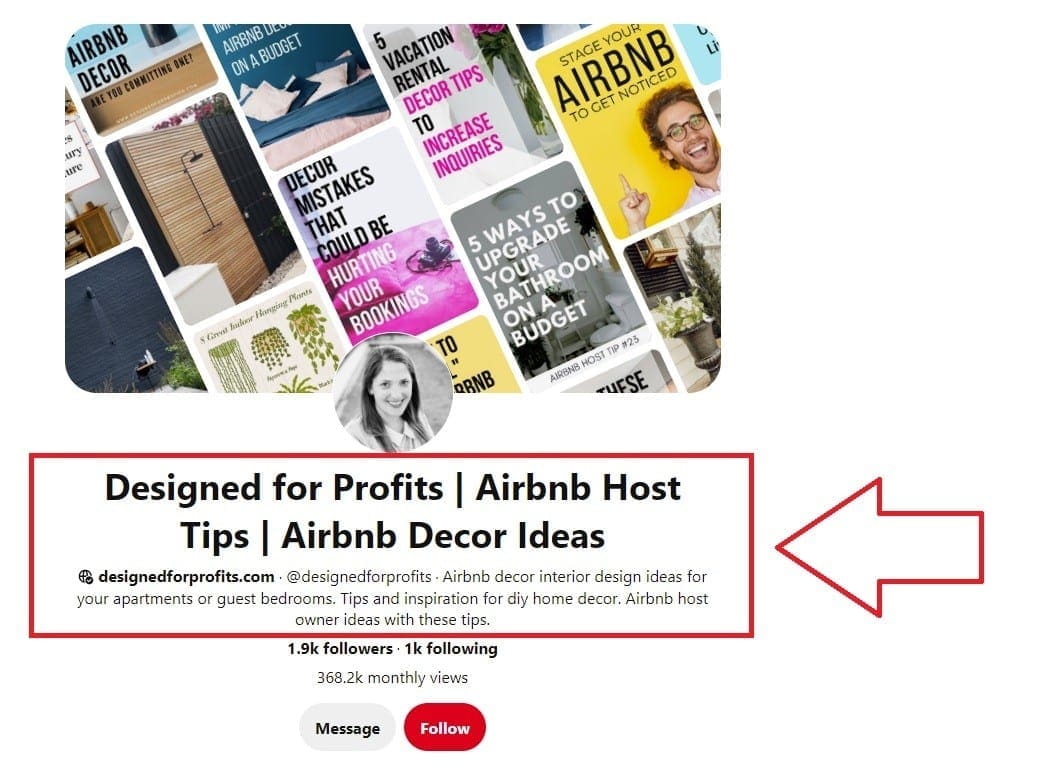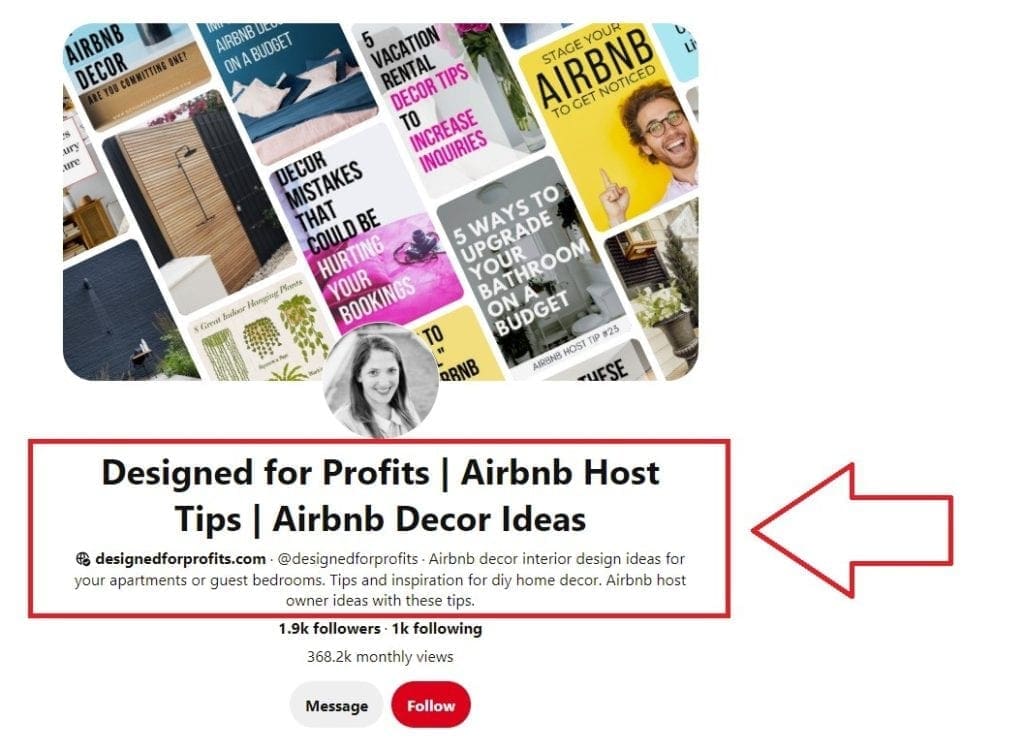 The few lines on the account page, that describe what your page and content is about, and how it helps your ideal viewer and guest.
Keep it clear and make it obvious what's in it for the reader by following your page. Include major keywords your ideal guest will likely search for. Make sure it includes a call-to-action (CTA) too (something you want visitors to do, e.g. go to a link to book directly).
Link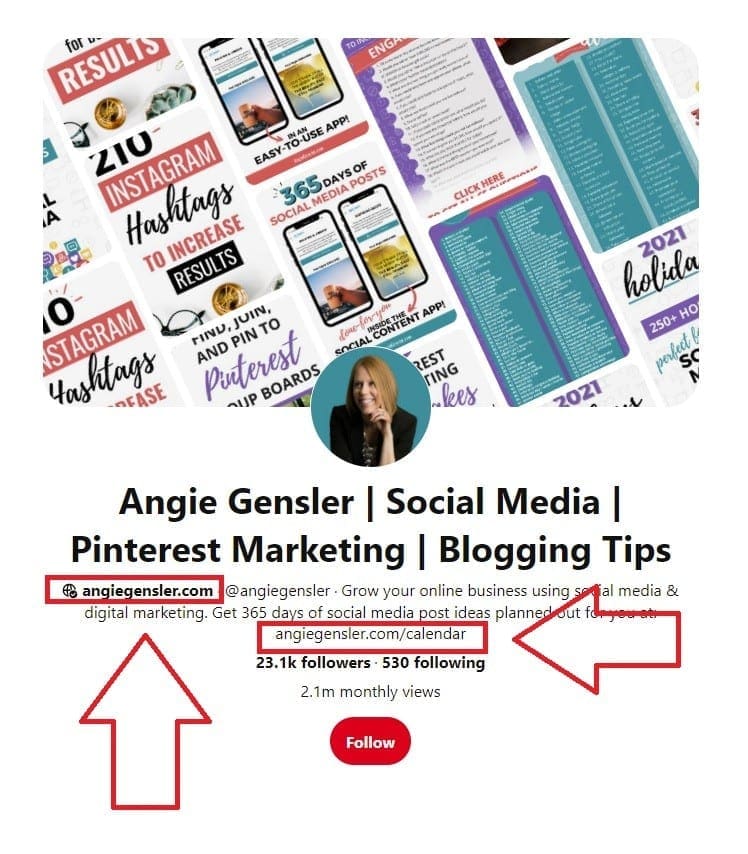 The link on your account page. You can add a bold link to your main website as part of your account bio e.g. SunsetRentals.com, but in the description, you can also add another link and change it regularly, e.g. "SunsetRentals.com/AprilDeals".
Keep it short and obvious, and leave room to add a CTA, such as "Click here to book now".
Boards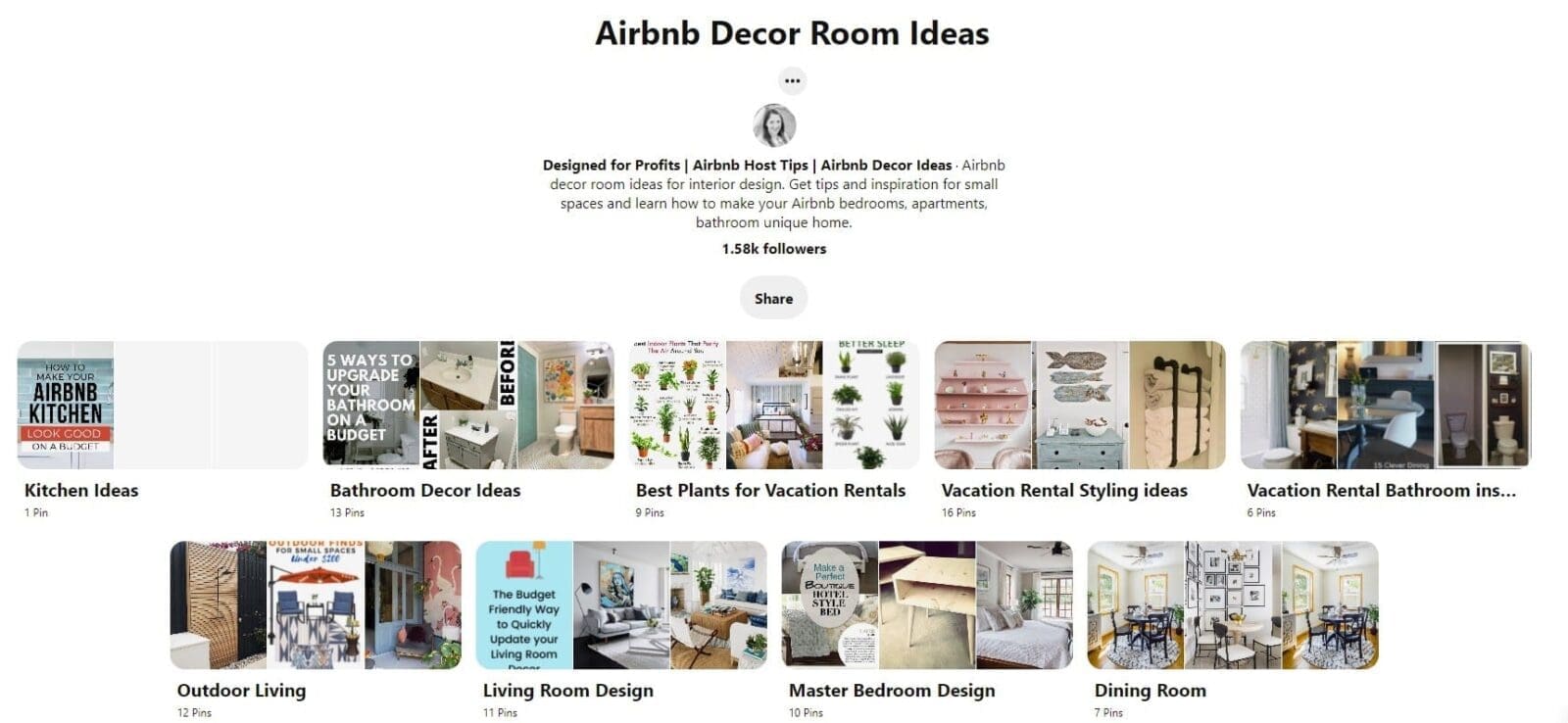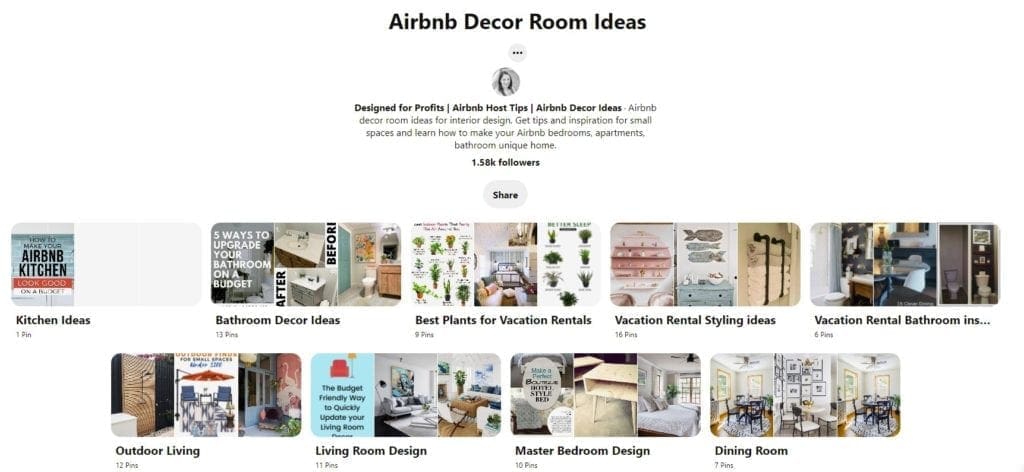 Boards are like categories that group Pins accordingly. If you see or create a Pin, you can assign it to a particular Board, e.g. A Pin that links to a post about "10 Comfiest Ever Beds" might be Pinned to your Board called Comfortable Room Furniture.
You can create your own Boards depending on your Niche – e.g. Best Things To Do In My Area, Vacation Rental Decor Inspiration, My Beautiful Beach House. Whatever works for you.
Boards can be Public (meaning anyone on your page can see them) or Private (meaning only you can see them when logged in to your account). People can also join your Boards to stay up to date with your Pins.
Pins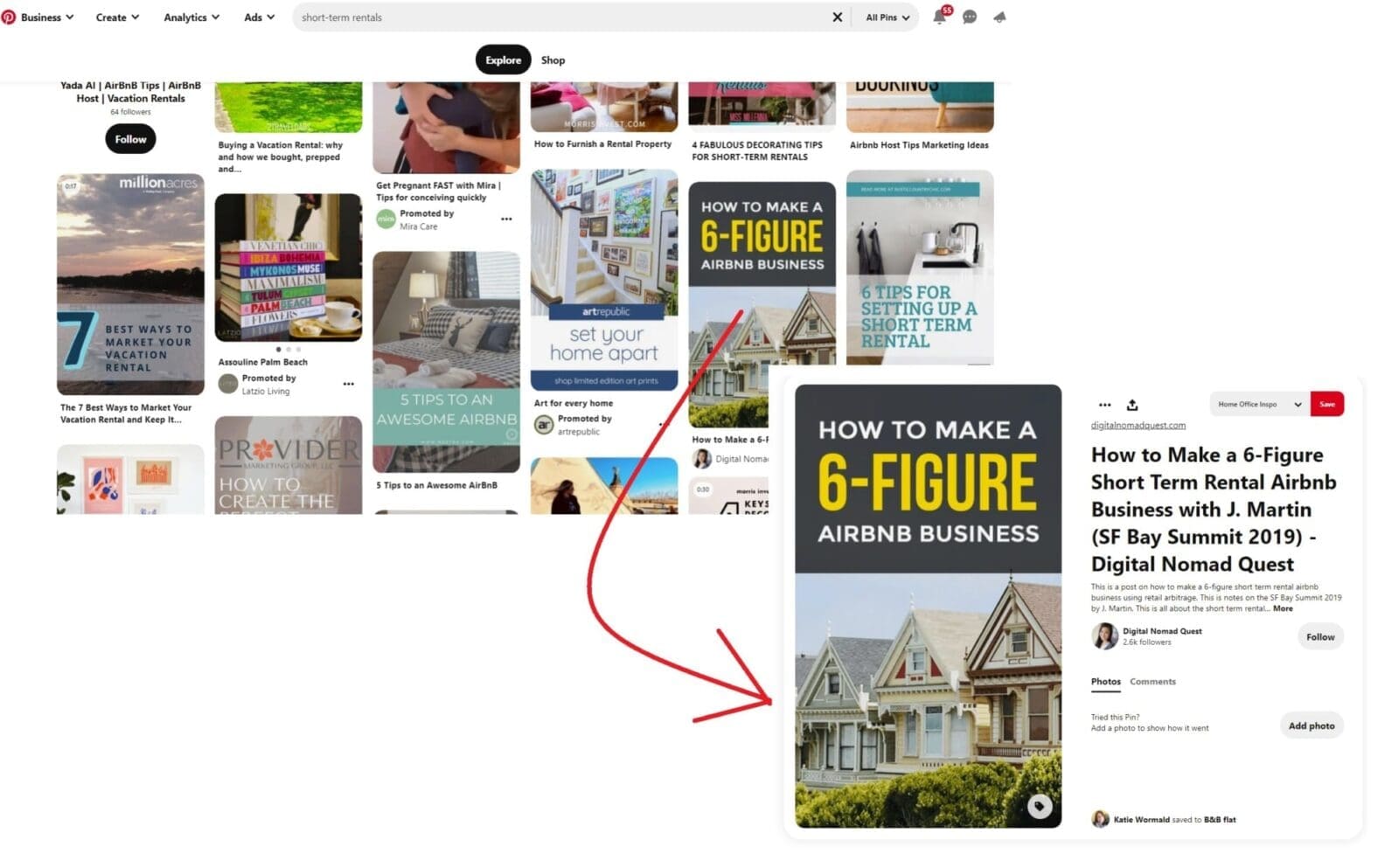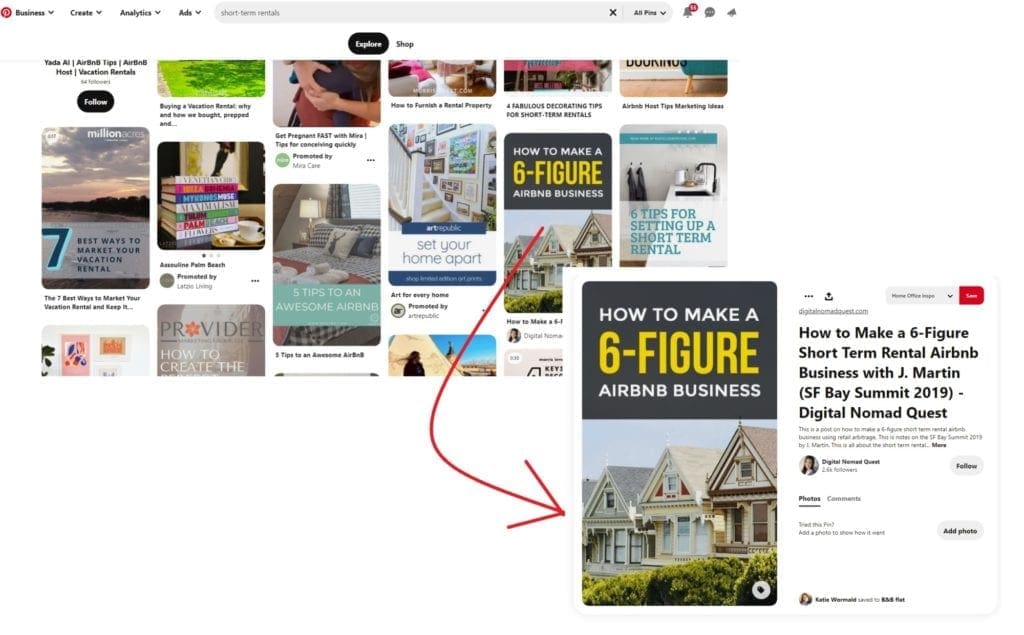 This is Pinterest's name for posts. Images, Gifs or videos posted to Pinterest on a user's Board. The most successful ones tend to be portrait (as most Pinterest users browse the site on mobile devices) and have an easy-to-read, short headline that invites users to click to find out more. You can click on them from your feed, or go to them directly from a Board or Account page.
The Pin itself contains a title, description, and link. You can also Comment on a Pin, Follow the user directly, or go to their Account page and check out all of their Pins.
The goal of a Pin image is to stop the user in their scroll, be easy to read even in a thumbnail and invite the user to click to read and see more.
Benefits of using Pinterest for marketing
As a visual tool that allows users to make content "clickable" with direct links far more easily than other social media (such as Instagram), Pinterest is perfect for vacation rental owners who want to show off their beautiful spaces and make booking directly easy as pie.
Pinterest is built for sharing visual content. Easier to get clicks, in contrast to Instagram, which doesn't allow direct links from posts.
There are no limits on the number of Boards you can create or follow, so you can have a wide variety of related content on your account, such as "New Parents Seeking Peace".
Pinterest also works as a "search engine". Users type keywords into a search bar and are often very focused, engaged and ready to buy and click when scrolling.
Using Pinterest alone isn't enough to drive bookings. It's basically just a shop window, not the shop itself. But when used in combination with other efforts, it can be a powerful addition to your marketing toolbox.
Pinterest can help the SEO (search engine optimisation) of your vacation rental website. This boosts how visible it is online.
You can also link Pinterest to your Facebook and Twitter accounts. This maximises reach across platforms and repurpose content easily.
Pinterest can also build a community around your brand. It brings together like-minded people and encourages interaction from users who are ready to buy.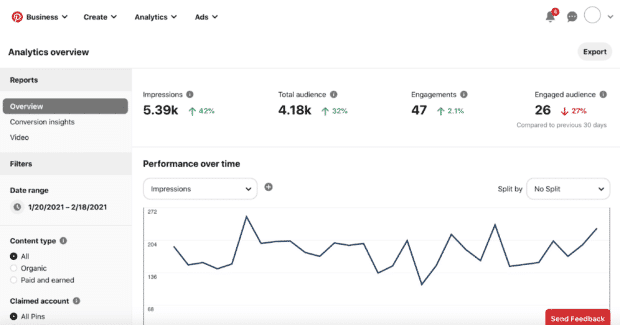 How to use Pinterest for marketing
There is a clear difference between using Pinterest as a passive user, and as an active marketer and business owner.
For business owners, we advise the following:
Set up a Business Page Account. This will give you access to Analytics, and the ability to run Ads later on if you wish.
Set up Boards on your Account based on a wide array of topics on your niche.
Ensure your Pins are designed to get the most views and clicks. Tips to do this include:
Use good quality imagery that will "stop the scroll" and stand out.
Use portrait size so they look best on mobile.
Include an eye-catching title to encourage clicks, such as "How To.." or "10 Ways To…"
Add hashtags in your description to make your Pin more "findable".
Being helpful + "Pinnable". Think about the content that will be most sharable and useful.
Go beyond photos of your rental. Great ideas include "How to" guides, local tips, Top 10 lists – such as "5 Best Vacation Rental Homes in Vancouver", or "10 Things To Check Before Booking Your Next Rental Stay".
Add Alt Text. A literal description of what's in the image. Making your content more "findable" helps Google and search engines index it more effectively, and makes your content more accessible. Win, win.
Use keywords and hashtags. Add these to your Account profile, Pins, and Boards, to make them as "findable" as possible. Pinterest has its own keyword targeting information page, and other SEO and keyword tools will give you great ideas to appeal to your ideal guests.
(See more about keywords and SEO in our Guide to Vacation Rental SEO).
Engage as much, if not more, than you post. Following and engaging with other Accounts (such as Re-Pinning, Liking and Commenting on posts) will encourage those users to come back to check out your content.
Join Group boards. This helps you to connect with other users, build engagement, and stay updated with regular content.
Pinterest doesn't allow you to search for Group Boards, but tools such as PinGroupie can do this. Most tools of this kind work like huge online directories with tens of thousands of direct links to Boards of all kinds, and allow you to search for the best ones in your niche.
Joining Group Boards means your Pins will show up on the followers' feeds, meaning more people will see your content.
Share your content across social platforms. You can "claim" your Pinterest account across Instagram, YouTube, Twitter, Facebook, and Google, meaning you can repurpose content on different platforms and maximise your reach and engagement with minimal extra effort.
How to get more traffic and direct bookings from Pinterest
While they're great to increase visibility on your content, and website – sadly, clicks, views and followers don't actually pay the bills.
So how can we convert those clicks and website visits to actual paid-for vacation rental bookings? This is about making it as easy as possible for guests to actually book, once Pinterest has done its job of getting them on your page in the first place.
Ensure your site has an easy way to see your rental, check availability, book and take payment. This might be a "Book Now" button and a PayPal link.
Ensure your content attracts ideal guests. Blog posts help to showcase your rental knowledge and entice people who are almost ready to book, to help them get to know you and your business.
Ensure your photos are high-quality, and your copy is clear and friendly. Make it easy for people to contact you, and give them confidence in your space.
Ensure your site is responsive on mobile devices. Websites that look bad or don't work properly on smartphones or tablets risk losing customers in seconds.
Make your cancellation + refund policy clear, even if only in a sentence or two. Find a good balance between easy and strict cancellation, so you get high-quality bookings from serious guests, but offer enough of an insurance policy.
Make sure that every page on your website has a clear CTA (or "call to action"). Most likely this will be either to book your rental now or contact you. This means that if someone lands on your site, they'll be in no doubt about what you do, and how to book.
Pinterest also allows Business Account users to create Ads, which can help reach new users and encourage people to follow and engage with your content. Ads tend to stand out more in Search Results and can draw in people who might normally not see your Pins (but they're not a quick fix for content that isn't working organically).
Our top tips to use Pinterest consistently
So now you know why you might want to use Pinterest, and how to convert clicks to bookings, it's time to put this theory into practice.
Most social media experts agree that consistency is the best way to build momentum on Pinterest. It's better to Pin or post 5 Pins every day than 20 every week or month.
It is generally advised not to Pin more than 25 times per day, as posting too much can actually harm your reach and appear spammy.
You can maximise your reach by Pinning the same Pin on different Boards, and you can also create different Pins (with different images and text) that point to the same link or content, to maximise Pins and see what works best.
Pins don't have to be your own either; in fact, it's best to Pin mainly content by other people as well as posting your own.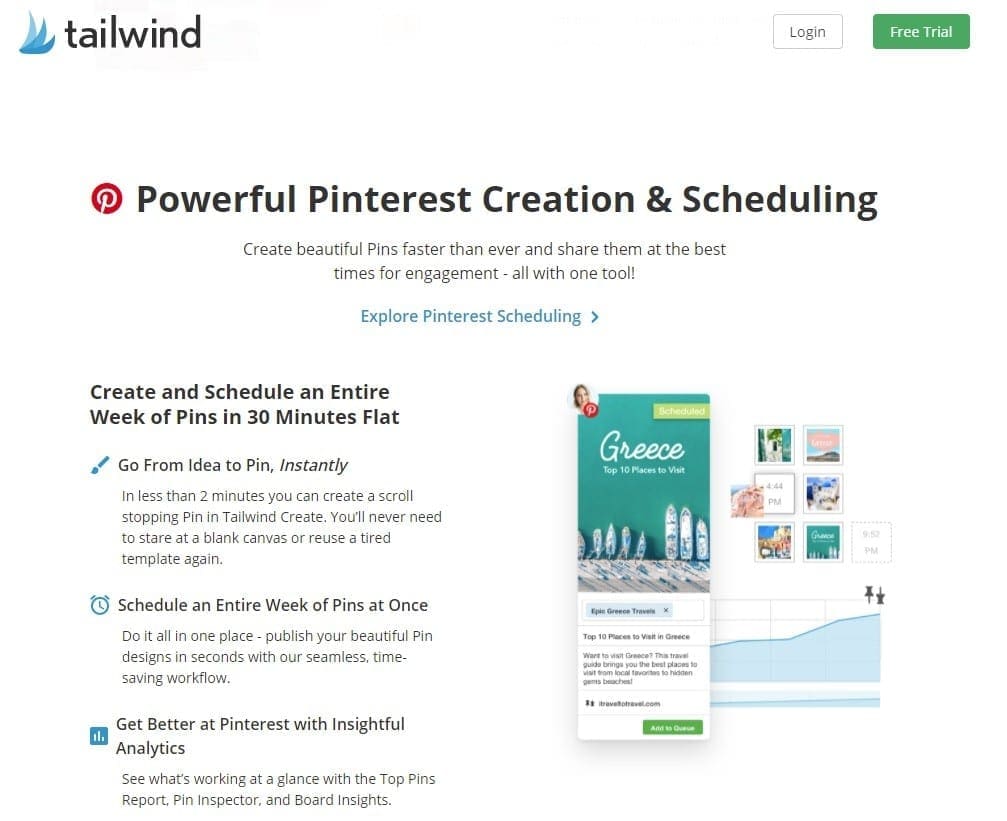 Tools to help you batch and schedule content
Tailwind – An "all-in-one" tool for creating quick Pinterest content, scheduling in advance, and viewing insightful analytics. Also works for Instagram. Tailwind Pinterest Plus starts at $9.99 when paid annually. Offers a free 7-day trial.
Hootsuite – A social media account manager that allows you to schedule and publish across all the major networks, including Pinterest, Facebook, Twitter, Instagram, LinkedIn and YouTube. From £39/month. Free 30-day trial.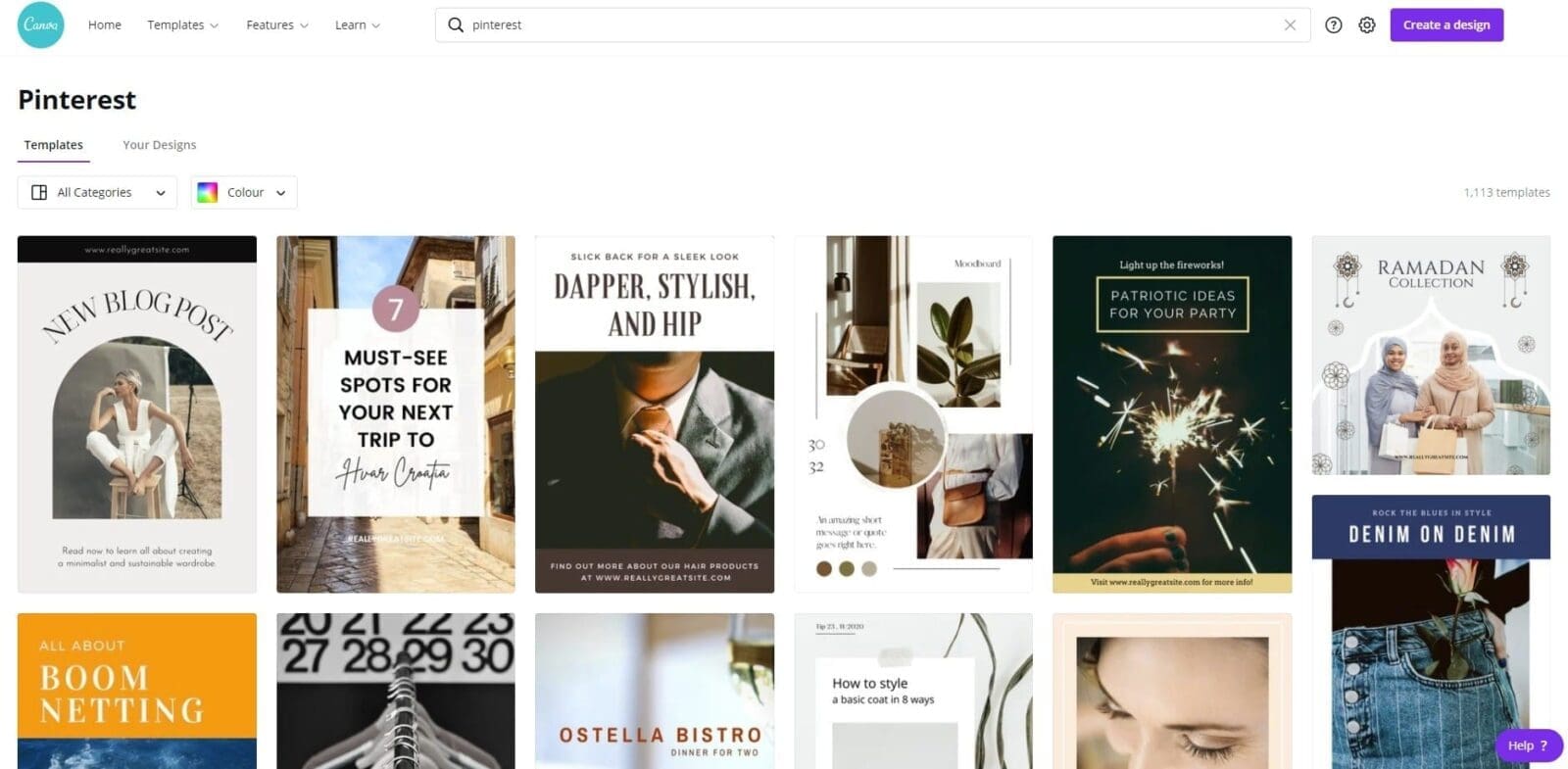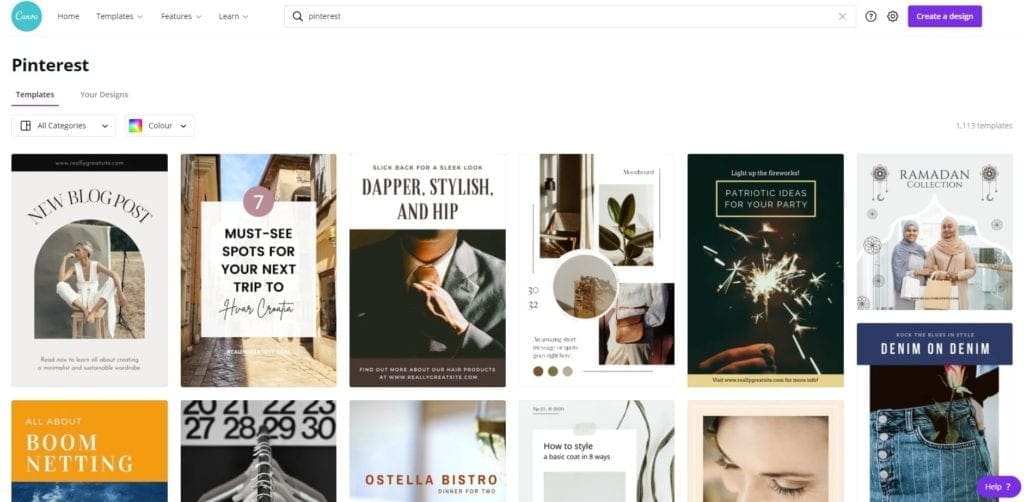 Tools to create high-quality Pinterest pins consistently
Canva – A highly intuitive online design platform that offers templates and a wide range of text, image and video options for all kinds of design needs, including Pinterest Pins. Free version. Paid version, Canva Pro, starts at £8.33/month when paid yearly.
PicMonkey – A deceptively powerful photo editor and design platform, which offers templates and editing features for a range of social media networks. Free to use, but to download images, you have to pay. Basic starts from £9.08/month, all the way up to Business, which is £26.22/month. Offers a 7-day free trial for all paid plans.
Pinterest for vacation rentals: How to know if it's working
Tracking is important. As a business owner, you want to set goals and measure how it's going, so you can change only 1-2 things at a time and see how it affects your success.
Metrics you might want to track:
Average Repins per Pin
Average Comments per Pin
Follower Engagement
Closeups (the number of times a user has clicked or tapped a Pin to zoom into it)
Impressions (number of views)
Saves (the number of timers a user has saved your pin to a Board)
Velocity (how many Pins your brand makes on average, per week)
Top Pins
Most Clicked
Link Clicks (helpful to see which CTAs are working best)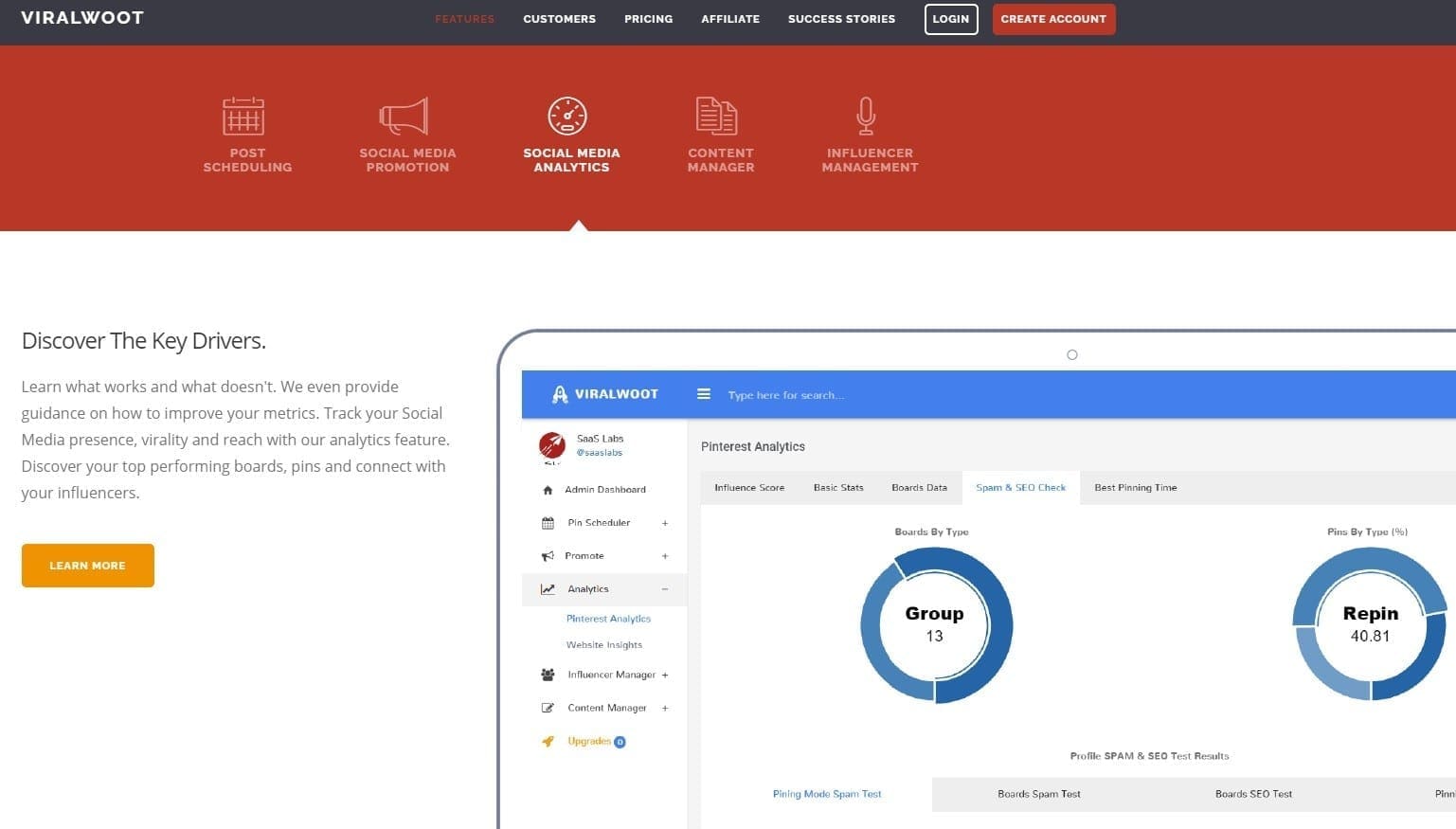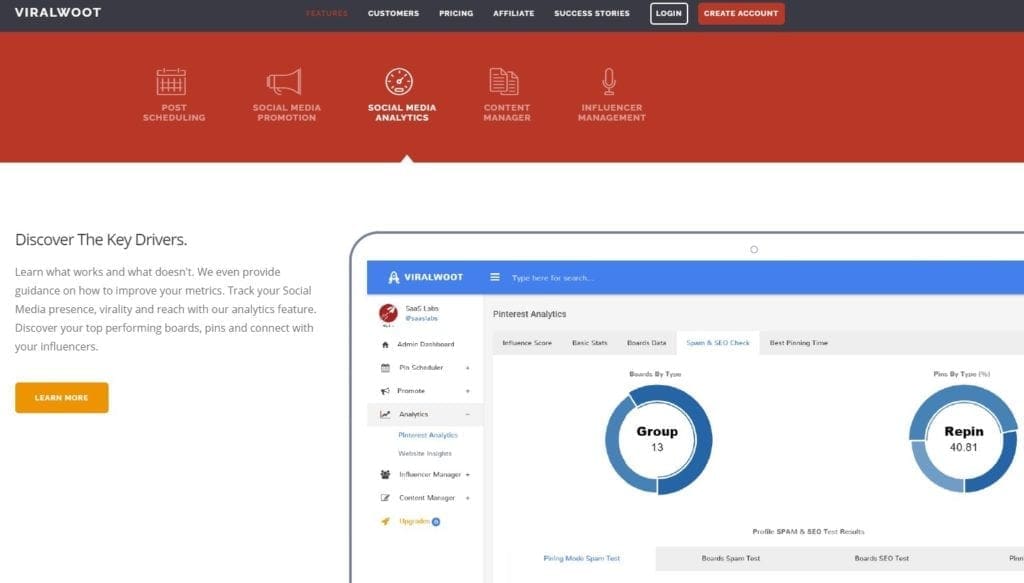 Top tools to help with Pinterest analytics
Pinterest itself has a decent analytics dashboard that can help you track your overall presence, engagement, total audience and how engaged your audience is too.
But there are tools out there that go deeper and let you get more out of your pinning.
ViralTag – A scheduler as well as an analytics tool, with built-in Canva integration. Offers visual analytics to enable tracking of metrics such as Pins, Repins, Followers, Likes and Comments. Starts at $24/month paid annually. Free 14-day trial.
Viralwoot – Another "all-in-one" tool that includes detailed analytics, including insights on Boards, the best time to Pin, Repin, and more. Starts at $8.33/month paid annually, up to $39/month for Business. Offers a free account option that you can upgrade or cancel.
So, is Pinterest right for me and my vacation rental business?
Only you can decide, but the bottom line is: It depends where your ideal guests hang out most. You want to meet them where they already are, and provide great, useful content for them there.
Pinterest is perfect if you enjoy creating visual imagery and designing Pins, and have fantastic, shareable and valuable content you want people to click on – whether that's drawing traffic to your YouTube videos, sharing your top tips on a blog, or simply bringing people to your direct booking page.
But there's no point using Pinterest if you hate every minute of it! The more you enjoy the social media platform you're using, the more sustainable it will be, and the more likely you will have long-term success via that marketing tool.
And remember that using social media isn't just about "vanity" metrics – it's about converting those views and clicks into real, paid-for bookings, and maintaining a loyal and engaged community who will book with confidence, share their experiences, and make repeat bookings far into the future too.
At Boostly, that's what we specialise in, and that's why we know that you need a great marketing strategy and a fantastic website that works, draws viewers in, shows them why they should book with you and not someone else, and makes it incredibly easy for them to view availability and book directly.
Pinterest can be a great way to start that process.
For more tips on whether Pinterest is right for you, check out our wider Vacation Rental Marketing Guide and Social Media Marketing Guide to compare different platforms, and our SEO for Vacation Rental Guide to make sure your pins lead to direct on-website bookings – so you can sidestep OTAs and take back control of your own business. Result.
Why be dependent on OTAs like Airbnb and Booking.com? Did you know you can save thousands on commission fees by getting direct bookings? Get our free blueprint on how to double direct bookings for free.