The Boost Hospitality Podcast is back for another season!
We are now in Season 7, and we are currently on the eighteenth episode! Today, I've invited Sheli from Guesty answer the question – What is an OTA?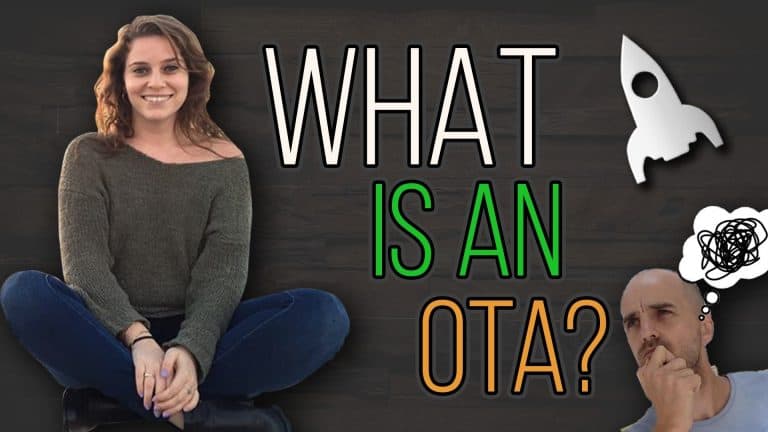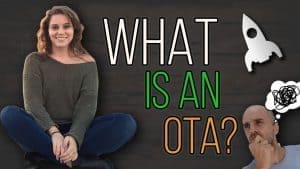 Sheli from Guesty talks about OTAs
I'm Sheli. I'm the business development manager at Guesty, and I've been with them for three years. So we were a company of 30 when I started. Today, we're over 300, so it's been a crazy three years with Guesty, rapid growth. I first started with sales, and then I grew to be a sales team leader and then ended up in business development where I manage our marketplace activity.
Our third party integration so that we bring awesome solutions from OTAs, which we're going to speak about later today, all the way down to pricing tools, home automation tools, guest experience management, right. So covering the entire market so that our users can tap into the ecosystem to build their text. So that's my day to day. And yeah, it's fantastic to be here.
Sheli on Short Stay Show
I'm going to be speaking about millennials technologies and bookings, which also actually again, relates to what we're talking about here today, and how you can tap into the generation to enhance your occupancy rates.
What is an OTA?
OTA stands for an online travel agency. So you likely know them as Airbnb booking.com, HomeAway, right, Expedia, TripAdvisor and the list go on. There are many OTAs out there that are there to help you maximize your reach, and you know to maximize your guests because they're targeting guests from all over the world, so their platforms enable you to distribute your properties and again to achieve maximum occupancy rate.
How does an OTA work?
These online travel agents are massive marketing platforms, right. And behind them, they're, they're the kings of SEO, they're the kings of online reach, and they know how to target the guests that you're looking for. So as we said, right there platforms to help you distribute your properties. So you can you know, achieve the maximum occupancy that's possible at the end of the day, the more reservations you have, right, the more revenue you have, obviously, and the more guests you're serving which encounter and encompass your entire business, right so everything is around
So the main goal of property management companies around what we see with our users again across the market is able to have the best online travel agent strategy so that they can maximize their reach.
How to list properties on an OTA
Listing your properties on each platform is very time-consuming. There's a whole and you know, acceptance process for some platform.
Some platforms require you to have a certain picture level. Every platform is different in their requirements. So then once you're looking to get on different OTAs, you need to learn what each of those requirements is, then you need to go and create the property right. And then you know, the list goes on and on if you're doing this individually, which is why platforms like Guesty that do have a channel manager feature help you guys synchronize all of this in one place where you're creating the listings in one place, and you're uploading the listings and distributing the listings, the different platforms with one place to do it from uploading your, you know, changing your pricing strategy, all of that. So, again, you know, listing your properties on an OTA, definitely needed, especially to, you know, as Mark said, really drive direct reservations as well, and we'll talk about that later. But of course, again, you know, you don't have to spend so much time doing it with the platform behind you.
How do accommodation owners get paid?
Each OTA has a different payment policy. So again, when you're looking at each OTA, you need to look at which payment policy works for you. Some are paying directly at check-in some are paying half you know booking confirmation half a check-in or holding that deposit and only releasing it after right there are different ways that these OTAs collect payments. Still, they are directly between you and the OTAs. Hence, they are the ones that are paying you out for some of them and others you are required to process these payments on your own and use a payment processor so for example booking com you can choose either option HomeAway you will need to use a payment processor as well right Airbnb processes the payments for you. So depending on each is how you're you know collecting that revenue.
Is there any specific one that you work with when it comes to collecting payments?
In regards to Airbnb, they're the ones processing the payment. Still, if you're using our payment processor, which is Stripe then you know that is who we're working with. It's because of the global coverage that we work with them and but we're looking to add more payment processors even to reach more countries because Guesty's operating in over 80 countries right now.
It sounds good. But what are the cons of listing your business as an OTA?
The OTA can offer many pros in visibility maximizing your reach right getting you the type of guests that you want if you are focused on specific types of guests with your different properties if you're you know, luxury if you are catering to corporate travellers so that being said, though, there the con and again you also said this is that you do need to pay commission to the OTAs unlike direct bookings where you know, you are making that's direct revenue to you guys. So again, many pros but it is with a commission that comes you know, with being on their platforms
What is the one mistake that you see accommodation owners make when they start to put their property on these OTAs?
Many mistakes can be made I would say the most hopefully important mistake that people should avoid making is not investing in reviews. And the reason being that is that's your online profile, and that's you know, the voice of your listing speaking to the guests right so invest a little bit more in getting reviews you can easily you know, increase your review or you know, review getting if you give a review so improving that and again, you know, enhancing your online image to these potential guests.
How can you get reviews once the guest has left your property?
First of all, somebody who's on their way out of your apartments your or your home they're on their way out right so follow up with the follow up a week later you know, be that reminder for that great vacation that they just had and asked for you know, a review there with the follow-up template you can do automated SMS, emails, you can do it you know, right away the day after on the channels needed — things like that. But obviously, SMS and email are ideal. So collect that information. You're you have that information already from the reservation.
So that's one-two is again, you know, make it easy for them to leave a review. So give them the link that gets them to the page, makes it actionable trigger when you're sending that email so that again, they're more likely to do that. And then if you don't see them doing review, leave them a review. And then they're more likely as well to go and leave you a review. Right?
So those are three ways I think you can boost your review rates. You can also use reputation management software. So it can also help with that, you know, we're building and managing reviews in Guesty. So that's something that you'll be able to do in the software.
All about Guesty
Guesty is a property management platform so we're an end to end solution for property management companies who are looking to scale their business but also automate pretty much their entire operation so that they can focus on that growth in whatever way that means for them. So you know, Guesty is catered for property management companies with above five listings, you know, again, it's a powerful tool. It's powerful software, and it's your business tool. So for those professional property management companies and again, who are looking to have that growth but also have powerful features behind them.
We cater to guest houses, I would say the best fit for Guesty would be property management companies who are managing whole units, individual units, or you know, entire buildings, again, we have great features for that. But of course, with our multi-unit feature, we also support rooms in that However, you do need to have a minimum of five properties to be with Guesty, but of course, you know, we are speaking to everybody when it comes to doing demos. So you know, at the end of the day, it's, if it's the right fit for you, you know, will you know, and if it's the right fit for us.
Guesty's Customer Service
Our 24/7 guests communication service was actually how Guesty started. And with this service, we developed our software. So what this service is, is it's a 24/7 guest communication service where we have a team of well-trained guest service experts who are there to answer your guests from the moment that you receive that first inquiry to the moment that the guest is checking out. So we're, you know, where your communication Team 24/7 to your guests and bring this up. This part of your business up again gives you guys time to focus on listing acquisition marketing strategies.
So, um, it is an upsell when you're using Guesty software can't be instead of the software it goes hand in hand, but again, you know, having that 24/7 coverage is definitely. Hence, the key to your occupancy rate because you have quicker conversions for reservations. So great service for growth.
How do accommodation owners help guests train your staff so that they can then relay those questions that they get all the time to potential guests?
We have an onboarding specifically for this service. We go through your frequently asked questions. What do we want it? What do you want to do in case of an emergency? Who do we call if it's 10 am? If it's 4 am, right? What does that look like? You know, if somebody is asking for a discount, what's your go-to? Right? So we're your voice. And again, we're taking our property managers through that onboarding, which in some ways again, for let's say you are that property manager with ten properties. This is a fantastic way to understand what's your best, you know, guest communication strategy and what you need to have honed in on and completely you know, outline because this is what you're going to experience in your day today. We you know can help with that. Whether it is by answering you, you know, or if you're getting started and you want to learn more for a year, you know, things like that. So it's definitely either a tool for growth a tool for learning, but we're, we're guiding our users through that.
Quickfire questions
What is your favourite business book?
Thinking Fast and Slow by Daniel Kahneman
Do you have a favourite podcast and/or favourite YouTube channel?
Favourite YouTube channel is Vox. They do these fantastic videos on so many different things politics climate crisis, so you know they did the whole thing about why are there bush fires in Australia right now it just again they have so many different topics that they cover. They have a Netflix show called Explained. So if you're explained fan that's Vox, they also have a YouTube channel.
For the podcast, How I Built This with Guy Raz.
What is your favourite purchase under a hundred dollars in the past year?
This is going to sound I think pretty lame, but my laptop stand. I finally learned how to sit at a desk without having you know your back hunched over your laptop for four hours. So I'm pretty proud of myself for doing that. So that was the best purchase this year.
What is your biggest pain point in your day to day right now?
My biggest pain point is growth and managing all of our marketplace activities and ecosystem that grew to over 70 partners in under a year. We're continuing to grow every month, so you know, we've got to keep up with that growth and my day to day looks, you know, completely enhance entail with supporting that growth but again, you know, it's amazing and fun too, so I wouldn't say it's a pain, but it is definitely what I'm dealing with today in my business.
What is your one tip that you could pass on to a hospitality owner on how they could increase their direct bookings?
Invest and build your brand you know building your brand is probably the most important way to communicate with guests and at the end of the day the direct bookings is directly connected to how well you communicate with them and how well they associate themselves with you right especially if you're doing it on your own with your website so build your brand right you know, we have a lot of resources on Guesty for building your brand
What would you say is Guesty's superpowers?
I would say we have super strength. You know, we have a team of 100 RMD in our company. We also are 300 employees strong, and we're all you know geared towards making our users have the best experience with Guesty at whether it's you know, with development to customer support customer service.
Know more about Guesty
Website: www.guesty.com
Listen to the full podcast on iTunes or Anchor or visit Boostly Hospitality Podcast for the full list of episodes!