Welcome to Boostly Podcast Episode 374. This is a recap of my Facebook live where I talked about Hostaway.
Here's the audio for this episode:
Here's the video for this episode:
Timestamp
00:00 Start
01:00 About Hostaway
03:15 Hostaway links to the big OTAs
04:20 Automated messaging
05:40 Hostaway Reviews
Whilst you're here
Follow Boostly on the following channels to get more tips, tactics and knowledge on how you can increase your direct bookings
Visual – YouTube
Audio – Boostly Podcast
Transcript from the Episode
So it looks like my last round of PMS reviews went down so well, that I've actually had PMS reviews reaching out to me saying, Can you review us, which is exciting. And this is really cool because what hostaway have done is they've reached out to me and said, Listen, can you just do an honest review for the Boostly audience, what we'll also do is we'll give you a behind the scenes access. So I've been given access to a dummy dashboard, which I can show you. So you can have a look at it and also as well. What's really cool is we've started up some dialogue. And very soon, Boostly and Hostaway will have a connected API connection for the website. So it's all good. I love this.
if you are watching this, and if you are one of the many thousands of PMS is there out there and you want me to review you, there's no charge, all I ask is that you give me access to everything. So I can give an honest review of the system to then pass on to Boostly people to see if they would like to switch join or just know about for the future.
About Hostaway
Host away is the leading all in one vacation rental software for property managers recently became announced that as part of the Airbnb preferred partner program, they had, you know, a lot of support, they are really fast-growing, based out of Canada. I've got to chat to Marcus, who is one of the founders of the companies a lot of really good press around his company at the moment, go and type in Hostaway and you can go and see all about it hostaway.com.
Now, let's dig into it. First and foremost, what does it do so it is obviously a property management software for vacation rentals. This is not applicable to you if you are a guest house or hotel. This really is applicable if you are a management company. from what I gather, they really like speaking to people that have got five plus hosts, I think their sweet spot is anywhere between 10 and 20 pricing wise very competitive, it comes in averages around about $150 every month for five properties, they are really invested in your growth. So this is why when you go to the pricing section, it's one of the things I love is that they go for a couple of FAQs, and an X, Y and Zed. But what they're really looking to do here is they're they want to speak to you so they want to grow with you. So they're a company that wants to invest in you so that you know the more you grow, the more that you know you grow with them and they grow with you which I do really like that.
Hostaway links to the big OTAs
One of the cool things about what they do and one of the cool things about their software, obviously like everybody, they link into all of the big, big otas but one thing that I adore in the back end is the channel manager. Now I'm a massive fan of rentals united and obviously, you use rentals united if you want a bit more of a personalized link up to each OTA. Some other PMS providers don't provide that. But what you can do with hostaway is for those that can't afford to have rentals united on top of that PMS This is really good in between because you can really bespoke the information that goes off.
So as an example the information that you send to booking.com from your PMS is going to be different to the information that you want to send to Airbnb. Airbnb has got different amenities and fillers than they do on booking.com and VRBO. So you're able to personalize it for each one of your properties, different picture, different words and different description, different amenities and it's all controlled via your hostaway dashboard. So channel manager tick.
Automated messaging
As you know I'm a big big fan of smart b&b which is now hospitable. And one of smart b&b USPS unique selling points was the fact that they got really good automated messaging with keywords. So you can pretty much automate 90% of your guests' communication. Hostfully have a real good guest communication, automated messaging, but hostaway takes it to the next level.
So what I love about this is that it's only about 150 average dollars a month for five properties. But instead of having to invest extra in hospitable and invest extra rentals united it keeps your costs really down. So by keeping your costs really down and you can invest more into the business so this is a big, big, big plus point for me right here and again, it syncs into all of the major otas.
Hostaway Reviews
I went and did a little bit of digging around on the interwebs, I wanted to go and see what other people were saying about other hosts around the world was saying about. So I went to the capterra website, over 144 reviews, overall rating 4.7 very good ease of use 4.6 very good customer service 4.7. What I'm always looking to see on these review sites is the good and the bad. I think if you've got a company that has got 100% Good, then 100% fantastic 555. And I think there's something always a little bit fishy with that. So it's really good to see a mixture of pros and cons.
Pros automated messaging fantastic task creation cleaner. As a cleaner communication tools is really good, big fan of the automated messages. I'm happy to have this company as part of my business I'm excited to learn more and will use to help me grow my business, which is the growth element that we talked about. The support we received has been very helpful with the onboarding process, we hope to be doing most of our daily tasks through hostaway soon. Again, fantastic.
Couple of the cons that was flagged upon on capterra tried canceling my account multiple times had to dispute charges. last issue i flagged for horseware was something that negatively affected every user of this software, customer services were non existent export function to booking.com somewhat limited cannot create extra rooms via hostaway bed setup.
Now one of the things that I did know is when I was doing my research, all of the negative reviews for host away came from people who had guest houses or hotels. So again, this is great, this is really important guest houses on hotels is not for you. But if you were to go on the website, hostaway very, very clearly state from the off from the start, that that target audience, the people that they benefit the most is vacation, vacation managers, vacation property managers.
So again, as long as you're really clear on who their ideal audiences are, then, you know, if you are a hotel or guesthouse, you've got a vivo, you've got free to book two very good ones that you can go and check out. But overall, pricing is a win. I think they're the tools behind the scene in the dashboard is is is really encouraging. They have an app which I know a lot of you love. And again, the most important thing for me is customer support.
A couple of varying factors on the pros and cons but you know, just like anything, I think you need to check it out for themselves. So a good way of finding out go to hostaway.com if you go right now you can go and have a little demo booked in enter your email and your full name. That's not an affiliate link or anything like that. Just literally pop it in here hostaway.com.
Thank you to the team hostaway for being really transparent for giving me access to everything that I asked for. One to definitely watch out for. I think that this could be a company that's potentially winning awards, etc, etc. in 2022. And yeah, the API connection and the connection for the Boostly websites the host away is is exciting and I'm welcome. I look forward to speaking to more hostaway clients in the future based out of Canada, go and check them out hostaway.com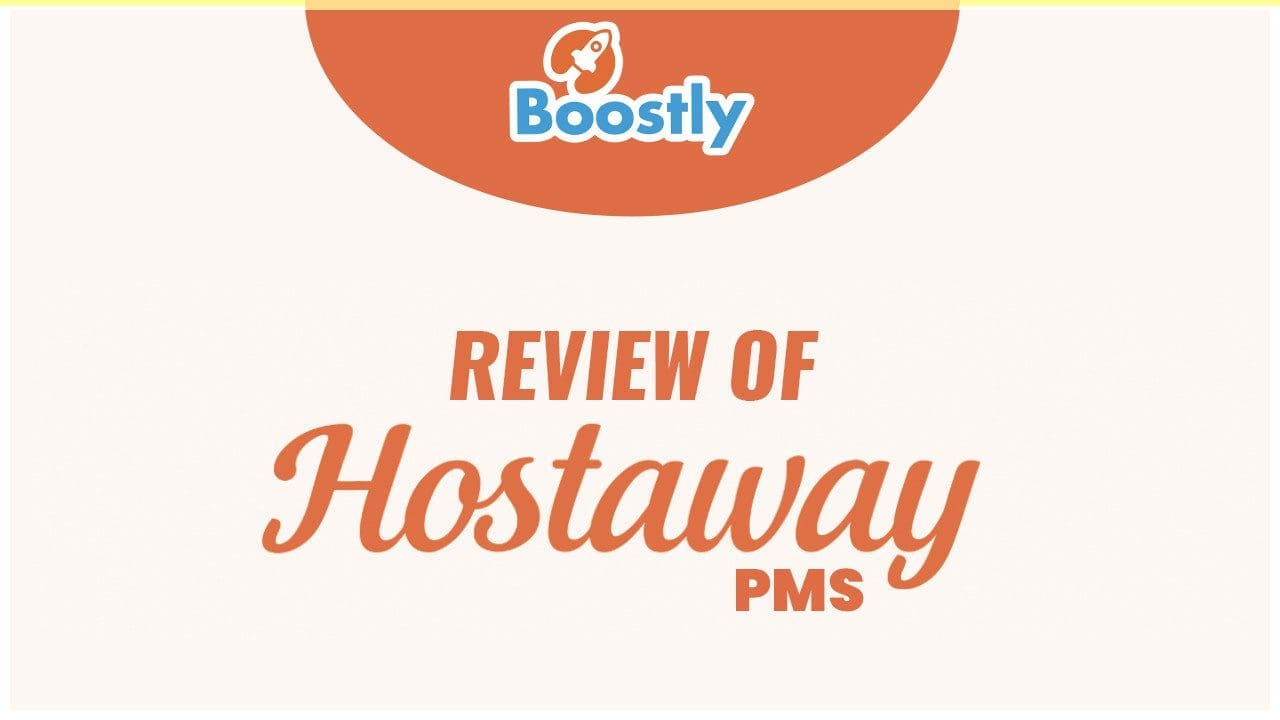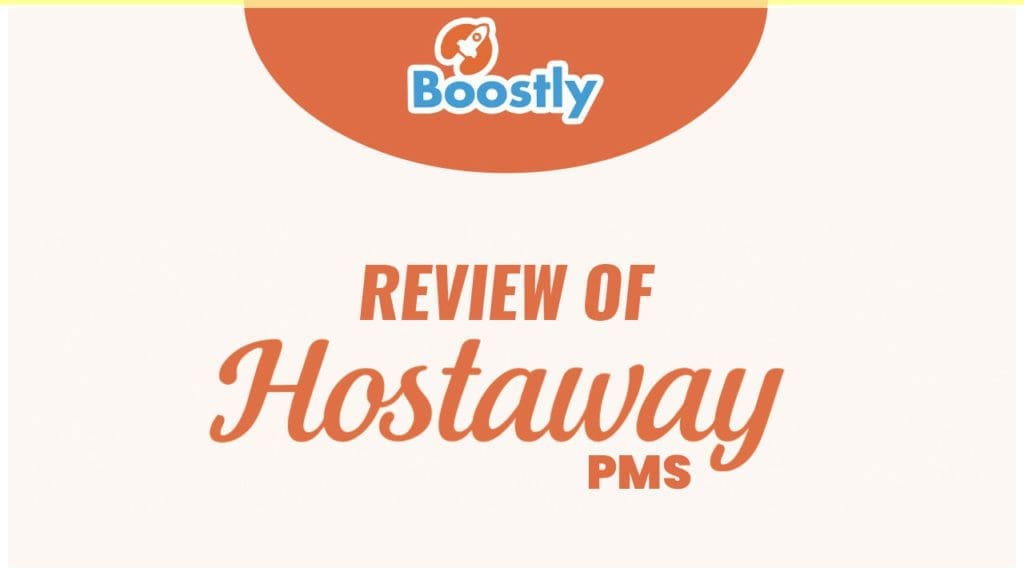 Before you leave
Please go and rate, review and subscribe on iTunes, Spotify Google Play or Anchor or visit Boostly Hospitality Podcast for the full list of episodes!
If you have enjoyed this post and want to feed my caffeine addiction you can "Buy me a coffee"
️