Welcome to Boostly Podcast Season 10 Episode 1. This is a recap of Facebook live video where I talked about workcation.
Here's the audio for this episode:
Here's the video for this episode:
Timestamp
01:10 About workcation
02:10 Why you should pay attention to workcation
03:40 How to take advantage of workcation
05:40 Take advantage of Facebook groups
07:40 Long-stay discounts
08:40 Show-off your workspace
10:40 Talk about your fast internet connection
12:00 Get office supplies
12:50 Pet-friendly market
13:40 Get new photos
Whilst you're here
Follow Boostly on the following channels to get more tips, tactics and knowledge on how you can increase your direct bookings
Visual – YouTube
Audio – Boostly Podcast
Transcript from the Episode
We're going to talk about workcation. Now those that have been in my world a lot this year, you'll know that I've been talking about staycation. But there's a brand new trend that is really taking off and so much so the Airbnb, practically changing the filters and their searches because of it and it is workcation.
Now why is this something to pay attention to? Well, what I'm going to do is I'm going to tell you why it's important to pay attention to it. And number two, I'm going to show you how you can pivot your property or properties to be more applicable to this really fast-growing trend.
Why you should pay attention to workcation
Workcation is simply people that are going away for work, remote work. Typically, the people that are doing this are those that are maybe based in a big city, small apartment, they are working from home, whether that is forced by the company doing so or whether it's by choice. And they're literally looking at the same four walls every day.
And what we're noticing with the trends that are coming out, is that because they are working from home, this time to realize that they don't have to work from their home. And as long as I've got Wi-Fi as long as I've got an internet connection, they're able to do so and they are doing so this trend started very much so in America, but it's continuing so much so that one of the founders of Airbnb, he reported in a recent podcast, that even with everything that's gone on in 2020, the amount of people that are booking a stay for business is higher for August 2020 than what it was in August 2019. Which is crazy when you think about everything that's gone on.
So it's definitely something to pay attention to so much so that the word remote work, or work remotely. That phrase that key word has tripled in reviews in 2020.
So this is something that is definitely happening. And I don't personally see this trend stopping anytime soon.
How to take advantage of workcation
If you haven't done so already for your properties, and this really doesn't matter or what restrictions you have, this can work number one for any country in the world, any state doesn't matter what government restrictions are in place. You can log on to your OTAs right now, the quickest way the simplest way that the one that you can make a difference right now. Go on to all of your listings go on to all of your accounts, whether that's Airbnb booking, Expedia, VRBO, homeaway, anywhere, go and look at the amenity section. I know for a fact that Airbnb are looking to change the filters in on their search that is going to reflect Wi-Fi speed very very soon. And they are trying to put it into practice on a global scale, but they're going to be doing it testing in different locations.What does this tell me is that they are looking at adding new amenities.
So if you haven't done so in the past week or month, log-in and make sure if your listing is relevant to somebody that would be searching for a potential business trip, that is the most simplistic way. A lot of you have already got properties that are ideal for work occasions, but you've just not ticked the box.
So that is the super simplest way that is the easiest way, make sure that you're listing on the OTAs. Again, this is, you know, obviously, Boostly is all about boosting your direct bookings. But I've always said this, you've got to make the OTAs work for you when you need in times like these, when you may need them the most. This is where you've got to make sure that you are at least visible on.
Take advantage of Facebook groups
Facebook groups are phenomenal for this, you can do local and niche. So again, look at business networking groups, maybe in your localized area on Facebook, look at localized groups and just search for the conversation to see who is asking questions.
In every Facebook group, you've got a search bar, and you can just type in a couple of keywords, it could be accommodation for business, or work away or whatever you want to put in there, have a search and see what people are talking about.
And again, what you can do is if you can see the conversation started, you can jump in on the thread, or you can put your own post up. And again, if you're going to post in these groups, number one, make sure you can do so check the rules, check the admin. But number two, it's a great opportunity. But make sure when you do write it or when you do a video about it. You talk about the benefits of your property for a business traveller.
Again, you've got to really flip your unique selling point your USP as we call it.
Think outside the box. Think of where you'd be surprised where you could list these services. It was eBay a couple years ago, eBay was a fantastic revenue to do but eBay have cut down on all of this now. So don't even think about jumping on the eBay bandwagon.
Long-stay discounts
Again, business days, look at the long stay discounts. Now again, you've got to have a pretty empty calendar to be able to utilize this. But again, if you log on to one of your platforms, OTAs wise, Airbnb and whatnot, you'll notice that Airbnb pushing month-long stays.
Again, this will only work if you've got a pretty much a blank calendar for the rest of the year. But again, look at how you can utilize it with a long stay. So you can at least get some form of revenue in and again, the majority of people will be doing long, they will be business people. And again, don't just limit yourself to putting this on to an OTA. You can also totally change your social media totally change the homepage of your website that will reflect this.
Show-off your workspace
To create a workspace into your property isn't going to take a lot. For example, it could just be next time you're in the property moving things around moving the furniture around, but you can quite easily create what you would class as a workspace.
And when you do create this show-off. Take pictures of it, document it on Instagram or Facebook, talk about it, put it on your website, put it on your homepage, put it on your blog, or YouTube channel and talk about ensure that you've got designated workspaces.
Those of you in the UK, you will have heard about the pubs that are really pivoting at the moment and offering workspaces in pubs and it's and it's going down, it's going down quite well. I know again, we've restrictions that they may not be able to do about potentially, but again, it's just showing the signs that listing is popular people don't want to be stuck in their place they want to be elsewhere.
And again, if you're near a big city, and you're a little bit more rural, but you've got everything that is potentially there for a workcation.
It could be a family, young children, not yet of school age, maybe it could be, you know, 2, 3, 4 or whatever. And they've got really small space and they're having to work with all of the things, then the appeal of getting out of the city being in a place that is loads of space that they've got a designated work office that they can close the door and do work stuff. And then once they finish, they can open it and then become parent, then that could be very appealing.
All it takes is one or two people to see this and this could really make a massive difference to your final fall of 2020.
Talk about your fast internet connection
Next thing is if you have superfast broadband shout about it. I mentioned earlier in the video, that Airbnb are going to have a filter in soon based on what your Wi Fi speed is. And again, this is where those that have got really quick download and upload speed, take a picture of it.
So all you need to do to find it go to speed test and run it on your laptop, run it on your phone, take a screengrab of it. If you've got superfast like 200-300 megabytes speed, we're sort of talking here. And again, have that as one as your six main pictures on the OTAs. It will really stand out.
And again, you may be thinking well that doesn't look aesthetically pleasing. We're not in a time of aesthetically pleasing anymore, especially seeing our unique selling points is number one, how we clean our properties. So you've got to be doing something different to be in front of the trend and that trend is the workcation.
If you don't have superfast Wi-Fi, don't lie and say we've got superfast Wi-Fi because when somebody gets there, and it's shocking and that is just going to really dampen their guest experience don't overset the experience, be truthful to it. But what I'm saying is if you've got really quick Wi-Fi definitely show it off.
Get office supplies
People coming on a workcation, what would they need, so if it means investing in a printer, having a printer in one of your properties, ink paper boats, so be it you know, again, what can you do with your property to pivot it to make it but it's really appealable to workcation. Could it be simply just having extra pens and paper. Could it be having envelopes then again, look at that and then think about how you can capitalize on this new market which is workcation.
Pet-friendly market
Not only is the workstation trend really taken off at the moment, but on the other side, you've got the pet-friendly market has really really taken off as well. And again, Airbnb has alluded to this a lot of people have alluded to this that a lot of people are looking for searches with pets.
If you do take pets and if you're not talking about it then please do so on your social media on your website on your OTAs but again, make it more pet friendly. So what can you do can you provide in a pet bed, for example, all of these little things you can be doing to make sure that you stand out.
Get new photos
There's a couple of clients that are in the Boostly Academy and they have got properties that are in very seasonal areas. You think about the Austrian Alps and the French Alps and the ski so obviously in the winter, the pictures that they are putting on their website and on the OTAs are very different to what the pitches that we put up in the summer.
So again, this is what I mean with yourselves right now is that in a time when the leisure industry in the leisure market seems to have just dropped for obvious reasons. The work and business one is taken off. So what it means is that you are going to have to be pivoting and slightly be a little bit clever with the pitches that you're putting out there.
So again, with the pitches that you're gonna have on your OTAs, a pitch you're gonna have on your website, on your social media, if you are going to be targeting workcation people make it so it's very, very clear. There's no confusion that you are geared up and you can take contractors, contractors work people, self employed, people employed whatever that may be, but take new pictures and upload them.
At the end of the day, if you're uploading new pictures, to the OTAs, you get the algorithm bump on there. If you're uploading new pictures to your website, you get a nice little algorithm both on Google, if you're going to upload new pictures on social media, it just means that more people will go up, I remember this place and again, share this in the social media.
So again, what I would recommend everybody do is, whatever changes that you make in your business, whatever you're going to start to go towards, then what I recommend that you do is that you talk about it, don't just make the changes in the back end and don't show it off on the front end. So what I mean by front end website, really easy to do on that, on that homepage, website, definitely social media 1%. And also as well, the OTAs as well, this is where we need to utilize those otas.
So again, if your property is set up and geared for workcation, then please do talk about it. Because this is definitely a trend that is definitely on the rise.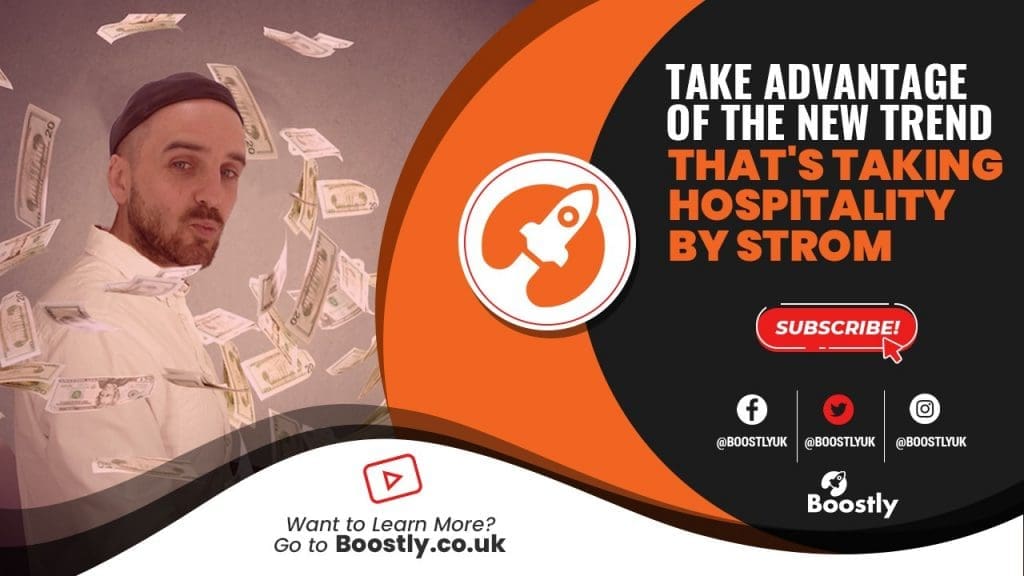 Before you leave
Please go and rate, review and subscribe on iTunes, Spotify Google Play or Anchor or visit Boostly Hospitality Podcast for the full list of episodes!