Welcome to Boostly Podcast Season 9 Episode 1. This is a recap of my interview with Susie Croot and we talked about how she increased her direct bookings.
Here's the audio for this episode:
Here's the video for this episode:
Timestamp
01:10 About this new season
02:30 About Susie Croot
05:20 Susie's major frustrations before discovering Boostly
06:00 How Susie discovered Boostly
08:20 Susie's current life
Whilst you're here
Follow Boostly on the following channels to get more tips, tactics and knowledge on how you can increase your direct bookings
Visual – YouTube
Audio – Boostly Podcast
Transcript from the Episode
Welcome to a very, very special series of the Boostly podcast. This series, I am not going to be talking all about direct bookings and tactics. What I wanted to do is I wanted to have some success stories and feature some of the Boostly academy members.
So in this little series that I've put together I'm going to focus and I'm going to feature some members of the Boostly Academy and today we're kicking off with the amazing Susie Croot.
About Susie Croot
Susie is from Rosscairn Group Accommodation and is based on the West Coast of Scotland. One thing she would like to let people know is that the Boostly Academy is for everybody. And even if you have behaviour, difficulties and learning difficulties as she does, and it's very easy, so that you can pick it up and put it down when life suits you. So that if you've got other things going on and you're being distracted, and you can't put your focus in at the moment, it's fine, you can just put it down. And when you're ready, you'll come back to it.
Susie's property is Victorian Villa, built in 1880. And initially, it was a bed and breakfast for the last 50 years. And they've now taken it on and because they don't actually live there, they started doing bed and breakfast and because of the stresses and commitment of time required to do that.
They've got a little boy with learning difficulties as well. It's quite difficult to try and do that. So what we then they thought outside the box, they decided to offer group accommodation, family holidays, celebrations, gatherings, that sort of thing.
Their unique selling point is they have 10 en Suite bathrooms, which is exceptionally high in this area. Usually you'll get these large Victorian properties and they might only have five bathrooms between between them all. That's where they are special because they've got 12 bathrooms linked to the bedrooms.
They are now offering group accommodation. Susie's major learning curve with all this is that these things take a lot of time, especially because up took a business over that that hasn't really been running for last five years. And then on rebranding it and and they launched it and there's so many different areas that she wasn't aware that Looking at and what you had to be involved in, how to do pricing, and how to do marketing, how to use Facebook for marketing and social media, websites, it was always the major panic.
Susie's major frustrations before discovering Boostly
It's confusing all the time, and because bookings could come in, so last minute, and Susie found it really difficult to organize herself and plan herself. This is how the academy helped her. She felt just like a rabbit in headlights. She didn't really know what to do, where to turn.
How Susie discovered Boostly
Susie found the Boostly Academy through recommendation. She was actually having coffee at another guesthouse owners. And he mentioned the hospitality community to her. Susie then googled it and joined the Facebook group.
The Boostly Academy is different to do something else, you actually feel part of a family, but you're part of a team. Susie knows she can always ask a question. And you're not going to feel stupid, obviously, with COVID that come in.
Susie set herself a target for this year, her prediction was, within the first month, she already hit her targets that she was meant to be achieving for the whole year. And then next thing, you know, like COVID hit, they can't have more than one household together at the moment. And it's extremely challenging.
And you could, you could find yourself getting really quite depressed and upset. And the Academy helped her. Things aren't great at the moment. But then there are other people there that are giving you inspiration, and being optimistic and thinking outside the box and suggesting things that perhaps you could do that you hadn't thought.
The difference is that people actually feel like real friends. Susie feels like she's a part of something it makes you not feel like you're on your own. So everybody's in the same boat with different directions, different plans, but you just feel like you've got a bit of support. Someone's got your back.
Susie's current life
If Susie is stuck on anything, there's always somebody to ask. You don't feel silly asking those problems. Susie got her first direct website booking this month and it is only for a very short break in November. And it's the first one that came through her direct website.
She was so used to it being through an online travel agent, where they would just handle everything and send her the dates and then she would just go on her computer and get back out the dates or whatever.
She is now learning all about that. She knows she'll be making lots of errors and mistakes along the way. But that's part of the joy of the academy that someone's been there and experienced it, and they've got advice that can help you.
If you haven't joined the Academy. Susie recommends that you do. It's great for making you feel like you belong to something. So obviously the self-care. And because even though people in your local area like you will be in the same boat because you're still doing like holiday rentals or bed and breakfast or whatever, but in a way you're still competing so you kind of wonder ask them how they are, how busy they are, but at the same time, you don't because if they're not very busy in you.
Know more about Susie on her website.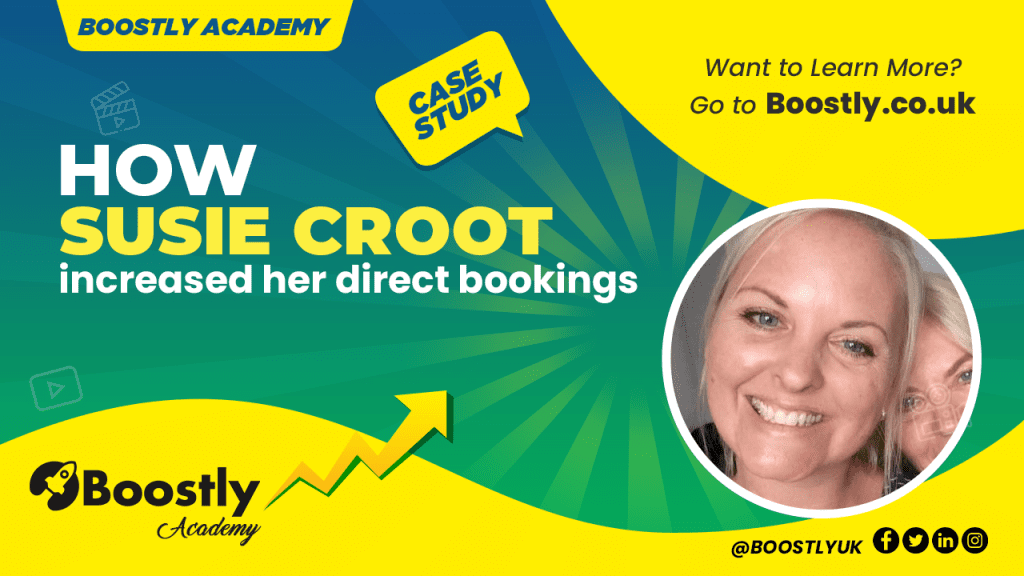 Before you leave
Please go and rate, review and subscribe on iTunes, Spotify Google Play or Anchor or visit Boostly Hospitality Podcast for the full list of episodes!