Welcome to Boostly Podcast Episode 422. This is a recap of my Facebook live where I talked about how Estelle Keeber is helping hospitality owners crack Instagram.
Here's the audio for this episode:
Here's the video for this episode:
Timestamp
00:00 Start
01:00 About Estelle
03:50 Instagram tips
Whilst you're here
Follow Boostly on the following channels to get more tips, tactics and knowledge on how you can increase your direct bookings
Visual – YouTube 
Audio – Boostly Podcast
Transcript from the Episode
My name is Estelle Keeber. I am the founder of immortal monkey, which is a support platform for business owners from startup to level up. In the past five years, I helped to create the fastest growing network for women in the world that turned over more than a million pounds in its first two years. And this was predominantly down to social media. And so I now use my skills and expertise, to educate and to demystify social media for other business owners. Because I have seen it change my life, I literally will go as far as saying, you know, social media literally changed my life. And I want as many people and especially business owners, you know, Instagram is free. It's a totally free marketing tool, let's forget about the boosted and paid ads and all the rest of it, you know, it's a totally, totally free marketing tool. And so that is why I am so passionate about Instagram. So we support people on all levels of business. But personally, you will usually find me always talking about Instagram, because that is where my passion really, really lies. Because with a few small changes, you will see a huge, huge impact.
Instagram tips
And that's why I'm very excited to be here today. Because I'm going to be sharing a few of my favourite tips with you. And one of the things that I get a lot of feedback about from like clients I do a lot of speaking, is the fact that it's really easy to understand. So I am, do not worry if you were one of those seven people that raised your hand, Virtual High Five to you. But the rest of you please do not panic, because I'm gonna take you through a few tips that are really, really simple, easy to understand, easy to implement, and they will just leave you feeling a little bit more confident about using Instagram for your business. And that is all that I, you know, hope to achieve is that you guys do feel a little bit more confident that you have learned something or that you know, you've actually taken a step and gone on to Instagram because that is going to be the first step for many of you if you're not already using it. So wherever you're at, I'm here to help and I'm looking forward to answering your questions.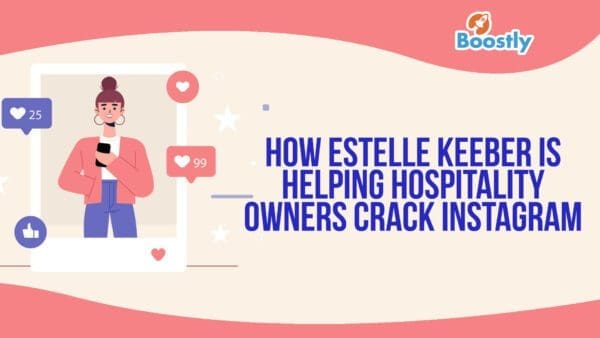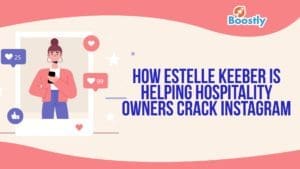 Before you leave
Please go and rate, review and subscribe on iTunes, Spotify Google Play or Anchor or visit Boostly Hospitality Podcast for the full list of episodes!
If you have enjoyed this post and want to feed my caffeine addiction you can "Buy me a coffee" 
️