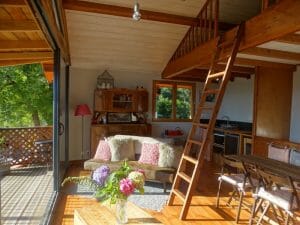 This testimonial is from Polly, who runs Gite Colombe des Bois in the French Pyrenees. She has been open for about a year now.
She met Mark through a Gite group on Facebook, where Mark offered help with direct bookings. Initially, she ran a Facebook competition with him and was very happy with the results. Therefore, she decided to join Boostly Academy.
Polly from Gite Colombe des Bois in the French Pyrenees
Website: www.gitecolombedesbois.com
Facebook: @gitecolombedesbois
Booking engine used: Free To Book
Watch this short video where Polly talks about the things she has learned from Boostly.
Polly says that joining Boostly Academy came at just the right time. She didn't know which direction to take with the gite. In addition, she had no marketing experience whatsoever.
"The Boostly Academy helps you with OTAs. Also, it helps you set up your website and all other critical things that are important to running a successful business."
Polly says it has already started working better for her business.
"Mark is a great source of information. Also, he is up-to-date with all the latest information when it comes to hospitality and marketing. Therefore, I wouldn't hesitate to recommend him to anyone," says Polly.
Check out mark's training portfolio, here.
E-mail – [email protected]