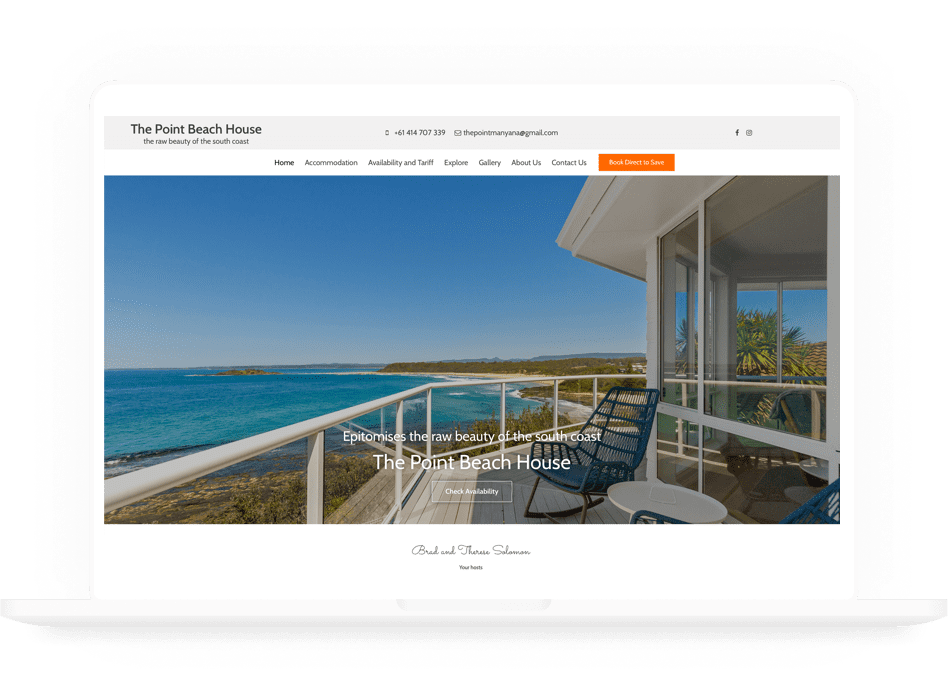 Double your direct bookings with your own website
Make the most of commission free bookings with a professionally designed website optimised for converting lookers in to bookers.
With your current website...
✓ Can you easily make changes yourself ? 
✓ Is it easy to use on a mobile phone ?
✓ Are you relying on rental sites for bookings ?
✓ Do you want to save time and money ? 
"My previous website designer told me I would have to wait 6 months for my changes to be done!"
Sarah and Paul Wilkinson have a beautiful guest house and a holiday home in France. They joined the Hospitality Community Facebook group and won a marketing review with me. During their review, I noticed some changes that needed to happen for their current website. I will include a clip below.
Sarah and Paul took on board the recommendations and send them off to their website designer. Then, I got this message…

Bearing in mind, this was the summer. I'm not sure what he was up to, but Sarah and Paul could have built another guesthouse in that time.
So they came to me for help. I was more than happy to oblige and in less than a week they had a brand new website will all the trimmings LIVE.
Sarah and Paul posted in the Facebook Group to let me know they had direct bookings via their site in just one week.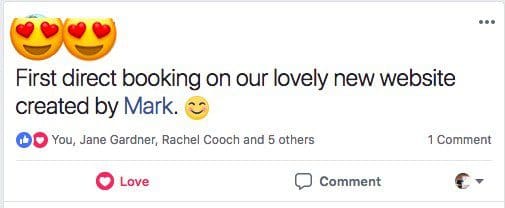 81% of her new bookings were coming from the Online Travel Agents 😱​
Jayne's website was over three years old. We could see from the Google Analytics that people were arriving and they were leaving straight away due to slow load speeds and poor design. Instead of calling the Overdale Guesthouse, they were bouncing straight to Booking.com and reserving their stay there. 
These guests wanted to book directly with Jayne, but because of her old website, it was driving people to go to a third party. 
We never calculated how much money Jayne lost because of this, but we were able to track that 81% of her bookings from last year was from an OTA!

Boostly helped Jayne create a new website, that was built to look and work great not only laptops, but mobile phones as well.
One month later, Jayne posted the above screen grab in the Hospitality Community.
Maria was wasting thousands in commission costs to the OTAs
"100% of my bookings was coming in from Booking.com before Boostly came along."
Before Maria came into my world, she was listed on Booking.com and had no online presence or booking engine. All of her bookings were coming via Booking.com, and she was spending hundreds of Euros every month in commission. I'm sure she would have much rather seen that money going into her bank account.
Her story is common. She had a family member who was helping with her website, but it was taking time. Weeks and months had passed, and the website wasn't completed. I reached out to Maria and explained how I could help, and within 72 hours we were online with her new website.
Boostly Website Client Testimonials
Don't take our word for it… Hear from our happy clients!
See all of the Boostly Websites from around the World 🚀
✓ An easy to use website which is simple to edit
✓ A solid platform which is maintained on your behalf
✓ Use your own domain and email address
✓ Help and support along the way
✓ Customer reviews linked with TripAdvisor
✓ Use your own domain and email address
BOOSTLY DIY WEBSITES
Starter : Ready to use website that you fill in yourself
£
397
+ £8.33 a Month Admin Fees
Premium cloud hosting (Worth £240)

Easy To Use WordPress Website Template (Worth £100)

SSL Security Certificate to Keep Your Website Safe (Worth £75)

You can keep your current domain name (Worth £25)

Essential WordPress Plugins (Worth £100)

Tutorial Videos and Guides so you never get lost(Worth £250)
BOOSTLY DFY WEBSITES
Pro : Custom build website which are Done For You
£
797
+ £8.33 a Month Admin Fees
Everything from the starter package PLUS...

We add all your content (Worth £250)

One month of free support (Worth £500)

Google Analytics setup (Worth £50)

Realtime reviews setup (Worth £108 a year)
Frequently Asked Questions
We setup the best possible solutions to help your business thrive online. It is part of the admin fees (£8.33 a month) 
We pay for your domain renewal fees and the transfer to our servers.
In the long term, we recommend you get a online booking engine for your hospitality business. However, for the short term, we can easily change it so people can email you directly for availability and questions