Welcome to the show notes of the Boostly Podcast Season 8 Episode 7. This is a recap of my interview with Gian Paolo Vairo, an Italian living in Spain during the Coronavirus Crisis.
Here's the audio for this episode:

Here's the video for this episode:
Timestamp
02:00 About Gian Paolo Vairo
05:00 Current business situation in Italy
07:10 Gian Paolo's daily life
10:00 General opinion of Italian businesses on the OTAS and AirBnb's discussions
15:50 Hubstr and how it can benefit the vacation rental world
22:00 Final Thank Yous
Whilst you're here
Follow Boostly on the following channels to get more tips, tactics and knowledge on how you can increase your direct bookings
Visual – YouTube
Audio – Boostly Podcast
Transcript from the Episode
Gian Paolo has been dealing with the vacation rental industry from 1990 to 2007. He has been working mainly in Barcelona and it is where he grew his experience. He started working as a property manager. When the vacation rentals were rising, he had the fortune to be one of the first property managers turning residential properties into vacation rental back in 2007. Since then he started getting knowledge about how the vacation rental works. And getting back into it. His last experience as a property manager was back in 2010. He was managing around 100 units a year in Barcelona. And since then, he quitted because it was turning him crazy later. He worked in different other companies, many other big companies in the vacation rental too. He thinks he is lucky because he has a 360 degrees view over the industry from different points of view from distribution, management and from even the software side of the vacation rental. It makes him a complete professional in this field.
Gian Paolo is really happy to do what he is doing. Helping people now in growing the business especially in Spain in effect, this is where he is staying now. During this interview, he was sitting in his studio in Barcelona, but mainly he is working with Italian markets and in Spanish market.
Current business situation in Italy
Italy is now entering the second week of lockdown. The day before this interview, Italy's government said they are going to have two more so they are going to have four weeks in total. Gian Paolo thinks there's going to be more because four weeks is not enough to be out of this crisis. Business-wise, he didn't see much too many changes because he is working remotely for the Italian market. This crisis is affecting a lot of people working on vacation rentals. He sees the business drop is dropping down. Literally they lost nearly the 80, 85 or 90% of bookings for the season.
Gian Paolo is seeing businesses closing down, people firing, companies taking advantage of the situation buying contracts or companies. From one side it is good because they found opportunities out of this crisis and the other side I'm seeing, people that tried to succeed in the vacation rental going down so it's sad to see this is going on.
Gian Paolo's father and his family are living in Italy. In the Alps. They are safe at home. He thinks they don't have problems maybe they are sad to stay at home. They are looking down since the first week of March so they have crazy times.
Gian Paolo's daily life
Gian Paolo has the opportunity to buy a really large apartment with a really nice terrace so he spends his lockdown in a really nice look. In Barcelona, the weather's pleasant. He can go out whenever he can. He's still doing fine and doing well because he's really happy where he is because there's sunny shine. His wife is working directly in the terrace and he is working in his office.
They are doing shopping once per week, maybe in a couple of weeks, couple of times per week maximum.
You cannot go out because the police will stop you. From today they are allowing one so permissions to go from one side to the other. You need to justify that you're going out for some reason, if they find you without this permission, you're going to be fined or you can go to jail.
The general opinion of Italian businesses on the OTAS and AirBnb's discussions

Gian Paolo thinks it's a crazy move from Airbnb. A lot of people found themselves literally pissed out from Airbnb. Airbnb as being considered as a service, we figure out that is not like this Airbnb is an infrastructure and you need to pay something to be there. They can decide to kick you out in every moment and they can decide to change the rules from one day to the another and find yourself with a calendar full of bookings.
The first thing that Gian Paolo is seeing in this is that they are keeping their part of the cake. This is a really tough moment and Italy is the ground zero of the Coronavirus. This is clear that you're not going to Italy because of the virus. Airbnb decided unilaterally to refund guests without any cancellation fee but keeping that part of the cake.
Most of the people that he has been talking these days are saying that they are not going to allow this in from now on because OTAs in general starting from Airbnb in this case, but all of them they have been squeezing hospitality owners like lemon for even 15 years now. Yeah. From this point, they are not going to tolerate this kind of thing. He has been hearing people starting new OTAs. He is really convinced that this is a new starting point and for his own work, the vacation rental world needs to change and OTAs need to be aware of that because now things need to be different because some cases they were abusing.
Gian Paolo thinks many property managers wouldn't accept this anymore.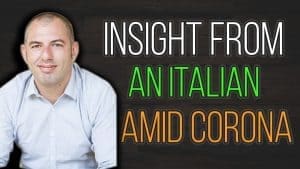 Hubstr and how it can benefit the vacation rental world

In Sydney, there are a lot of property managers, a lot of people doing vacation rental, but there's nothing that put together the people in the vacation rental industry. Even in Barcelona, which is way smaller than Sydney, there are a couple of associations. They have 400 property managers in the industry that meet up regularly and they want to discuss regulation about things and going on. In Sydney, they are far far away from everything, and the problem here is that people from Sydney wouldn't come to Italy or to Spain or to London to meet. People that matter in vocational maintenance because they are far away from anything that they wouldn't be able to be to bring events or meetings to these people. So they thought about designing a product platform, something that can bring together people from all over the world, people that matter in vacation rental industry and put them together in a component of community where they can share information, share content, even share courses, webinars, events on a unique platform, and they called it Hubstr. Basically that is a way to put together a lot of knowledge info from the industry, best practices and anything related to vacation rental even opportunities, opportunities.
Gian Paolo would like to take advantage of being here to invite other people, everyone that wants to join this community absolutely for free. They want to create a worldwide community of people that really want to share anything related with vacation rental in the coming days.
Hubstr's team is trained to offer this community to the local association or to a group of companies or even people that organize events to share part of their content live or even share the videos of recordings of their video of the events on Hubstr in order to share this knowledge with other people from Asia or US or other side of the world to start learning something. from the thing is us and you will maybe they are producing a lot of contents for vacation rentals. And maybe I'm seeing a lot of opportunities in Asia right now.
You can find more about Gian Paolo Vairo at https://www.linkedin.com/in/gpvairo/
Before you leave
Please go and rate, review and subscribe on iTunes, Spotify Google Play or Anchor or visit Boostly Hospitality Podcast for the full list of episodes!