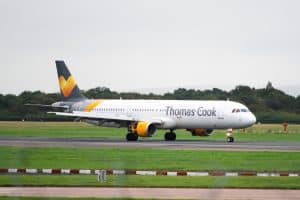 Thomas Cook has been in the headlines for a few weeks now. Last-minute rescue talks failed to save the firm. The company has ceased trading and operations with immediate effect.
Effective 23 September, all their flights have been cancelled.
What went wrong
Liat Piazza of the Market Intelligence blog gave a great analysis of what happened to Thomas Cook.
Thomas Cook primarily played in the niche yet lucrative vacation packages space. The large and rapid drop-off in its online share in the package vacation market is where Thomas Cook's problems become more apparent. In Q2 2018, thomascook.com garnered the second-most unique page views (UPVs) to vacation package sites in the UK, capturing 19% of the market, only trailing jet2holidays.com's 22%. However in Q2 2019 thomascook.com's UPV market share in the UK fell to 15%, and was surpassed by loveholidays.com's (22%), while jet2holidays.com expanded its market lead (24%).
Thomas Cook aftermath
The cease of trading and operations left approximately 150,000 travellers stranded abroad. Andreea Brindas of The Fisher Jones Greenwood Blog says that "The disastrous collapse of Thomas Cook has had a huge impact, not only on holiday-makers stranded abroad and those with booked holidays but also on the British travel markets and the employment sector. Only time will tell the full scale of the impact of the collapse, but it would appear that its effect will be widespread and significant."
The most affected countries
Becca Rowland of the OAG blog listed down some of the countries that are most affected by what happened to Thomas Cook. Some of the countries that she mentioned were Spain, Egypt and Turkey. 
Spain has been the largest market for Thomas Cook in the Winter months and was expected to account for 37% of all winter capacity. The biggest impact will be felt by the Canary Islands with the loss of 145,000 seats from Tenerife (TFS), 91,000 from Lanzarote (ACE), 64,000 from Fuerteventura (FUE) and 14,000 from Gran Canaria (LPA).

Egypt has been the next most important Winter market for Thomas Cook and was expected to be the destination for 12% of capacity this year, almost all of it to the Red Sea resort of Hurghada (HRG).

Turkey, another favourite destination from the UK through the colder months at home, was expected to see Thomas Cook planes with around 85,000 land over the winter, split between Antalya and Dalaman Airports.
Lessons Learned
The demise of Thomas Cook taught us that companies shouldn't feel complacent with "too big to fail". It's another example of corporate mismanagement with ordinary people suffering and will have a permanent impact on the travel industry.
Join the Facebook Group for the latest news, tips, advice and rants from fellow hospitality owners from around the world. boostly.co.uk/hc