Welcome to Boostly Podcast Season 11 Episode 31. This is a recap of my Facebook live video where I talked about guest experience.
Here's the audio for this episode:
Here's the video for this episode:
Timestamp
00:00 Start
01:20 How to enhance your guest experience
02:30 Send a text or a call
Whilst you're here
Follow Boostly on the following channels to get more tips, tactics and knowledge on how you can increase your direct bookings
Visual – YouTube
Audio – Boostly Podcast
Transcript from the Episode
How can you enhance your guest experience and you know, the main thing real simple, just remember their name. It's something that I think goes amiss a lot in our industry but it's sometimes the simplest things that mean the most. What I love to do and what I think everybody should do is as soon as a booking comes in, pick up the phone give them a call, do a WhatsApp message if you're not confident you know doing it, pick up the phone and doing it old school. Just pick up the phone literally you've got WhatsApp telegram free marketing tools right there free tools send a text message a voice note a video message and just thank them by name for making a booking if you're really busy and you've got a team that can do this great but I personally would do it yourself.
It goes that extra route that so many people don't do and again just always be putting yourself into the mind or the heart of the guests and think okay if you are booking a place what would you love to see? I mean yeah, you've got things like welcome hampers you've got things you know like later surprising him with a later checkout x y&z but I think sometimes the simplest that are best.
Send a text or a call to your guest
So my advice to you remember your guest now goes a long way, send a little text, do a little call. And when you do a call or do a text, just remember those four little words that mean anything? Do you know anyone? So do you know anyone is coming to the area as well? You know, do you know anyone else who needs accommodation? That little star has a question can mean and result in so many possibilities. But again, find them ask them you know, why are you coming to the area? What are you doing? What are you looking to do? How can we make your stay extra special, these little things that you can do. And again, you can literally do it in five minutes, a quick WhatsApp message. You can do it while walking, walking the dog doing the changeover whatever you're doing, it's really easy to do cost nothing and has a maximum return of investment on your end.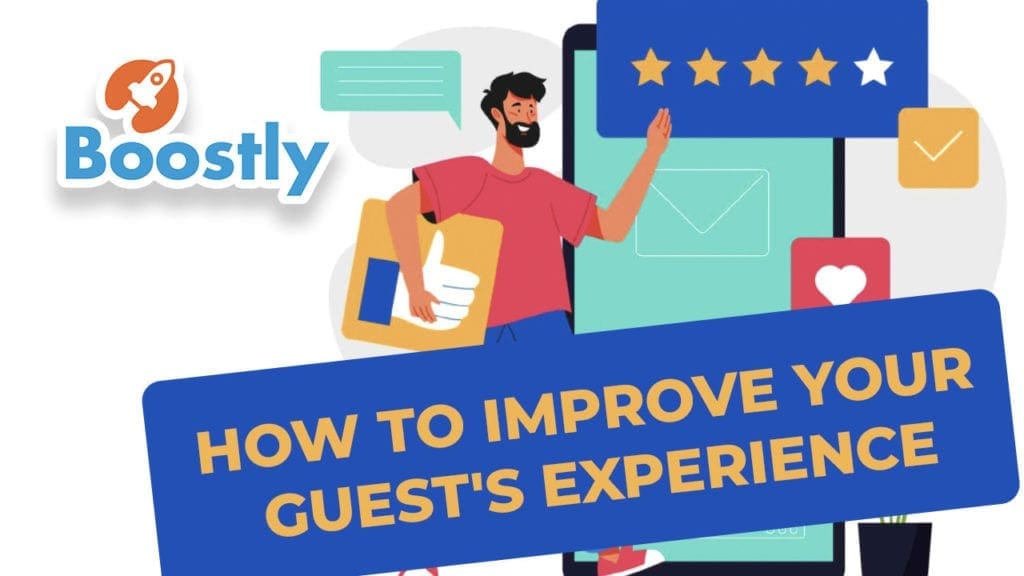 Our podcast sponsors
Before you leave
Please go and rate, review and subscribe on iTunes, Spotify Google Play or Anchor or visit Boostly Hospitality Podcast for the full list of episodes!
If you have enjoyed this post and want to feed my caffeine addiction you can "Buy me a coffee"
️