Welcome to Boostly Podcast Season 9 Episode 2. This is a recap of my interview with Helen Hares and we talked about how she increased her direct bookings.
Here's the audio for this episode:
Here's the video for this episode:
Timestamp
02:50 About Helen
04:40 Why Helen settled in Competa, Spain
06:50 The first thing Helen did when she opened her business
08:00 About Villa Andalucia
10:00 Helen's biggest marketing shift
12:50 When Helen started to look at social media
14:10 Helen's problems before she encountered Boostly Academy
22:20 Helen's pivot
Whilst you're here
Follow Boostly on the following channels to get more tips, tactics and knowledge on how you can increase your direct bookings
Visual – YouTube
Audio – Boostly Podcast
Transcript from the Episode
Helen has been in the hospitality world in Spain for 14 years. Her background prior to coming over in Spain was working for Barclays Bank for 32 years also during that time, Helen and her husband were in the hospitality industry in the fact of having businesses efficient. They also had an off license cornershop and her parents used to keep the pub.
All of Helen's life, she dealt with customers and money and opening hours. The main reason for her coming to Spain was because she has multiple sclerosis and she's far healthier in a warmer climate.
Why Helen settled in Competa, Spain
Every school holidays, they come over to Spain because for her dry heat was a lot better. She got to know the whole of the Costa del Sol, and all the way down to Portugal and done all the timeshares. One day she actually drove up to Competa on her own, wanted a bit of a breakaway. She just fell in love with the place and it was a horrible journey.
This was 20 odd years ago, and there were no barriers on the road. For some people, it can be a bit daunting, but Helen just sort of fell in love with the place and it grew on her and she thought right, they costed themselves not far away from England with flights from becoming cheap.
The first thing Helen did when she opened her business
14 years ago, Helen got somebody to build a website for them. And he was very good with SEO, and at the time, there's only Helen and two other BnBs. in Competa. Now she honestly can't tell you how many places service accommodations, etc that are there. So it was quite easy for her to get sort of recognised through word of mouth. And even now, 60 to 70% of her direct bookings are repeat bookings. And going back 14 years ago, she's got MailChimp. Now MailChimp is nothing like it is now and it was just really a newsletter, no automation or anything like that. She started to build up on her database quite early on.
About Villa Andalucia
Villa Andalucia is a bed and breakfast with four rooms. It's in a beautiful area. Helen calls it her little hidden gem up in the mountains. And fantastic swimming pool, crystal clear water, looking down to the coast, surrounded by mountains.
It got kitchenettes and Helen offers people that they can have better breakfast if they want. If not, some of them can cater for themselves.
Helen's biggest marketing shift
Helen didn't really have to do that much at the beginning, because it was repeat businesses all the time. She never thought she would spend as many hours as she does now, back in front of a laptop, PC again, because when it when she thought bed and breakfast, she was just thinking that people come and stay, she'll look after them, tell them all about the area, etc.
She never thought about promoting herself and how to get people in her area because booking.com was around, and they tried to advertise with them. And they would not allow anybody unless they had 10 bedrooms or more.
It wasn't until 2014 when Helen wanted a hotel to stay in near Manchester Airport before she flew away on holiday. She had a look on booking.com. She saw about bed and breakfast. Helen thought this one of the reasons why she's not getting as many people coming to stay with her anymore. And it, it was so easy for her to book a room.
Helen also didn't really know anything about AirBnB. She was on holiday in Barbados, and everything, oh, we bought through Airbnb, and she was thinking, she needs to look into these things. And that was like the start of it. Her time is going to be spent more trying to get herself noticed out there.
Helen went with Booking.com and AirBnB. The fact that you've got to make them this, this is something that you say to everybody, as well make them work for you.
When Helen started to look at social media
For Helen, Facebook was just like keeping in touch with her son because he was in the UK. She saw that people were advertising on Facebook. And she was thinking out paying for advertising. She started to lose her confidence, but bookings started coming in as fast and furious as they were before. She went on LinkedIn and found somebody that did coaching.
Helen's problems before she encountered Boostly Academy
Helen came across the Hospitality Community when she thought she needed something for her website. She found so many other people that were in the same boat as her.
Helen was in a coaching group, and that haven't worked out at all. There was somebody who used to be in that same coaching group, who had put on Facebook or she commented on something and Hospitality Community came up. She went on to it and joined one of the giveaways in the Hospitality Community. And she got two big bookings offer.
New tactics that Helen learned
What helped Helen along is all the templates that were there and setting up automations. Helen lost her confidence after moving over to Spain, leaving the bank, she didn't know where she was going. Now Helen is back to the confident person she was when she left work when she was semi-retired.
She could stand in front of 1000-2000 people and talk before, and she'd lost all that, and she can do it now. And it doesn't bother her doing live videos now or anything. Boostly Academy gave her the confidence back for doing that.
Helen's pivot
Majority of Helen's visitors are from Northern Spain, they're not all English. Normally, she's got the Belgians of Swedes, Norwegians, etc. And of course, they haven't been able to come. So she had to change her thought. But there are people that live down on the coast experts, not just English, again, the Belgians, etc, who've never even ventured up into the mountains.
Helen had to sort of go out and promote herself on the groups and Facebook groups out there. She has been in the field and gone on two more websites that are aimed at people that live down on the coast, just to bring them up in her location. And also got in with them. She got one of the local yoga teachers to come. They've done yoga classes outside because she can't do them inside. What a better place to do it than around the pool. And so she did that. Then Helen started offering breakfast.
Know more about Helen on her website.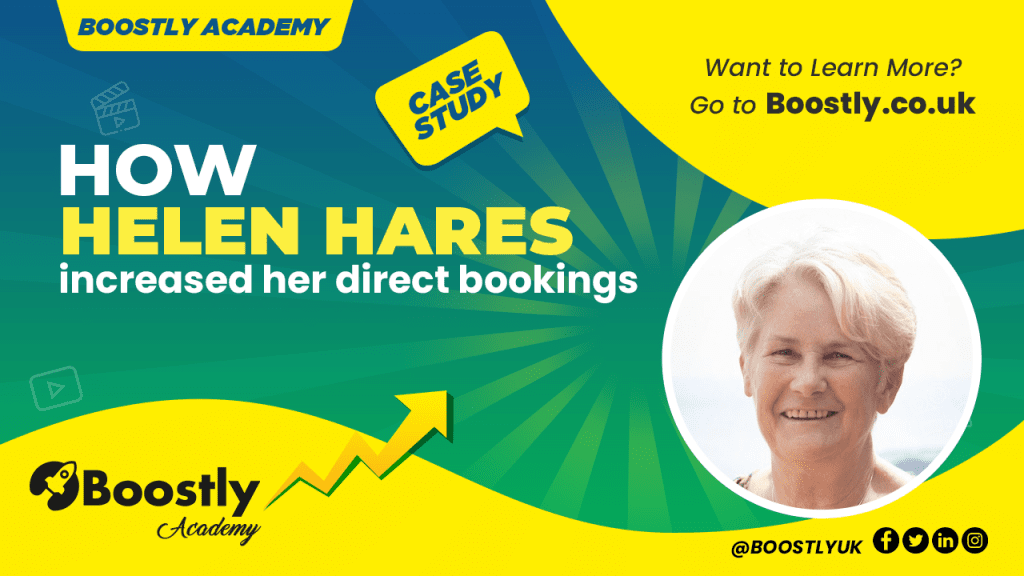 Before you leave
Please go and rate, review and subscribe on iTunes, Spotify Google Play or Anchor or visit Boostly Hospitality Podcast for the full list of episodes!