Tricia is from Thirsk and runs Morndyke Shepherd's Huts. She first met Mark 6 months ago after she set up her own glamping business. Tricia lives on a working farm, so she thought setting up the huts would be a good way to make some extra cash.
She invested a lot of money, set up her website, and waited for the bookings to come in. But none came. Then, she spoke to some people who had forwarded her some grant money. These people put her in touch with Mark.
Tricia Phillips from Morndyke Shepherd's Huts
Website: morndykeshepherdshuts.com
Booking engine used: Free To Book
Watch this short video where Tricia talks about how Boostly helped her get bookings.
"When Mark first came on board, Morndyke Shepherd was dead in the water." She had a Facebook page, but it wasn't generating any business. Mark took her by the hand and looked after her. He sorted out the business and taught her how to market effectively.
He gave her some fantastic ideas, good training, and videos. Without Mark, Tricia's business wouldn't have survived. Now, the bookings are finally coming in.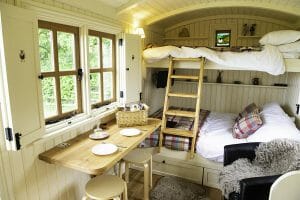 The biggest advantage of Boostly training is that Mark is right at hand. He is there to help, and it doesn't matter what time of day it is. After the training, the support he provides has been the biggest factor in Tricia's success. Knowing someone is there, especially during moments when she's felt that she had no idea what she's doing, has been an absolute godsend.
"I recommend the Boostly training site, 100%," says Tricia.
If you want to contact Mark, send an email at mark@boostly.co.uk.
Check out his marketing portfolio here.