Suzie Barber of Hotel Bonanza was kind enough to sit down and host a Video interview with me for the members of the Hospitality Community.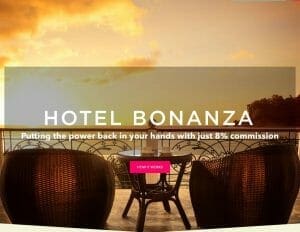 Since Hotel Bonanza went live in 2014, there has been much hype in the press about their business model.
The stand-out moment happened in 2016, when Hotel Bonanza announced they would only be charging an 8% commission to all hospitality businesses, which is a massive 7% less than Booking.com and 10% less than Expedia.
New Hotel Bonanza
Hotel Bonanza was new. It needed to stand out, and Suzie admits that it struggled early on. It particularly grappled with…
Getting its name out there

Linking up to channel managers

Development issues

Zero bookings
The zero bookings are what everyone in the Hospitality Community talks about when anyone brings up Hotel Bonanza. One guesthouse owner told me, "Yeah, it's all well and good, but we have been with them for six months and had no bookings!" 
Then, in May 2018, Hotel Bonanza went a step further: they sent out a press release announcing they were going to drop their commission rates to 0%! Not only that, but they also announced plans for their users to embark on a crowdfunding scheme to help spread the word.
I will give it to Hotel Bonanza: they are like no other Online Travel Agent.
This is why I wanted to speak to someone from Hotel Bonanza and find out what they were thinking. I wanted to get a first-hand account of what their plans were, what they mean by 0% commission, and what they consider their USP.
Suzie was kind enough to accept my invitation. We dove into lots of questions from the members of the Hospitality Community, and some of mine as well.
You can watch the video interview right here
The response was very positive. It was fantastic to have Suzie come into the Hospitality Community's Facebook group and explain in detail what Hotel Bonanza is all about.
I have spoken to people afterwards that they have changed their opinion on the company and quite a few registered their business with their system. I personally really enjoyed hosting an interview in the Hospitality Community, and this is something I hope to do again moving forward.
What did you think? Would you like to see more of these types of interviews? If so, please reach out to me at mark@boostly.co.uk.