Welcome to Boostly Podcast Season 11 Episode 30. This is a recap of my interview with Danny Rusteen where we talked about the importance of captions on AirBnB.
Here's the audio for this episode:
Here's the video for this episode:
Timestamp
00:00 Start
02:00 The importance of captions and images
03:10 Use few words for your captions
Whilst you're here
Follow Boostly on the following channels to get more tips, tactics and knowledge on how you can increase your direct bookings
Visual – YouTube
Audio – Boostly Podcast
Transcript from the Episode
I'm signing on to my Airbnb app right now because I want to see how the captions look on the mobile app. So maybe a year ago, Airbnb highlighted the captions, they reduced the size of the photo, and they put they brought the caption to the upper right corner. Recently, within the month, they've changed that I don't think this Yeah, they've changed that this is mobile, it's the same as on the website, all the pictures are showing up right away without captions, and you can just scroll down. So that means that that means the guests could not even see any captions. If they just look at the photos here. If they want a photo to enlarge, then the captions are shown at the bottom, about two lines worth.
Use few words for your captions
So captions is a really popular subject, but they're not really going to move the needle so much captions should be used as few words as possible. And they should really just be used to point out things that for example, I said your bedroom, you shouldn't have four pictures of your bedroom, you should just have one. But if you have a full length mirror behind you with a closet that the guests can't see because you just have one photo well that they're not they're not not going to book because they don't see a full length mirror. But you can mention in the caption, hey, behind you, and I would say it like that behind you. There's a full length mirror and a full size closet to try and put them in the listing. It would be explaining items that are really super visual as the kitchen but you also have this super cool coffee machine in the corner.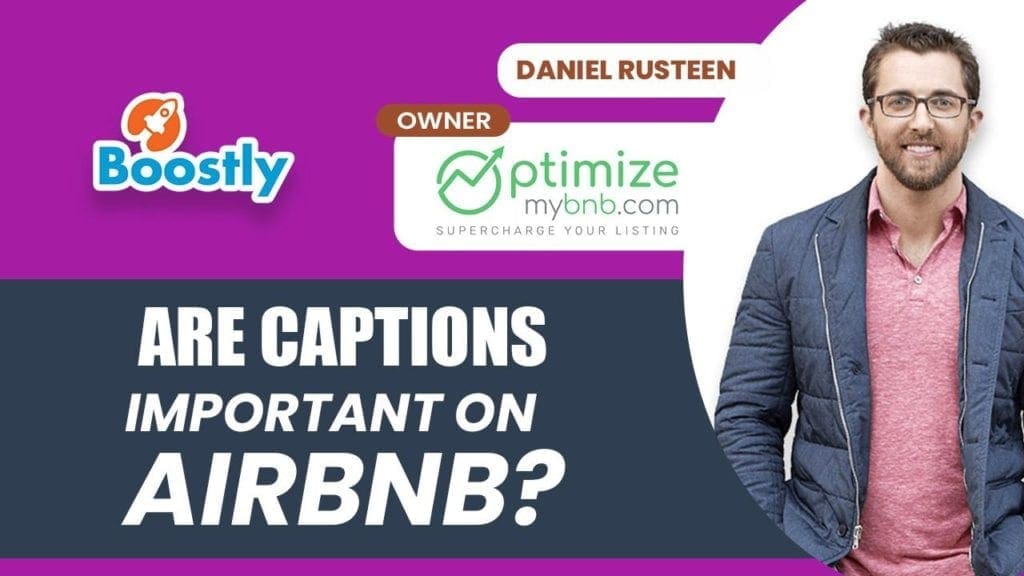 Our podcast sponsors
Before you leave
Please go and rate, review and subscribe on iTunes, Spotify Google Play or Anchor or visit Boostly Hospitality Podcast for the full list of episodes!
If you have enjoyed this post and want to feed my caffeine addiction you can "Buy me a coffee"
️